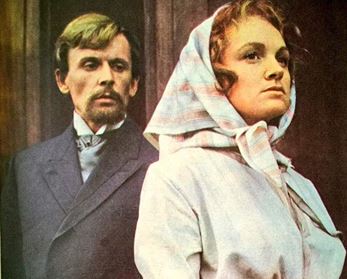 Bridget Turner (born February 22, 1939, Cleethorpes, Lincolnshire, died 27 Dec 2014, Dorchester, Dorset).

Michael Coveney described her as, " small and dark-haired, compact, possessing great timing, a voice of bell-like clarity and an open-faced integrity – an ideal team player in any company."

The daughter of fish trader Eric Turner, she was educated (like at Wintringham Grammar School, Grimsby before training at RADA. She starred as Juliet opposite Tom Courteney's Romeo for the 69 Theatre Company in Manchester, and became particularly well known for her 1970's work in the plays of Alan Aykbourne. She was reputedly offered the part of Sybil in 'Fawlty Towers' but turned it down.


1963 - Lorna Doone (BBC) 1964 The Villains (Granada)- Victim. 1967 The Cherry Orchard -Prospect Theatre Company
1967 - The Forsyte Saga (BBC1) (Plunket) 1967 The Soldier's Fortune (Royal Court Theatre) 1969, starred as Maslova with Alan Dobie in BBC2 adaptation of Leo Tolstoy's last novel, Resurrection (shown in America 1971 as part of PBS Masterpiece Theatre strand).1970 The Walking Stick (Sarah Dainton) 1973 Absurd Person Singular 1974 Norman Conquests - Ruth. 1977 The Cherry Orchard (Trevor Griffiths) as Madam Ranevsky Target (BBC1) Lady Luck (as Esther Daniels, the wife of a 'target' criminal whose daughter is kidnapped ). 1981 starred with Alun Armstrong in Alan Plater's Get Lost (YTV), the predecessor of The Beiderbecke Affair.
1988-89 National Theatre 2007 Doctor Who - Gridlock (Alice) 2011 Monroe (ITV) (Judith Wardin).