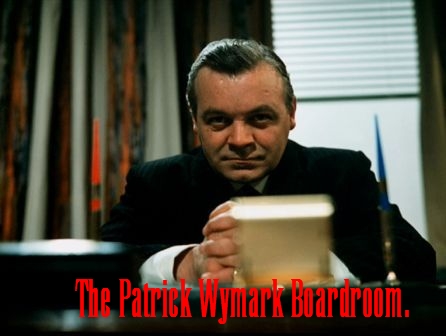 Getting Carter: Ted Lewis and the Birth of Brit Noir by Nick Triplow. No Exit Press 2017
- ISBN 978-1-84344-882-2 .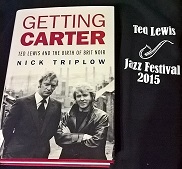 by Harry Dobermann
Nick Triplow's long awaited biography of Ted Lewis, originator of Get Carter and "one of the most important writers you've never heard of" finally sees the light of day like some Anglo-Saxon gold uncovered from the muddy banks of the Humber.
It's not surprising that this book took so long to research. Lewis left few written papers, and after his death even his local library was ordered to throw away a complete collection of his books because they were wasting space, "keeping out of date novels by a local author no one had ever heard of". Remarkably, a 1963 desk diary with drafts of unpublished fiction turned up at a local charity book auction in 2015. A bigger challenge for a biographer was that, Lewis seems to have been a compulsive self-mythologiser. Tales about Lewis losing a Doctor Who commission because he turned up drunk and aggressive at a story conference are denied by the script editor; Triplow concludes that Lewis probably started the rumours himself.
The cover of Getting Carter shows Ted Lewis huddled next to Michael Caine on the back streets of Newcastle, the location to which Mike Hodges transplanted the action when he filmed Jack's Return Home as Get Carter. Lewis looks like Caine's cheeky younger brother, which is appropriate given that Caine also played Alfie. The Bill Naughton play and novel were both written in the authentic voice of the character, one with little respect for women, just as Jack's Return Home would be delivered in so authentic a voice that one publishers reader would describe it as the work of "someone who couldn't write English".
Another parallel with Alfie was Lewis pursuit of women. He seemed to develop his talent for storytelling at Hull Art College where,"part James Dean, part Lost Boy, his stories were designed with the sole purpose of attracting girls". On moving to London, boozy meals in Covent Garden, drinks at Ronnie Scott's Jazz Club and numerous affairs drew him into the orbit of the East End gangsters who would inspire his most famous work.
The son of a quarry manager in the small town of Barton-Upon-Humber, Lewis passed the entrance exam for the local Grammar School, where he came into contact with two influential characters. One was autocratic headmaster Norman Goddard, whose traditional methods of correction resulted in an early incident which Lewis clearly resented for life (ironically, Goddard's methods are remembered as "hard but fair" by some pupils, which is similar to the "vicious but fair" phrase used to describe the torture handed out by East End gangsters The Piranha Brothersin the Monty Python sketch.)
The more beneficial influence was charismatic English teacher Henry Treece,poet and author of historical novels such as The Black Island . It was Treece who encouraged Lewis to apply for Hull Art College, and also inspired Lewis as a writer; Triplow quotes from a lecture Treece gave a week before his death, and this indicates the passion about writing that Lewis must have imbibed. Treece describes the writer as someone who feels himself to be incomplete in his non-literary life, using his senses to tell one essential story. Treece argued that,"the writers perception is part of the regulated complex of impressions which goes to make his world different from the man standing next to him".
Lewis' first novel, published in 1965 was plainly autobiographical. It drew on his years at Art College when Lewis became piano player for the Unity Jazz Band, playing Trad Jazz, "to rooms full of sweaty dance-crazy students for beer and a few shillings," and "hauling a borrowed pub piano aboard a Humber Ferry for" Riverboat Shuffle cruises around the estuary. All the Way Home and All the Night Through was "honestly self-critical, particularly scenes in which he succumbs to alcoholic blackouts". But more importantly, Triplow notes that,"No previous novelist had paid attention to (the Humber's post industrial landscapes) certainly not with Lewis striking observational sense".
Lewis was still searching for a tale to tell in 1966 when he was recruited to Halas and Batchelor by Tom Barling to design backgrounds for CBS cartoon series based on The Lone Ranger*. The experience won him a place on the production team for the Beatles cartoon movie Yellow Submarine ( Lewis' team had the job of adjusting the work of 200 artists to ensure that each frame was consistent; "Repetitive and highly pressured, it demanded intense concentration and extraordinary attention to detail")
Drinking at Gerry's Club, the establishment opened by actor Gerald Campion and."used by certain members of the press on the understanding that nothing they witnessed there would find its way into the papers" allowed Lewis to mix with East End characters while a chance acquaintance with a school friend working as a tout for a Soho strip club allowed him an insiders view of the sex trade. It was a distinct contrast to the social events he detested at Barton, "connected with his fathers masonic responsibilities where formal conventions were adhered to and the Lewises measured themselves against wealthier middle class Barton families".
The catalyst which brought these two worlds together was probably the February 1968 release of Point Blank. Lewis saw and loved it, just as he had earlier admired Don Siegel's 1965 adaptation of The Killers. Both movies starred Lee Marvin as a relentless sharp-suited pursuer who explodes into placid, ordered environments. As a boy in Barton, Lewis had been an enthusiastic reader of EC Crime and Horror comics by the likes of Johnny Craig, and his imagination probably animated the violence and torture against the local backdrop of pebble beaches and abandoned brickworks that filled his youth.
In Jack's Return Home , published in March 1970, Lewis envisioned a violent, enforcer returning to an unnamed Scunthorpe to find out who killed his brother Frank. Triplow says,"Making the surrounding towns and villages and the northern Lincolnshire landscape integral to the story was a masterstroke. Lewis brought characters from his Soho observations and gave them license to wander the rain-washed streets, dead end alleys and riverside wastelands of his youth."
Lewis (an only child) establishes the contrast between the aggressive, rebellious Jack Carter and his more placatory brother, Frank the dreamer. While many have assumed that Jack Carter represented an element of wish fulfilment for Lewis, Triplow asks the more interesting question, - the degree to which he divested himself in the character of Frank Carter -the truth of which seems strikingly obvious in hindsight with Frank Carter forced to drink whisky to soften him up.
Not that anyone considered such questions in 1970. After a valiant fight by his agent Toby Eady, the entrenched publishing establishment final took Jacks Return Home seriously. On publication in 1970 it was an immediate success, quickly acquired by Michael Klinger as the basis of the movie which would undoubtedly secure its immortality.
Yet even in the midst of success, Lewis was unsettled. Alun Armstrong recalls an argument with Ian Hendry which left spectators baffled. Triplow quotes Tony Klinger comparing Lewis to Roman Polanski, "There was a truth about him. He meant it. Which made him awkward.He shreds you".
Triplow considers whether Lewis 1975 novel The Rabbit with its images of the rabbit struggling against a wire noose throws a light on Lewis unease,that shared by many of that first generation of Grammar School boys. "Education meant you would always be mistrusted, unaccepted by the working class; neither were you welcomed by the class to which you were supposed to aspire".
Sadly, despite winning a generous deal to write more novels, Lewis was unable to repeat the success of Jack's Return Home . His immediate follow-up, Plender was a claustrophobic tale of blackmail between a dualistic oppressor and victim set in Hull and Humberside. With its film noir overtones, Plender was eventually filmed, years after Lewis' death, as the French movie The Serpent . His 1973 novel, Billy Rags , "a highly accomplished piece of storytelling,"would have made an exciting movie. In a way, it did, although you'll have to read Triplow's book to get the full story behind Billy Rags
By 1974, Lewis was looking to capitalise on his early success with a prequel Jack Carter's Law . As Triplow puts it,"in reality (the book deal) gave him time and money to drink". While "Booze had always been Lewis way of overcoming shyness and bolstering confidence, " by the age of 34 it overwhelmed him and after being discharged from a psychiatric unit he returned to Barton to live with his parents. Lewis continued to write, even contributing a couple of episodes to the final series of the BBC's long-running Z-Cars. Triplow's viewing of the episodes shows that Lewis was able to channel his unique perspective to the staid Northern cop show. There is some regret though, that Lewis was never able to write for The Sweeney a series which was closer in temperament to Get Carter (the naming of the lead characters as Jack Regan and George Carter seems to have been a particular irritant). Lewis final novel, GBH , centred on a London crime boss eking out his time in a remote seaside village, biding his time until he can regain the empire he's lost. Triplow questions whether this was, "an allegory for the chewing up and spitting out of his life and writing career as he'd experienced and reflected on it".
Like Lewis himself, Triplow doesn't flinch from the truth, but despite the sad end to the life story, the book as a whole is uplifting."We don't measure writers careers in books written and copies sold", Triplow concludes,"Lewis reached further and said more in a handful of novels than most writers ever accomplish".
*The Lone Ranger cartoon series was done in cheap, limited-animation. The character work was bold, exaggerated, reminiscent of the characters Jesse Marsh drew for the Gold Key Tarzan comics. The backgrounds were similarly stark and impressionistic. While still set in the Victorian era, The Long Ranger owed much to The Wild, Wild West with each ten minute segment featuring spies or super-villains employing anachronistic technology or black magic. The cartoon series was screened in black and white by some ITV regions (including ABC, which covered the North) in 1967. Reprints of the Gold Key Lone Ranger comic strips appeared in TV Tornado, although these were the more traditional Western crime fighting stories, and editor used Clayton Moore as a model when the Long Ranger appeared version that appeared on the covers.