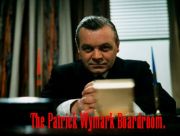 Danger Man - An Affair of State - 13 November 1960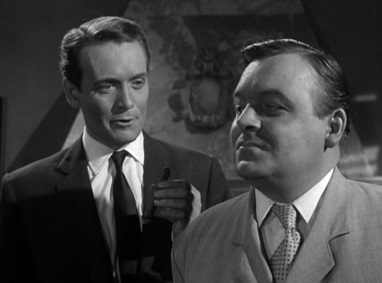 "It appears to be one of your quaint local customs; disappearing without trace. " John Drake (Patrick McGoohan) tells Ortiz (Patrick Wymark)
NATO agent John Drake arrives on the island of San Pablo posing as a US Treasury official. San Pablo has requested a loan from the US Government offering its gold reserves as security. Arthur Winfield, the economics expert sent to audit the state finances, has disappeared leaving a suicide note. Ortiz (Patrick Wymark) the Police Minister tells Drake that Winfield had been living a reckless private life, and as he investigates Drake finds a queue of witnesses to Winfield's gambling and womanizing. But Raquel Vargas (Dorothy White) tells Drake that they are lying.
Created by Ralph Smart as a half-hour James Bond knock-off for ITC, the international arm of Lew Grade's Associated Television, Danger Man Introduced Patrick McGoohan as American accented NATO agent John Drake. This episode reunited McGoohan and Patrick Wymark who, a year before had both been members of the 59 Theatre Company at the Lyric Hammersmith. McGoohan had starred in Ibsen's Brand , in which Wymark appeared as the calculating Mayor while Wymark had starred in Danton's Death in which McGoohan appeared as the evil St Just.
Affair of State opens with a teaser showing Patrick Wymark unloading a body from the boot of his car and heaving it over a cliff. Wymark is disturbed by a young policeman who smiles in confused recognition before a shot rings out. The policeman falls to the ground, the gun held by none other than John Le Mesurier. In a reverse of a traditional whodunit, we know who did it, but we don't know why. In anticipation of Columbo, Drake has a teasing interview with the Police Minister soon after his arrival to investigate Winfield's disappearance. The audience knows Wymark is the murderer, even if Drake at this point does not. Ironically, Drake is convinced that something is not right with Winfield's disappearance by the protests of Raquel Vargas. Ironic because she is played by Dorothy White - perhaps best known as Margaret - the faithless girlfriend of Frank Carter in Get Carter (1971).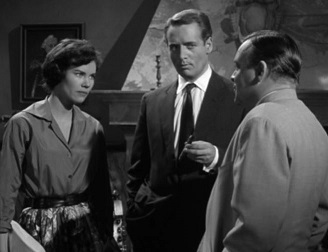 Dorothy White as Raquel is watched by Patrick McGoohan (John Drake) as she pleads with Ortiz (Patrick Wymark)
Dorothy White was at the start of a busy career in 1960. She would appear again with Patrick Wymark in The Takers (1961) before playing Janey Steele, wife of Jeremy Kemp's PC Bob Steele in the first series of Z Cars (1962). Again ironically, the role of Bob Steele had first been offered to Michael Caine, who would later star in Get Carter/. As Raquel Vargas, Dorothy White is the complete opposite of the duplicitous Margaret. Where Margaret refuses to help Jack Carter in his investigation of his brother Frank's death, Raquel bursts into John Drake's first meeting with Ortiz, demanding to know why there's been no investigation into the disappearance of her boyfriend. Later on, when Drake learns that her boyfriend was Winfield, Drake realises that Ortiz was not being entirely open about the case. Raquel disputes the line Drake is being fed about Winfield's gambling and womanizing. White projects a stubborn integrity as Raquel although it's not until after two men try to abduct Raquel that Drake believes her assertions.
Written by Oscar Brodney, screenwriter of Harvey (1950) and The Glenn Miller Story (1954), Affair of State is a straightforward detective story set in a literal banana republic. Apart from future Dad's Army star John le Mesurier, the episode also features Warren Mitchell, years before Til Death Us Do Part in the first of three character roles Mitchell would play in Danger Man. Mitchell often played downtrodden characters, and here he plays Juan Santiago the local assistant to Winfield who struggles to survive in a corrupt environment. Mitchell's submissive body language and anguished delivery helps to convey the mood of paranoia which underlines the episode. The third notable guest spot comes when Drake trawls the nightclubs investigating the rumours about Winfield. He comes across a hostess played by Fenella Fielding, who gets an "and" at the end of the cast list to acknowledge her stage fame. Fielding, who would later star in Carry On Screaming, would later supply the voice for the tannoy announcer in McGoohan's The Prisoner and also appear as Nora opposite Wymark in a 1970 stage production of A Doll's House.Fielding is amusing in this small part, which is played relatively straight.
At the centre of the episode is the cat and mouse game between McGoohan and Wymark. As Ortiz, Wymark coats his standard clear diction with a patriarchal Spanish delivery and autocratic manner. Like Wilder, Ortiz is a man of power, but Ortiz is more self-assured than John Wilder. Wilder is a man who cannot stand anyone disagreeing with him, whereas Ortiz is a man who does not expect anyone to disagree with him. Wymark had been praised for inventing some business with a cigar in the televised version of Brand and there's some similar cigar play from Ortiz here. There's a great deal of playfulness in his performance, not least the monemnt when Ortiz tells Drake that there are many sharks in San Pablo.