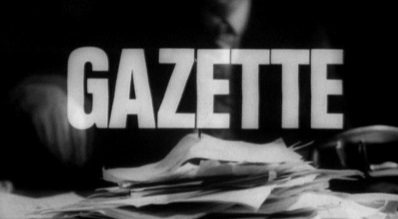 After the Power Game...
Gazette:The Old Folks at Home (Yorkshire TV 26 August 1968)
Writer James Doran Director Tony Wickert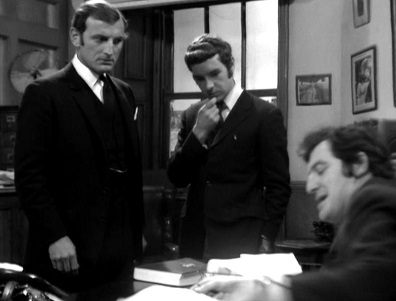 Proprietor James Hadleigh (Gerald Harper), reporter Bill Spence (Michael Blackham) and Editor Frank Walters (Jon Laurimore)
If Gazette is remembered today, it's as the series in which Gerald Harper made his first appearance as James Hadleigh. But in another context, it's an interesting example of "what might have been" in the wake of The Power Game. After two years starring in the BBC's Adam Adamant Lives, Gerald Harper was exhausted and open to the idea of taking part in an ensemble piece where he only had a few scenes in each episode. The series was set in a format similar to The Plane Makers instead of works manager Arthur Sugden trying to build planesagainst the antagonism of managing director John Wilder Gazette pitted editor Frank Walters against newspaper owner James Hadleigh.
Gazette was the first drama series from Yorkshire TV, which began broadcasting on 29 July 1968. Before then Northern ITV had been Manchester-based (ABC in the weekends and Granada during the week) as had BBC programming "for the North". Yorkshire TV was a bold new concept (ironically, Patrick Wymark had been an artistic consultant for one of the rival bids for the franchise) to encourage economic growth. As Austin Mitchell puts it in his memoir Calendar Boy (2014)*, Yorkshire industries, "were still producing powerfully, but they were in slow decline…international competition intensified and the consequences of British complacency, our reluctance to invest and the inefficiencies of family capitalism came through."
Drama from Yorkshire TV was to reflect this new pride.In the second episode Turn A Blind Eye written by James Doran, Hadleigh's uncle Colonel Chamberlayne (Ralph Michael) tells him that the local hotel has poached a chef from Claridges. When Hadleigh queries how they can pay competitive wages, Chamberlayne tells him, "There's plenty of money up here these days and taste for good things. We're gradually turning away from London. Yorkshire nationalists, if you like. We no longer want to spend our money in the Big City." Hadleigh's return to Yorkshire is the subject of the opening episode of Gazette written by Elwyn Jones (Z Cars). The Westdale Gazette is inherited by James Hadleigh on the death of his father. When a rival newspaper prints a story that Hadleigh has resigned from his senior job in the Civil Service and is returning to Yorkshire, Editor Frank Walters (Jon Laurimore) is enraged that their own proprietor has given a story to a competitor. He phones Hadleigh in London to ask for a quote, "Something along the lines of I have decided that the future of England does not depend upon London ..." Hadleigh replies that he would never say anything so fatuous or trite but tells Walters, "I'm returning to Yorkshire to devote my attention to the complex of interests for which I now find myself responsible." His interests include a share of an engineering firm and his country estate.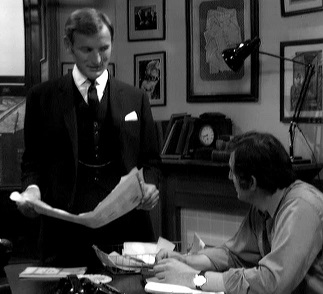 Walters is suspicious as to why Hadleigh has given up his position as Assistant Secretary at the Department of Economic Planning. A subsequent episode will show that Hadleigh's career hit a barrier after having an affair with the wife (Adrienne Corri) of a Government minister, but in the opening episode his motives for returning to Yorkshire are questioned. The Gazette's legal advisor asks Walters why he left Fleet Street to edit a provincial weekly. When Walters replies that, "I was sick to the stomach of London..driving two hours to work or getting off a packed train as greased as a sardine," the solicitor suggests Hadleigh may feel the same. Set up as men with similar motivations (both want to achieve something), Hadleigh and Walters end the first episode in a state of truce. Saddled with death duties, Hadleigh can't afford to sack the editor (his contract guarantees him three years wages on termination).
While Gazette reflected Yorkshire pride, it wasn't blind to the shortcomings of the region. Austin Mitchell points out that after Yorkshire TV's license was granted in June 1967, it was faced with the task of building a studio on, ", "a weed covered field where , a few years before, rows of slum terrace houses had sat less than a mile from the city centre(just far enough to make Leeds taxi businesses profitable when TV started)." The new studio was still unfinished when transmissions began in 1968 and staff had to be accommodated in an abansoned Burton's trouser factory next door, from where they could contemplate, ""grime-covered factories like Yorkshire Screw…and rows of terraced housing rising from Cardigan Road behind and beyond the 'Lowry-style' railway arches to the west."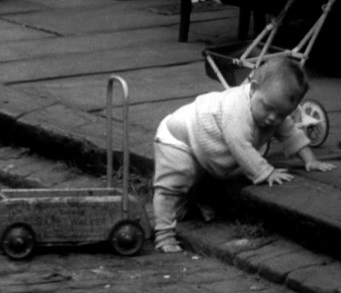 Newsreel style footage of street life in 1969 Leeds as Bill Spence accompanies Julia Gill to Prosperity Street
The Old Folks At Home reflects some of that disparity.It brings together Ralph Michael from The Power Game with Wendy Gifford and Elizabeth Begley from The Plane Makers. Hadleigh's uncle Colonel Chamberlayne (Michael) is chairman of Governors at Deepdeene School and tells Walters that he's under considerable pressure to sack the headmistress Georgina Barrett (Wendy Gifford). She's been sending her sixth form girls out to help deprived pensioners causing parents to complain that's not what they're paying £150 a term for. "They don't want their daughters exposed to all the sordid goings on of these people." It's been brought to a head by one of the girls complaining that she's been assaulted.
Walters sends Bill Spence to interview the headmistress. Leeds-born RADA graduate Michael Blackham had previously done a six month stint in Coronation Street as a suitor of the hapless Emily Nugent (Eileen Derbyshire) and was very much in the Simon Oates school of acting as the passionate lead reporter, still in occasional need of reigning-in by the Editor (perhaps tellingly, Gillian Wray as reporter Sue Jackson is absent from this story - more on that later). Part of the unpredictability of James Doran's script is that instead of making a play for her, Spence falls under her intellectual spell. She tells Spence that Deepdeene was founded to give the daughters of uncouth mill owners enough social graces to pick up a Lord for a husband. In the six months that she's been here Miss Barrett started the social work to make the girls aware of how the old, the poor and helpless live. "To enlarge their sympathies so they can make their own enlightened choices and not reflect the blinkered views of their parents. That's what education's for."
She refuses to disclose the name of the girl who claims to have been assaulted, telling Spence she doesn't believe the story. She says the girl is unhappy both at home and school and doesn't like social work because she's not interested in other people. Miss Barrett says she reluctantly reported the complaint to the police, but they spoke to the girl and took no further action.As far as Miss Barrett is concerned that's the end of the matter.
Spence is convinced the Gazette should support Miss Barrett but Walters demands to know more: "She's an attractive woman. Why isn't she married? Is there a man in her life? It's important to know! Is she a well-balanced normal woman who wants, purely as a teacher to improve the standing of her school…or a frustrated lesbian bent on ruining the lives of adolescent girls?"
However, Georgina Barrett is a determined operator. She adopted a submissive front with Spence, but also arranges to have dinner at the local hotel with her old friend James Hadleigh. She compliments Hadleigh on arranging a special meal four hours in advance. Hadleigh says It pays off, because it makes the restaurant take trouble.But he also returns the compliment saying, "You're one of the few women I know who'd appreciate it." Hadleigh agrees to intercede with his uncle ("a nice but very stupid man")to ensure the Governors will not sack her. Chamberlayne agrees that if the Gazette investigates the alleged assault and Hadleigh makes a decision based on their findings, he will be guided by Hadleigh.
The next day, Spence has arranged to accompany model pupil Julia Gill (Diane Mercer) on her rounds. She tells him him the social work is a bit of a drag. "I'd rather be doing something about Vietnam..being a nurse (for) all those poor children being burned and wounded with no-one to look after them."
After a pleasant visit to the arthritis-ridden Mrs Wright (Winifred Dennis) they move on to a cobbled street of back-to-back terraces which appears to have been filmed in the soon-to-be demolished Prosperity Street.In a cold squalid room they find Mrs Parsons (Elizabeth Begley) huddled in bed.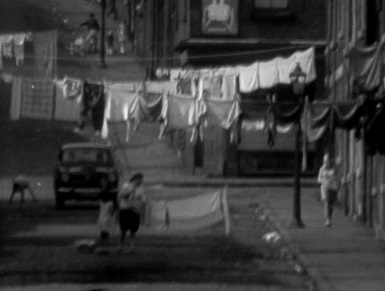 When Julia asks if she wants the window open, Mrs Parsons snaps, "No it's cold. You feel the cold when you're old." As Spence puts a shilling in the meter for the gas fire he asks. "Don't you mind the mess love?" She snaps back that, "Nobody else cares, why should I?" She tells Spence she lives on four pounds ten a week (about £78 in 2018) and a pound of that goes on rent. Spence asks if she's got any family. A pained look passes over her bitter face, "Aye. Three boys. Two girls. Troubles enough of their own without me adding to them. So they keep telling me." Spence asks, what about the Social Security. "It's not up to them to help me, " Mrs Parsons shoots back, and when Spence asks who it is up to she replies, "Them that owe it to me. They don't want me! They don't like me!"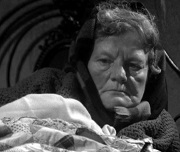 Mrs Parsons tells them to leave saying that, "kindness is never free they all want something in return. Money, gratitude, love, something for nothing. Makes them feel superior. Looking at a dirty old bitch like me makes anyone feel superior." Despite her harsh reception, Julia tells Spence she will go back because she's stubborn.
Meanwhile, after Spence has tricked the name of the girl who made the assault allegation out of Julia, Walters accepts Hadleigh's challenge to investigate the claim. Her mother (Hilary Mason) confirms to Walters that she disagrees with the idea of social work. "I came from those slums, so did my husband. We fought our way out of it . The rest of those people didn't fight. They were full of grumbles but deep down they liked it. They were cosy like pigs in muck." Although her daughter Audrey will miss her exams, her mother say she doesn't need them. " She'll never have to work. All that matters is that she mixes with the right kind of people."
When Walters interviews the brash and condescending Audrey (Ann Holloway, later one of Patrick Cargill's daughters in Father Dear Father) she laughingly confirms that the pensioner, "..tried to goose me. I gave him a good hard slap across his dribbly old chops and ran. I hate old people. I think they should all be put out of their misery when they're 60."
Finally, Walters convinces the grimy and suspicious Jacko Pendlebury (Joe Gladwin) to admit him to the clutter of his house. Jacko needs convincing that Walters is not from the Welfare, who are always trying to put him in a home. "This is me home," he tells Walters, gesturing to the array of scattered furniture and disassembled TV's. "I bought it 45 years ago. It's been me castle since wife died." Jacko gleefully tells Walters he spends his time betting on horses " I'm only old age pensioner round these parts who can afford to drink every night." When Walters asks him about Audrey, Jacko gleefully recalls she was a pretty one and admits goosing Audrey to frighten her away, "They're very cunning these welfare people. Thought they could get at me with that one and get me put away." Walters concludes he's an old reprobate and walks out as Jacko shouts after him to make sure that if they send any more from the welfare, make sure they're pretty ones.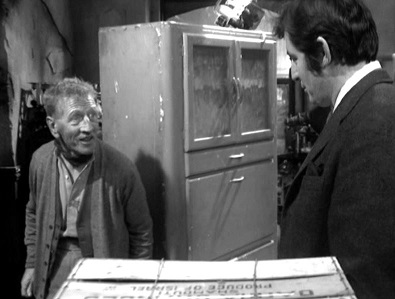 Jacko (Joe Gladwin) questions Walters' authority to enter his "castle".
Walters shows Hadleigh a report quoting Audrey Miller as saying, "the shock she experienced lasted only a couple of seconds. Her main objection seems to be the age and unattractiveness of her attacker". Hadleigh is outraged, saying they can't print this, the parents will sue. Walters agress but says if they do, they'll lose. He then shows Hadliegh a second more sober and discrete version of the report. He tells Hadleigh the first version is to pass on to Colonel Chamberlayne. It's what he'll publish if the Governors sack Miss Barrett. Hadleigh departs saying he'll enjoy watching his uncle read the story.
Tony Doran was one of the two credited writers on The Ipcress File (1965) and like series creator Robert Barr and script editor Elwyn Jones, Doran had previously worked on the BBC's Z Cars. After exploring the new money and "Yorkshire independence" in his previous episode, Doran looked at those left behind of the gold rush in this story. Although Mrs Wright is the most affable of the three pensioners, we still catch a disappointed look on Winifred Dennis' face as Julia and Spence rush off to their next appointment. In fifty years, nothing much has changed - the greatest social service that can be provided to pensioners is company. Both she and Mrs Parsons have children, but they've moved away and have no time for their parents.This was the inevitable consequence of children feeling they have to move away from their home to make a success of their life and was another of the social economic effects which the founding of Yorkshire Television hoped to counteract.
Director Tony Wickert pulls a fast-moving episode together with some fine guest performances from Elizabeth Begley as the bitter Mrs Parsons, and Joe Gladwin* as the hedonistic Jacko, and solid leads from the waspish Harper and the world-weary Laurimore.
It's fair to say there's no sugar-coating in this episode. Mrs Miller and her daughter are equally as selfish and spiteful as Mrs Parsons but the charming and idealistic Miss Barrett is also shown to have been too ready to disbelieve Audrey's story. The fact that Audrey was brash enough to have been unscarred by the incident, and Jacko claims to have made the assault only to scare her off seems like a bit of special pleading. And not too convincing given Jacko's final words.
To put this in context, Gazette's sexual politics are firmly those of the 1960's. In Elwyn Jones' opening episode Gillian Wray's reporter Sue Jackson tells Hadleigh she wears her short (not mini) skirt to the police station because they're a bunch of "dirty bastards" who'll give her more information when they see her legs. Later on Hadleigh's uncle Colonel Chamberlayne jokes with Walters that Sue "resisted my advances" and Walters replies "She resists mine too!" At the end of the episode, Walters tells Spence that since Sue won't co-operate, "let's put the paper to bed instead." The series is very much of its time. To return to Austin Mitchell again, he tells the story of a new recruit to Yorkshire TV who brought his wife up from London to show her round Leeds. They went into a pub for a drink and ordered two pints of beer, but when the barman realised who it was for, he snatched one of the glasses back saying, "We don't serve pints to Ladies!"
Gazette was hindered by being transmitted during the "false start" of the new ITV. There was antagonism between the old and new TV contractors. While Yorkshire Tv put Gazetteout at 9pm on Friday Evenings, other companies such as Anglia TV preferred to follow London Weekend Television in screening Frost On Friday at 9pm with Gazette relegated to 11pm. It's rumoured that ATV only showed Gazetteat 9pm because Lew Grade resented David Frost and LWT taking over ATV's lucrative London weekend franchise. As if this wasn't bad enough, all the ITV companies were hit by technicians strikes over the new colour TV technology and some scheduled programmes were not even shown at all.
Perhaps unsurprisingly, once the ITV network had settled down, Yorkshire TV decided that Gazette had run its course, but Gerald Harper and Gillian Wray would return in Hadleigh, a series focussing on the title character's wider business interests.
*Coincidentally, Michael Blackham and Joe Gladwin had worked together during the 1965 Summer Season at Blackpool's Grand Theatre. My Perfect Husband traded on the success of the BBC's Meet The Wife with Thora Bird and Freddie Frinton starring As Dolores and Fred Fazackerley. Michael Blackham played their son, Sebastian and Joe Gladwin played Hercules Shorthouse. The cast also included Marti Webb and Diane (Hi-Di-Hi) Holland.
*Calendar Boy by Austin Mitchell, Pen and Sword Books 2014