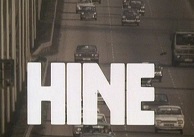 After the Power Game...
HINE (ATV 1971)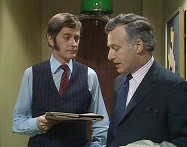 Arms dealer Joe Hine (Barrie Ingham) offers temptation to weapons firm sales manager Astor Harris (Paul Eddington).
Premiering on 7 April 1971, HINE starred Barrie Ingham as independent arms dealer Joe Hine, selling weapons in competition against the established arms companies such as Pendles represented by Astor Harris (Paul Eddington). Walpole Gibb (Colin Gordon) a civil servant with the Department for Weapons Disposal Overseas ensures that both Hine and Pendles deals meet with Government approval. Critic Philip Purser said Hine was a role, "guaranteed to offend all liberal consciences (but) turned up trumps thanks to Barrie Ingham's debonair performance and the cunning of Wilfred Greatorex's format."
Wilfred Greatorex had written treatments for two new shows in late 1967 after The Power Game went into suspension. Ironically, Ambassador At Large (Special Envoy) would become the basis for the third series of The Power Game in 1969. The second treatment about an arms dealer would be realised as Hine. The third series of The Power Game had ended in April 1969 with Garfield Kane (Barrie Ingham) being ousted from his job as Minister, and Lincoln Dowling (Michael Jayston) being planted by British Intelligence in the new Consortium formed by Sir John Wilder (Patrick Wymark) in order to influence sales of military equipment to foreign powers. There was some speculation that a fourth series of The Power Game would continue in colour with enhanced roles for Jayston and Ingham as Wymark's antagonists. But while Wymark concentrated on other film and stage roles, it was announced in May 1970 that Wilfred Greatorex had devised a new series called Hine about an arms dealer who, "during his dealings with foreign powers might sell the occasional atomic power station." At this point, the role of Hine had not been cast, "but the character the actor will have to play is a self-made man, the right side of 40, who came into arms dealing via the Ordnance Corps." As both Michael Jayston and Barrie Ingham had played upwardly-mobile working class characters in The Power Game it's possible that either of them could have been in line for the character, but when the series went into production in Autumn 1970 it was Barrie Ingham who was the star.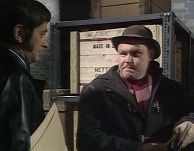 Hine (Barrie Ingham)negotiates with a union leader (Timothy West)to move his equipment from the docks in 'Survival of the Creeps'
Joe Hine (Barrie Ingham) was a former Corporal in the Ordnance Corps who operated as an arms dealer out of a flat-cum-office at 22 Dorset Square, Marylebone. His staff comprised his secretary Susannah Grey (Sarah Craze) and assistant Jeremy Windsor (John Steiner), a former Guards Captain. Hine often brokered deals on behalf of the established arms firm Pendles. Their sales chief was Astor Harris (Paul Eddington), a former Brigadier in the Ordance Corps who had made his reputation taking the credit for a surplus arms deal dreamed up by Corporal Hine. Although Pendle's chairman Sir Christopher Pendle (Michael Goodliffe) valued his firm's reputation for integrity, he recognised Hine's value as someone who could pay the bribes that often made arms deals possible. Walpole Gibb (Colin Gordon), of the Department for Arms Disposal Overseas also acknowledged Hine's usefulness. Although many of the deals were actually between the British Government and a foreign Government, with Pendles as the manufacturer, he admitted that "Hine's someone to put the icing on the cake for the buyer...We sell £4.5 million worth of tanks to the Middle East and the clients are personally richer in Switzerland." As Jeremy Windsor later tells Gibb, his department benefits from Hine's efforts, "So that you can boast about the size of your arms exports."
Royal Shakespeare Company associate Barrie Ingham gave an engaging and charismatic performance as Hine - a poor working-class boy from Manchester, now capable of moving in the highest circles, but always aware that most of his paper profits were eaten up by making bribes, always knowing that he had to make bigger deals to equal his previous year's turnover.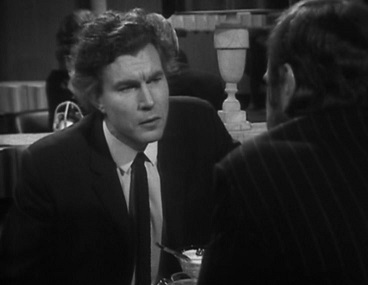 In the episode The Old School Noose by Arden Winch, Hine is forced to confront his oldest friend, George Dyson MP (David Burke), "a man I like and respect," who threatens to name Hine in Parliament. It's part of a plot by Harris, instigated by his chairman to get Hine out of the game. Hine tries to convince Dyson to abandon his quest. He tells Harris that he's been entertained by Government ministers who confided that he was a very valuable part of the export drive, even though they couldn't reward him with a Knighthood like other exporters. When Dyson says he thinks Hine sells things for people to kill with, Hine replies that, "a total pacifist could argue that what I do is immoral but you can't." His government sells military equipment all over the world and much of it is used to suppress dissidents, not defend from attack.Hine goes on to say the Government could eradicate inequality if it spent money where it was needed, but instead it concentrates money on the interests where votes are needed. Referring to recent floods Hine says, "We could have built dams in Bengal and those people wouldn't have drowned. Instead we built bombers that never fly." .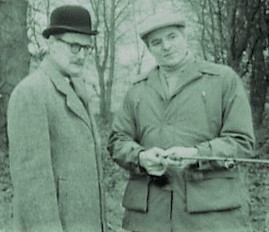 Civil Servant Walpole Gibb (Colin Gordon) and arms manufacturer Sir Christopher Pendle (Michael Goodliffe)
The series treads some of the same ground as The Power Game - in the episode Comrades in Arms, Hine is exasperated by the tired and complacent High Commissioner in an African state who refuses to let him hold a reception (paid for Hine) at the High Commission. Meanwhile Walpole Gibb approaches Sir Christopher Pendle asking him why his firm has withdrawn from arms negotiations in the state. When Sir Christopher tells him the new leader expected them to virtually give their arms away, Gibb replies that a Chinese delegation has arrived in the country. Both the Foreign Office and the Americans are agitated. Gibb tells Sir Christopher, "We'd like you to resubmit your offer as part of a package deal. We're going to offer increased aid and a rather large interest free loan to pay for the stuff. Plus a handsome sweetener for the General, provided he sends the Chinese packing." Pendles are needed because the General might find it less embarrassing with his opposition if he's seen to be dealing with a commercial firm rather than the British Government.When Hine spots Astor Harris' arrival at the hotel, he quickly assesses the situation and threatens to let it be known Pendles are working on behalf of the Government unless he hires Hine as an assistant. When Hine is kidnapped by revolutionaries and threatened with death unless the Chinese deal is accepted, Harris tells the General he sees no reason to abandon completion of Pendles deal. Paul Eddington shows a believable transition from the subtle comedy of his fish-out-of-water credulousness in the first act to his cold-blooded denial of Hine in the third. As in The Plane Makers and Don Henderson trying to second-guess John Wilder, Harris is undermined when Sir Christopher learns of Hine's kidnap. Somewhat ironically for an arms manufacturer, he tells Harris that he doesn't want a man's death on his conscience. "I can always make more money, but I've only one conscience!"
Unfortunately, Hine failed to make much impact. It may have been that the series didn't meet public expectations. The title sequence of Hine being driven to the airport by his chauffeur Juan Moreno was backed by theme music from ATV musical director John Scott which would almost have suited a travel show - until the title sequence segued into shots of tanks and guided missiles exploding. Perhaps the public expected something more like an ITC adventure show with Hine being an arms dealer who stumbled across high adventure (much in the way that photographer Craig Stevens in Man of the World was constantly dragged into revolutions and spy rings). Whatever the reason, Hine failed to make it to a second series. Viewed in retrospect it was a credible successor to The Power Game with a commanding lead performance from Barrie Ingham. Episodes such as Survival of the Creeps by Arden Winch explore union politics in a measured and amusing way, while Hine's shattered marriage to Employment Agency owner Ann Bell is covered touchingly by Ray Jenkins in To Have And To Hold and amusingly by Peter Draper in Everything I Have I Owe.Unfortunately, we never did get to see Hine sell that nuclear power station.