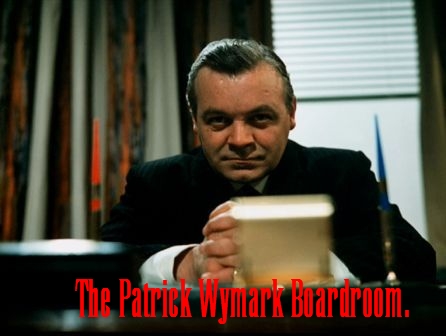 Saturday 24 November 1962 Man of the World: "The Mindreader"
In 1962, ITC tempted Craig Stevens, fresh from three seasons of the NBC private eye series Peter Gunn over to England to film Man of the World* at Shepperton Studios. Stevens played Michael Strait, an award-winning news and fashion photographer whose work took him around the world. Patrick Wymark starred in The Mindreader, one of the few episodes set in England. Wymark played Downing, the father of Carla (Juliet Mills) whose psychic powers are investigated by Strait.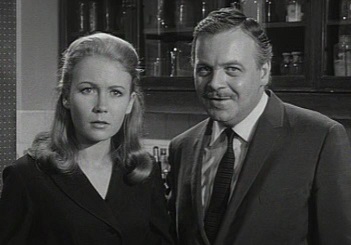 Juliet Mills as Carla with Patrick Wymark as her father Mr Downing
Wymark is aged by subtle make-up to play a man in his fifties. A disappointed man, who sees himself as a failure "sunk into the general rut", Downing believes that Carla's gifts will make her, "a person of some some distinction and importance." As he welcomes Strait to his home, Downing relates his origins as the son of a Leeds mill worker. Starting out as an actor (two years in repertory theatre followed by unemployment), Downing then tried to run a rubber farm in Malaysia before becoming a mine accountant in South Africa.
Although Wymark briefly affects a blunt Yorkshire accent similar to the one he would use as Strafford in Cromwell, he generally plays Downing as mild and inoffensive. Even when disagreeing with Carla's fiancee Paul (David Sumner)who sees Carla's mindreading as "claptrap", Wymark shows with a slight tremble in his voice, Downing straining to be polite. "It's quite definitely not tripe, dear boy." However, the opening scenes make it clear that Downing is a "stage father", hoping to compensate for his own self-perceived failure with Carla's success. He describes Strait as "a very influential journalist" and plays down Paul's fears that the publicity will harm his daughter saying, "Shouldn't I be proud of her? Shouldn't I want the whole world to know about her?"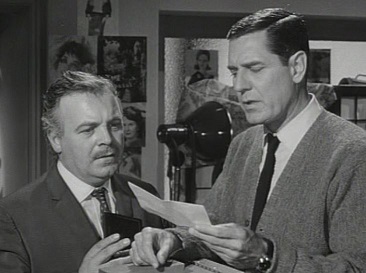 Patrick Wymark as Downing with Craig Stevens as Michael Strait
20 year old Juliet Mills is totally convincing in the ambiguous role of Carla. Is she a fake or does she have psychic powers? Carla is clearly troubled - she met her fiance when she was being treated for a nervous breakdown - and wants to be a "normal" wife to her fiance, but this is at odds with the dreams of her father. Juliet Mills had made her stage debut straight out of drama school in the play Five Finger Exercise directed by Sir John Gielgud, and following the Broadway transfer of the play had appeared in a TV version of Mrs Miniver for CBS. Only the week before the broadcast of The Mindreader on ATV, she had appeared on ITV in the Playhouse production of The Morning After.
Scriptwriters Wilton Schiller and Robert E Thompson had both written for the TV series Man With A Camera starring Charles Bronson as a New York-based photographer. Schiller would go on to produce Mannix while Thompson would be Oscar-nominated for co-writing the screenplay to They Shoot Horses Don't They? . It's possible that script editor Ian Stuart Black provided some fine-tuning on the dialogue for the British characters, but the underlying script is a fine, if surprising piece of work. Strait makes it clear in another episode that he always writes the truth, whoever it will offend and The Mindreader follows Strait's search for the truth about Carla's gift. The story takes the viewer to several picturesque settings such as the Chilterns, and Somerset House (when it was still the central reference for births, marriages and deaths). Aided by local photographer Moira Redmond, Strait interviews a stage mindreader and learns about "muscle readers" who can pick up clues to people's thoughts from involuntary reactions. Strait also learns the term "gone shuteye" for muscle readers who get so good they can do it without thinking, and believe they really are psychic. Strait also photographs the detailed experiments on Carla by Professor Harding (Charles Heslop) in an attempt to identify any concealed signals between Carla and her father. Every avenue is explored and seemingly closed-off. Like any good mystery, when the story is finally resolved you can watch the show again and see that all the clues were there from the start.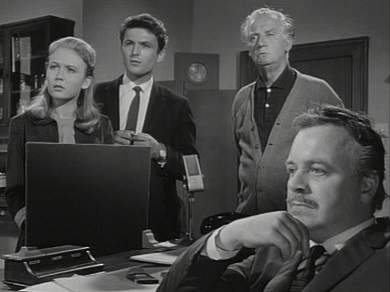 The look of defeat: Patrick Wymark as Downing with Juliet Mills as Carla, David Sumner as Paul and Charles Heslop as Professor Harding
Craig Stevens makes a fine lead as the aptly-named Strait, performing with laid-back Cary Grant-style charm as the seeker of the truth. In contrast to Carla's physician-fiance Paul (David Sumner, The Wild and the Willing (1962) and later the BBC's St Ives (1967)) who is hostile to the notion of mind reading and declares that "there is a rational reason for everything", Strait keeps an open mind. While Paul wants to suppress any discussion of Carla's "gift", Strait recognises that this will not provide a resolution. Only explaining her "gift" will allow Carla to be assured that she is, "wonderfully normal".
As Strait reveals the truth, Wymark becomes frozen with a look of defeat. Downing's final dream of success has been shattered. Intriguingly, for an ITC series, there is no melodrama behind the reveal. No last minute gun being pulled and the police being called. It is a human tragedy on a small scale.While Downing, would be defeated, Wymark's career was on the rise. Director, Anthony Bushell had cast Wymark in the Scales of Justice featurette, A Woman's Privilege which was also released to cinemas in November 1962, and he had starred in the ITV adaptation of The Typewriter only four days before this episode was broadcast. The following year would see Wymark cast in The Plane Makers.
* Man of The World was an ITC Production, screened by ATV and ABC on Saturday evenings from September 1962 to December 1962, with a second run from May to June 1963. As a photo-journalist, Michael Strait (Craig Stevens) was thrust into contrasting globe-trotting plots. Some were light and humorous, while others were more straightforward intrigue. The first broadcast episode (although not the pilot) Death of a Conference sees Strait commissioned by a French magazine to report on a peace conference during the Algerian war of independence. Two unrelated episodes set in West Berlin seem to have been prepared for the usual ITC tactic of cutting two episodes together as a feature film (although these episodes are not known to have had a cinematic release). Both feature Paul Maxwell as Colonel Cutler of Allied Military Intelligence and use the many bomb-sites of London to evoke post-war West Berlin. Shadow of the Wallby script editor Ian Stuart Black, sees Strait trying to clear fellow journalist Joseph Furst when he is suspected of passing secrets to East Germany. Specialist for the Killby Lindsay Hardy, is reminiscent of Little Red Monkey with Kenny Baker (Star Wars' R2-D2) cast as a hired assassin who uses an unusual disguise to approach his targets. The climax has to be one of the most outrageous in film thriller history.