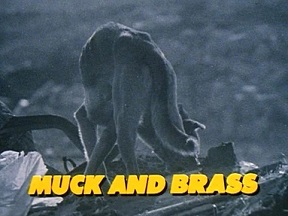 After the Power Game...
MUCK AND BRASS (CENTRAL TV 1982)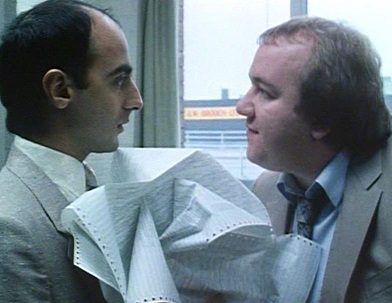 Jamal (Darien Angadi) debates ethics with Tom Craig (Mel Smith) over sheets of continuous paper dot matrix print-outs
First broadcast on 12 January 1982, Muck and Brass stars Mel Smith as property developer Tom Craig. The six episodes chart his rise to power. When the story opens, he is a man on the fringes of the property industry in the Midlands city of Slatterly . Supported by his accountant Jamal (Darien Angadi) and secretary Molly (Lesley Nightingale) he fights his way into the crooked web of politicians and businessmen who control the city.
Craig's main asset is a flimsy housing estate bought up from a bankrupt subsidiary of builder John Roman (Johnny Allen). Roman betrayed Craig's father and leads the 'Federation' of men who have sewn up the local construction industry. Conservative councillor Reg Palmer (Raymond Mason) controls the planning committee, while Labour opposition leader Les Sharpe manages the Threadworkers Building Society which is used to channel bribery payments (Sharpe receives a cash payment from contractors, and the councillor in charge of contracts receives an interest free loan).
Ironically, Craig has an opportunity through the Conservative leader of the Council, Maurice Taylor (James Faulkner). Taylor's ambition is to make the city the cultural centre of the nation. His Slatterly Festival Development is an Arts and Exhibition Centre which will receive Central Government funding. Acres of Victorian terraces have been demolished to make way for the project, but Craig owns 22 slums which still stand in the urban wasteland. Knowing that it will take months for a Compulsory Purchase Order to go through, Craig has made it a condition of selling his properties to the developers, Albion Developments that he gets a contract with the council. Taylor wants action, but when Reg Palmer assures him that Craig won't "cut himself a slice of this fat cake" Taylor sharply rebukes him. "There'll be no talk of cake while I lead this council." James Faulkner as Taylor carries steely authority and may just be one of the few conviction politicians in the series. He perserveres with his dream of an arts centre and as a leading light of the amateur opera society obviously has a personal stake in this. But does this mean he cares about bettering the lives of the many, or is it another form of personal ambition? And can even he be bought off in the end?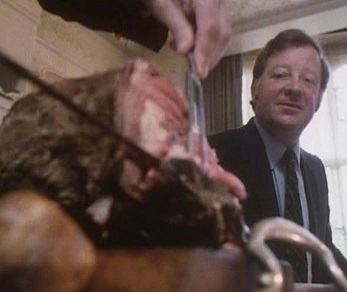 Councillor Reg Palmer (Raymond Mason) eyes up a nice bit of fat
Determined to see his Festival Scheme stay on schedule, Taylor confronts Craig telling him, " Your mistake is not seeing where the power lies". After Craig gets evidence of corrupt practice, Taylor sweeps it under the carpet but tells his subordinates that the Council will now conduct itself with probity. Against Palmer's protests he rules that a proportion of contracts will be given to small firms to enable them to develop the necessary expertise. And Craig's is one of those small firms. Craig is given a clearance contact on the Festival site, although Roman does his best to poison it, using his power as a major employer to warn potential sub-contractors, "You do business with this man and you do no more business with me or the Federation" . Roman's stooge, Councillor Reg Palmer also blocks Craig using his position as head of the Planning Committee. Craig fights back by approaching independent councillor Annie Kemp (Angela Morant) to work as his business consultant. Although she sees through his attempt to manipulate her, Annie decides it will serve her interests to work with Craig. Angela Morant, who played Annie had appeared in the 1969 Callanepisode Nice People Die At Homeas the sleeper agent Nadia. She would later appear in the second Inspector Morse film Service Of All The Dead (1987) as the enigmatic Ruth Rawlinson. As Annie Kemp she delivers a mix of conscience and ambition that doesn't always mix in the most productive proportions.
Mel Smith as Tom Craig and Angela Morant as Annie Kemp
Although broadcast by Central TV from 12 January 1982, Muck and Brass was one of the last ATV productions (the novelisation by Peter Chepstow is copyright ATV). ATV had been criticised for its lack of local focus and Muck and Brass appears to have been set in the Midlands in an attempt to meet that criticism. The series was produced by Margaret Matheson, who had a successful if controversial career as producer of the BBC's Play For Today. Abigail's Party and Scum were two of her BBC productions and it's likely that she was poached by ATV in an attempt to restore its reputation. Although ATV won its ITV franchise re-application, it was on the basis of replacing its Elstree studios with one in Nottingham, Lew Grade's Associated Communications selling half its shareholding, and the company changing its name to Central TV.
Muck and Brass was written by Tom Clarke, who had scripted sporadic episodes of TV episodes (such as a 1969 episode of The Troubleshooters directed by Ridley Scott and set against a Stock Exchange battle for the oil company), but was best known for single plays. Mad Jack , transmitted 4 Feb 1970 was one of the last Wednesday Plays and starred Michael Jayston as Siegfried Sassoon. The prizewinning play (International Television Festival 1970), directed by Jack Gold, followed Sassoon's protest against the continuation of the First World War. Much of Jaystons struggle as Sassoon was insisting that he was not shell shocked or a pacifist, but objecting to the objects of the First World War, fighting not for freedom but for Mesopotamian oil wells.
Clarke and Gold reunited for the 29 January 1972 Play for Today - Stockers Copper, starring Gareth Thomas as a policeman billeted with Cornish miner Bryan Marshall during the 1913 china clay strike. Although made before the coal mine strikes of the 1970s and 1980s, the play explored many of the same issues ( the play is reviewed here .)
Just before Muck and Brass, Clarke wrote Billion Dollar Bubble , an 8 June 1978 TV movie for the BBC 2 documentary series Horizon directed by Brian Gibson. Starring James Woods, Shane Rimmer, Christopher Guest and Sam Wanamaker, Clarkes script dramatized a fraud by the Equity Funding Corporation of America, which created false insurance policies to sell on the reinsurance firms. As fraud trials are generally the most difficult for juries to understand, Clarkes script had the difficult task of dramatising an insurance fraud in a way that would entertain TV audiences. This paved the way for Muck and Brass.
Muck and Brass is a true successor to The Power Game in two respects. First because it illuminates levels of technical detail within the story ( the difference between desirable yardage contracts in demolition and undesirable fixed price contracts.) Second, because it shows a calculating, amoral lead character prevailing against the plots set it his path. When John Roman accuses Craig of being a crook, Craig corrects him. "I'm not a crook. I just take advantage of them.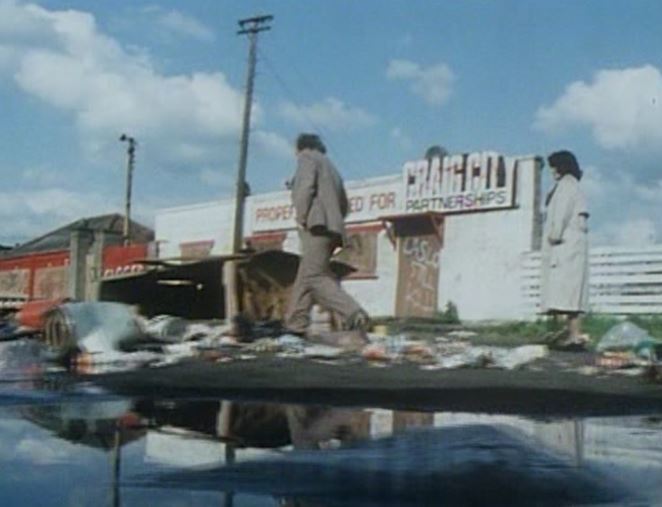 Tom Craig (Mel Smith) shows Annie Kemp (Angela Morant) a football ground left derelict after one of his deals
Nevertheless, Clarke's script shows how the relentless drive for power and advantage can undermine the public interest. In the second episode,World of Sport Craig targets a struggling football club whose 15 acres of ground stand between the Festival site and wealthy residential property. After fighting off Roman and his cronies, Craig eventually wins control of the club by a share swap with Craig Dream Homes Ltd. This means that he gets an asset on his books worth 750 thousand Pounds (2.8 Million in 2019) at no cost. As he tells a banker, refusing an offer of a loan, he has no need to develop the site. It will increase in value standing empty. Later on, Craig takes Annie Kemp round the now-derelict football ground telling her disparagingly that the property was only used for twenty hours a week. "How many hours are they used now?" she asks. "Ah, but it's the potential." Craig replies.
Craig's one constant ally is his accountant, Jamal. Unlike Don Henderson in The Power Game he doesn't try to act as Craig's conscience. Jamal does often point out what he thinks is the least reckless course of action, even though he knows Craig won't follow it. As he says at one point, "As an accountant I can give you facts and figures. Decisions taken thereon are the province of management. To wit, yourself." Jamal was played by 31 year old Darien Angadi, a former boy soprano who was active in the Marlowe Dramatic Society at Oxford University. On graduation he secured roles on stage and in TV shows such as I Claudius and Blakes 7 . Tragically, Darien Angadi died on 5 December 1981, shortly before the series would be broadcast.
The first four episodes of Muck and Brass were directed by Marek Kanievska, who had directed episodes of Hazell and Shoestring and went on to make the filmsAnother Country (1984) and Less than Zero (1987). Together with cinematographer Peter Greenhalgh (Insepctor Morse, Poirot) Kanievska established the visual style of the series from the opening shot – a stately longshot of a convoy of limousines gliding down a decrepit street of terraced houses, with the quirky interjection of a man suddenly riding a pony past them in the opposite direction. Clarke's long conspiratorial conversations were delivered in elaborate tracking shots through shadowy concrete underpasses or with figures dwarfed by scenes of urban devastation.
The final two episodes took the story forward five years. It's not clear if the story was truncated due to ATV's franchise problems, or the series was always planned to jump forward this way, but it does provide a resolution. Both episodes were directed by Martin Campbell, who had also directed episodes of The Professionals and Shoestring and went on to direct Reilly Ace of Spies (1983), Edge of Darkness (1985) Goldeneye (1995) and Casino Royale (2006). As the first of the last two episodes opens, the Festival Site is still undeveloped. As the pseudonymous Peter Chepstow puts it in the novelisation,"The brave hoardings which had once shown others the dreams in Maurice Taylors head, had sagged, blistered, faded and splintered. The debris of what had once stood here lay scattered still." Craig makes new alliances to come up with an alternate use for the land – one which will put him on top.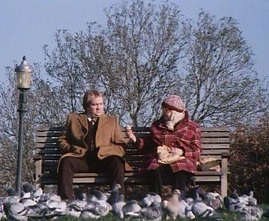 In raw cunning, Tom Craig is a true successor to Sir John Wilder. He lacks Wilder's studied polish – he has to be advised by his accountant Jamal to smarten up his appearance – but that may show he's a man of the Thatcher era. Craig is truly single-minded. His secretary is not in love with him and he lives with his widowed mother. If the audience is expecting a simmering romance with Annie Kemp, they are bitterly disappointed when he betrays her. Any time it seems as if Craig is going to show a spark of sentiment, he walks the other way. In one of the greatest scenes using humour to signify character, Craig is brooding in a park and sits next to an old lady feeding the pigeons. She realises Craig is watching and tentatively holds out a piece of bread to him. Craig looks at the bread, takes it, and then pops it in his mouth.
The son of a bookie, Mel Smith studied Psychology at New College, Oxford where he joined the Dramatic Society. After working in theatre production, he joined the cast of BBC comedy show Not The Nine O'Clock News in 1979. Although the series was a hit, Smith's casting in the lead of a drama series like Muck And Brass was a surprise – albeit a rewarding one.
The series concludes with Taylor giving up his dream in exchange for a move to national politics. Craig, having bought up Albion Developments, makes a deal to build a brewery on the site. The novelisation, written by the pseudonymous Peter Chepstow, sums up the artists impression of the new development. "It was an industrial monstrosity, and would stand deep within the city. It was a steel and concrete denial of everything that made ordinary people happy and ordinary existence worthwhile." But for Craig it is a personal triumph. The series ends with Craig on top and Roman now diminished. The background story of Craig's father being betrayed by Roman is the one odd note in the series. Perhaps it is there to explain why a pragmatist like Craig perseveres instead of taking Les Sharpe's advice in the first episode and moving to another town. If so, it's yet another way in which Craig disappoints. When he finally triumphs and destroys Roman, it's as offhand as his betrayal of Annie Kemp. No exultation. Almost dispassionate. When Roman crashes Craig's celebration party for shareholders and begins to curse him, Craig watches as the bouncers throw the builder out, and then jokes, "Someone not happy with his dividend. Seated at Craig's right hand is Roman's former stooge, Councillor Reg Palmer. Now that Taylor has moved onto national politics, Palmer has been made leader of the Council.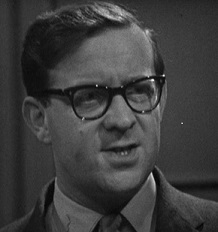 The novelisation concludes of Councillor Reg Palmer that, "Men like him are born to be the tools of forces more powerful than they are. But when those forces are finally defeated, the Palmers of this world often survive because they didn't seem worth the bother of destroying. On occasion, disregarded or selected as a compromise, they become presidents and prime ministers, holding the fates of millions in their uncertain hands."
Ironically, the one real link with The Plane Makers is Raymond Mason playing the buffoonish Councillor Reg Palmer. Mason had worked continuously in TV since 1957, and would go on to appear in the Mel Smith's comedies Alas Smith and Jones (1984) and Colin's Sandwich(1988). Although he had a running part in a BBC2 adult education series, The Hardy Heating Company Ltd (1970) which explained business concepts such as the balance sheet, most of his career was made up of one-off appearances. And so he had the part of resource manager Bill Fenham in A Condition of Sale, the 4 February 1964 episode of The Plane Makers