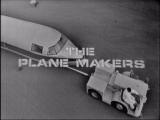 12 November 1963
Costigan's Rocket. Writer Edmund Ward. Director John Nelson Burton.
"I ought to have a red light on this ladder, the speed I've been moving." George Costigan (Gerald James)
Returning from the first season episode, Has Anyone Seen Costigan? elusive maintenance man Costigan (Gerald James)needs to pay for his daughter's forthcoming wedding and becomes a human dynamo ("overtime Costigan, that's what we call him"). When his friend, Pop Prendergast (Gerald C. Lawson) wins a greyhound in a raffle, Costigan establishes a syndicate to train and run the dog.
Welfare officer Elliott (Tenniel Evans) agrees to let Costigan use the sports ground early in the mornings for the "Scott Furlong Dog Appreciation and Education Society". The dog runs record breaking times, the drawback being that it will only run when it sees Prendergast on the finishing line ("I must remind him of a rabbit"). Undeterred, Costigan enters the dog in a race, swearing the syndicate to secrecy but then giving an interview to the local paper. When the story appears, Costigan is quoted as saying that the dog, "is twice as fast as the Sovereign."
When he sees the story, Wilder tells Don Henderson to find a good taxidermist, "If the dog wins – fine! But if the dog loses, I want one stuffed greyhound and one stuffed welfare officer on that wall!"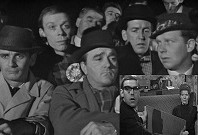 Sean Lynch, Brian Murphy, Gerald James, Brian Haines, (inset) Larry Dann and Jo Rowbottom.
Edmund Ward's first season episode "Has Anyone Seen Costigan?" obviously made enough of an impression for a second story about Harry Costigan to be commissioned. It's hard to imagine how contemporary audiences would have taken to this comedy episode. From a 21st Century view, it's irritating because it sidelines the newly-established lead characters for a story that seems trivial. On its own terms, the story is well-constructed, but the humour seems more fanciful than Peter Draper's earlier Any More For The Skylark? which was more in tune with the realistic tone of preceding episodes.It's a literal shaggy (or smooth) dog story. Costigan is portrayed as disreputable (there's a running gag where his unseen wife is referred to as repairing the bathroom door or building a dog kennel) but without malice. It's clear that his get-rich-quick scheme will fail, but the means by which it fails is unpredictable.
.At first, the viewer might think that Costigan intends to defraud the other members of the syndicate and brags about the dog race as part of some underlying scam to get the whole factory backing the dog. But in the episode as screened, Costigan loses as much as the other syndicate members and just appears to be a guileless idiot. It would be interesting to know if this was Edmund Ward's original intention or if Costigan originally had a more cunning scheme that fell foul of ITA guidelines. In the end, the Holy Fool wins out because Henderson orders Staff Welfare officer Elliott (played by Tenniel Evans) to get rid of the dog, and Elliott negotiates a sale with a dog breeder in Ireland.
Gerald C Lawson (Pop Prendergast, the Watchman)and Brian Haines as Costigan's long-suffering supervisor had both appeared in the first series episode. Lawson had appeared in Hammer's The Mummy and also played Dr Waldmann in ABC's Mystery And Imagination adaptation of Frankenstein.
The episode has an impressive cast. Gerald James had a lengthy career and was memorable as the ghost hunter Tully in the second Sapphire and Steel story. His daughter Maureen is played by the beautiful Jo Rowbottom, who would go on to star opposite James Beck in Romany Jones, while her fiancé was played by Larry Dann ,later to star in Stephen Weeks' Ghost Story (1974) and as Sgt Alec Peters in The Bill (1984-1992). Dann had appeared in several productions at Joan Littlewood's Theatre Workshop, at the Theatre Royal Stratford East, as did Brian Murphy (later of George And Mildred fame) who plays one of the syndicate. Hiram Thomas, a gambler trying muscle in on the action is played by Dickie Owen (dubbed Ickie Dickie Owen by Forrest J Ackerman for his role as the Mummy in Hammer's Curse of The Mummy's Tomb ) who had appeared in ZULU as Corporal Schiess) .
This episode has what must be the longest number of contractual plugs of the series . Apart from Patrick Wymark's usual nod to the Governors of the Royal Shakespeare Company, the end-titles also cite Gerald James (now appearing in the Harry Secombe Musical "Pickwick" at the Saville Theatre), Brian Murphy (now appearing in "Oh What A Lovely War" at the Wyndhams Theatre*), Tenniel Evans (now appearing in "Portrait of Murder" at the Savoy Theatre), Larry Dann (now appearing in "Oh What A Lovely War" at the Wyndhams Theatre). * Oh What A Lovely War opened at the Theatre Royal Stratford in March 1963, and transferred to Wyndham's Theatre in the West End in June 1963.