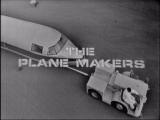 19 November 1963
The Thing About Auntie. Writer Raymond Bowers. Director Geoffrey Nethercott.
"Such is the way of the righteous. They're never secret. They never even move secretly. Instead they publicly suspect, apparently confirm, and if you don't watch the bastards they prove whatever they want, whenever they want, right or wrong." John Wilder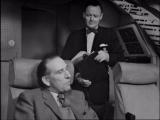 From his office window, John Wilder watches as Sir Gerald Merle MP, a director of several companies including Scott Furlong's bankers, drives onto the airstrip where test pilot Henry Forbes ("Auntie") is putting a "military modification" of the Sovereign through its paces. As Wilder explains to Don Henderson, Sir Gerald is more interested in the pilot than the plane.
Merle has been meeting Scott Furlong's French competitors on his own initiative to discuss co-operation. Wilder fears that short-term benefits for Scott Furlong will make Merle a hero, but when the advantage diminishes the pressure will be on Wilder to regain ground. No-one will remember that Merle caused the problem, all they will remember is Wilder's failure.
If the deal comes off, it will involve both companies swapping test pilots, and Merle needs to be sure that Forbes would not embarrass the company. However, Merle has a deeper motive.
When the Chairman of Scott Furlong dies, Merle's long-term plan is exposed. With a general election looming Wilder reasons that Merle cannot stand for Chairman. If Merle's party won, he would be ruled out as Minister of Aviation if he was Chairman of a plane manufacturer. But if they didn't win, Merle would have nothing – unless he had the new Chairman of Scott Furlong in his pocket. The key to this is proving (or insinuating) that Pamela Wilder is having an affair with Forbes.
"The Thing About Auntie" is an ambitious episode, both in writing and direction. It could be seen as a prototype for "The Power Game" with a labyrinthine plot wrapped around manoeuvring for control of the company. The original TV audience must have had to pay close attention to what was being said, as the real plot is gradually exposed.
The episode introduces William Devlin as Sir Gerald Merle MP. Wilder describes the MP to Henderson as "warden of his parish church and a self appointed keeper of the nation's conscience..." Raymond Bowers gives Merle a rich introduction. On the one hand he is depicted as glib and pious, noting that Wilder has not closed the factory on Sir Charles' death in the guise of a compliment, saying that, "Sir Charles would have deplored that. The sound of the man is in those engines you hear. That is His voice." (Below, William Devlin and Patrick Wymark)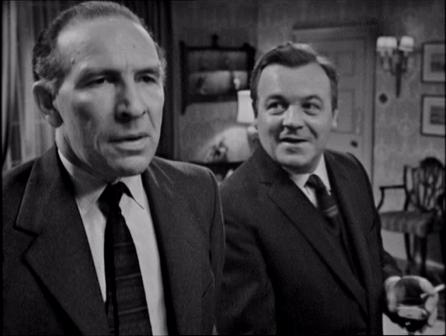 But Merle is also calculating. In a series of cross-cutting scenes Merle interrogates Henry Forbes and Wilder explains Merles' thought processes to Henderson; "Problem of conscience for a man of integrity. Is it deceitful to ask a question when you already know the answer? Solution? Mention both."
Raymond Bowers is also able to suggest Merle's gift for oratory in a fanciful articulation of the need for humans to keep pace with the machines they build; "The pilot looks at the control panel and the panel looks back at him with a hundred eyes of its own. Each searching for a particular and rare type of mind that can be segregated into privileged communities and induced to breed even more particular types of mind to control ever more complex panels."
Beautifully spoken by Devlin, giving some credibility to his position as an established MP, the speech is prelude to a subtle probing about Henry's characteristics. When he tells Forbes that the men call him "Auntie", there is some debate about whether it implies "fussiness" or "meticulous attention to detail" but the other implication looms over the conversation like a vampire.
1963 was, of course the year that "sex began" (as Philip Larkin put it) but it's still surprising to hear the veiled speculation about whether Forbes is homosexual (although "The thing" about Auntie is never named outright) and whether Wilder should be forced to dismiss him because of its then-illegality. "What if it were true," Pamela Wilder asks, "You might as well be expected to sack half the country." Wilder responds that "I thought it was a minority deviation," and Pamela says there is gossip about lots of people, "I even ran into hints about you before I married you."
The fact that homosexuality was illegal and that admission might have made Forbes a security risk (presumably the significance of the current project being is a "military modification" of the Sovereign) is not discussed (in 1963 the illegality would have been stating the obvious).
The episode is equally frank in discussing Wilder's infidelity. "I transgress within accepted rules," he tells Pamela, "I've chosen a person outside my married life, who can't possibly embarrass my professional life…and I'm never seen with her at places or on occasions when I should only be seen with my wife."
Pamela asks if the same rules would apply if she were to transgress. "They're the only ones that work" Wilder replies.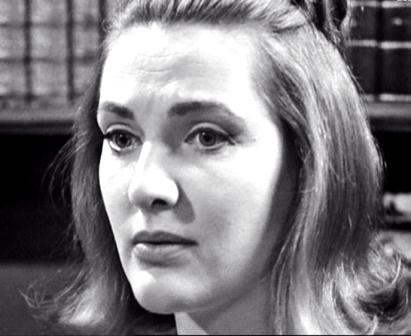 This again foreshadows "The Power Game", with Barbara Murray partnering Wymark in a couple of complex scenes that balance lots of movement with dialogue that both forwards the plot and exposes the tensions within their marriage. In previous episodes, Pamela has been the trophy wife (cancelling social engagements to entertain a visiting buyer in "A Question Of Sources") but for the first time she is faced with the dilemma (or perhaps the opportunity) of whether to influence the outcome of a story. It's ironic that the situation has been caused by Pamela's need to find (non-sexual) fulfilment outside the boundaries of a life which must have seemed incredibly glamorous (Pamela has been looking after Forbes while his housekeeper is in hospital).
The offscreen death of Sir Charles Elverdson is revealed in an amusingly unsentimental manner. Wilder arrives an hour late for the Chairman's birthday party, satisfied that Merle will be even later. Don Henderson meets him at the door to say that Sir Charles has died. "Just Merle's luck," says Wilder, "The one time he's late and his host is in no position to know anything about it."
As ambitious as the writing is, it's matched by Geoffrey Nethercott's direction. Bearing in mind how limited the editing opportunities were in the 1960's and the fact that Outside Broadcast video cameras were used rather than film cameras on the exteriors the opening scenes have a complicated set-up switching from Wilder and Henderson in the office to Merle and Forbes outside the Sovereign. There's also a long conversation between Wilder and Pamela as they prepare for Sir Charles' birthday. Wilder undresses (sending a cufflink flying at one point), runs a bath etc, all the time discussing Merle's plans. Nethercott was an experienced TV director on shows like "Emergency Ward Ten" in an era when shows were generally shot in real-time, editing (or mixing) within the cameras, and having to be aware of external restrictions such as the cables from the TV cameras on the floor. Nethercott also directed films for Merton Park, such as the Edgar Wallace Mystery, "Who Was Maddox (1964) featuring Jack Watling and the Scales of Justice entry "The Material Witness" (1965) starring Reginald Marsh.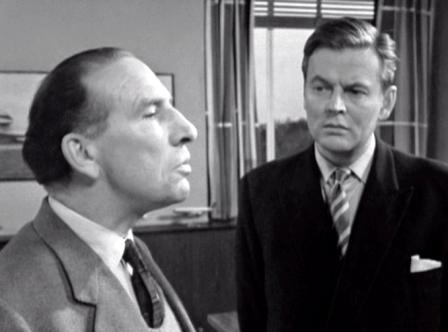 (Above: William Devlin and Jack Watling) William Devlin was born in Aberdeen on 5th December 1911, making his stage debut playing a war refugee in "Nurse Cavell". In 1934, the 22 year-old stunned audiences when he became one of the youngest actors to play King Lear. Critic James Agate wrote of his performance at the Westminster Theatre that, "His understanding of the text and his sense of beauty are everywhere apparent"
In September 1936, Devlin played French statesman Georges Clemenceau in Ronald Adam's challenging Embassy Theatre Production of 'The Tiger' by Reginald Berkeley. Still only 25, Devlin portrayed the life of the 'strong man of France' from 30 to 80. On 23 November 1936 a shortened adaptation of "The Tiger" became one of the first plays to be broadcast on BBC TV.
When Henry Cass joined the Old Vic from Croydon Repertory Theatre for an ill-fated two seasons, Devlin appeared in several productions including "The Three Sisters" and "Julius Caesar". Devin remained with the Old Vic, and when wartime bomb damage closed the theatre, he led the company performing at the Bristol Old Vic. Paul Hopkins recalled a Bristol production of "Much Ado About Nothing " in which William Devlin, "wearing a Civil Defence uniform and arriving on a bicycle, was greeted with gleeful recognition as a type of official known to the spectators, rather than as just a bit of Elizabethan burlesque."
Devlin stayed at the Bristol Old Vic throughout the 1940's. In 1946 he invited an actor waiting for release from the army, the then-unknown Kenneth Connor to join the company. When the London Old Vic was finally rebuilt, he returned on November 14, 1950, appearing with Peggy Ashcroft and Roger Livesey in "Twelfth Night". In the same year, Devlin appeared in Disney's "Treasure Island"
In 1954 he joined the Shakespeare Memorial Theatre, Stratford-Upon-Avon and took part in the Laurence Olivier and Vivien Leigh production of Macbeth, which featured Patrick Wymark as the Porter. William Devlin also played arch villain Cardinal Richlieu in a 1954 BBC production of The Three Musketeers 1954 starring Laurence Payne as D'Artagnan, and Roger Delgado as Aramis.
In 1957, Devlin was re-united with director Henry Cass, when he played Kurt Urach in "Blood of the Vampire". Written by Jimmy Sangster, this Robert Baker and Monty Berman production was an attempt to cash in on the success of Hammer's Curse of Frankenstein. Ironically, Devlin's character is in some ways as much of a mentor to jailed Doctor Vincent Ball, as Robert Urquhart's character was to Peter Cushing in the Frankenstein film. However, the film has an overall coarseness which suggests the makers were not "in love" with their subject. At best, it can be seen as an attempt to recreate the "Grand Guignol" experience of the stage.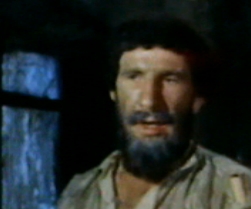 In May 1958, William Devlin starred as Mr Herrick,headmaster of the Richard Pater Secondary Modern School in the BBC TV series "The Common Room". Dealing with the problems of the staff and pupils of a comprehensive school rather than a grammar school or public school was as progressive, in its own way, as ATV later setting a series in a factory. Devlin also worked extensively in radio, but following "The Plane Makers" his last movie appearance was in 1967 as New Englander Zebulon Whately in David Greene's adaptation of August Derleth's The Shuttered Room with Oliver Reed and Carol Lynley. Devlin is then said to have come into an inheritance which allowed him to live the life of a "minor country squire" in Devon.