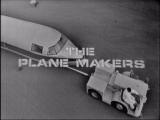 26 November 1963
The Cat's Away. Writer John Finch. Director Hugh Rennie.
Broadcast on the Tuesday following the assassination of John F. Kennedy, this episode may have provided some relief from the grim international events, although the sombre tone of the conclusion may also have caught the mood of the times.
Wilder is in Australia negotiating a licensing agreement and instead of delegating to works manager Henry Sugden, Wilder leaves floundering Sales Manager Don Henderson in charge. Wilder has also brought in efficiency experts. Sugden must deal with the consequent labour unrest while trying to get away to see his dying sister.
The grandson of a Yorkshire miner, writer John Finch had been marketing manager for a heavy engineering firm and wrote the first TV play with an industrial setting. He would later create series with themes of family conflict and industrial decline such as "A Family At War","Sam" and "The Hard Word" for Granada TV. Aspects of his future work are foreshadowed in the characters of the older factory workers looking out for their hotheaded younfer colleagues. Unfortunately, while this episode focuses on Sugden, everything except the Plague of Boils is visited upon him. Henderson brings forward the delivery date for an order, so Sugden has limited time to work with the efficiency experts. The workers fear redundancies and put their own pressure on union convenor Dusty Rhodes (John Junkin). The additional ticking clock of a dying sister tempts Sugden to leave Henderson to deal with the looming problems. As his secretary Margie says when he puts off leaving the office, "They wouldn't do it for you"
This episode revisits aspects of earlier episodes such as "The Old Boy Network" and also brings in characters from previous episodes such as Dusty Rhodes (who appeared in the first series), Ernie Lucas from "No Man's Land", and Sugden's secretary Margie (Elizabeth Begley). The attitude of the staff towards Sugden is divided between those who knew him as an apprentice and the younger ones who just see him as part the management. Similarly, the consultants view Sugden as a "type" they've dealt with before – someone with a vested interest in keeping things as they are (or perhaps in not exposing the way things work within the factory). As in previous episodes, the union convenor is shown as being a vital part of industrial relations rather than just an agitator.
Anthea Wyndham appears in this episode as Pat Henderson. She serves mainly to expose attitudes towards Sugden. She recalls him as, "That cute little man with the accent…frightfully out of place at the Wilders'. When Henderson says some people think Sugden should have been deputising for Wilder ("He's a pretty gen bloke y'know") she protests, "Oh but Darling, the background!).
Reginald Marsh's performance is interesting throughout this episode. On the page it may seem that events are stopping Sugden from seeing his dying sister, but his understated reaction when he first learns she's been hospitalised ("Even though you're expecting it, it still comes as a shock") and his low-key response at the end of the episode when he learns that his sister has died could be interpreted another way – that Sugden doesn't really want to confront his sisters death and is using events in the factory to put it off.
One nostalgic aspect of the episode is that Sugden's brother first tells him his sister has been hospitalised by letter, and only telephones when the situation becomes urgent. This harks back to another era when 50% of households did not have a telephone and you could post a letter on a Sunday evening in the expectation that it would be delivered by first post the next morning ( the Post Office had only stopped Christmas Day deliveries three years earlier!).
This episode features Simon Oates, who would later star in "Doomwatch" as Tim Driver, one of the efficiency experts while Ray Mort ("Oh No It's Selwyn Froggett")plays a factory supervisor.
John Finch is writing his autobiography and his website is at https://johnfinchwriterandproducer.wordpress.com/