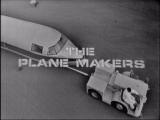 3 December 1963
Strings In Whitehall. Writer Wilfred Greatorex Director Quentin Lawrence.
Wilder is aiming for a knighthood, "pulling every string in Whitehall" according to Keith Saville MP (Richard Vernon). Public Relations Officer Steve Miller (Donald Burton) is writing magazine profiles of Wilder and has arranged a TV interview, while Wilder himself is excitedly showing aviation minister Geoffrey Drake (George Woodbridge) around the factory.
Saville (Richard Vernon, above, between Bruce Boa and Patrick Wymark) claims he can make an introduction to South American airline owner Vega. Against Wilder's orders, Don Henderson authorises a flight to Paris for Saville. To Wilder's surprise, Saville is successful although at the cost of bringing Vega and his entire family to Britain.
Vega (Bruce Boa) offers to buy three Sovereign's but needs help with finance, claiming Scott Furlong's French rivals have offered him ten year's credit. Forrest (Julian Somers) of the British Export Credit Guarantee Department says they will give Vega seven year's credit on condition that his own Government backs him . Wilder asks the aviation minister to put pressure on the Department to give more support, threatening to change his speech in the scheduled TV interview to one critical of the Government.
"The Disillusionment of Don Henderson" might have been an alternate title for this episode. Following "The Cat's Away" where Henderson was left in charge of the factory, He sees a less congenial side of Wilder. Obsessed with his pursuit of a knighthood, Wilder berates Henderson for not being able to make a decision without consulting Wilder, but when he learns that Henderson has sent Maccabee to meet Saville says, "I thought I made it perfectly clear that I was to be consulted before you sales geniuses went swanning off with professional politicians!"
Wilder then over-rules his plan to send Saville to Paris. When Henderson protests that he had said no-one in the factory could make a decision, Wilder replies, "You made two! Both of them wrong!"
In fact, Henderson's instinct proves right (or lucky) because Vega wants to buy three Sovereign's. Wilder swiftly deconstructs the small negative signs that Vega has been putting out as an attempt to play hard-to-get and takes over negotiations. Scott Furlong's representative in South America is swiftly dropped so that Wilder can offer Vega the lucrative agency and the only final obstacle to the sale of three planes is whether the British Government will extend enough credit to Vega. When the Export Credit Guarantee Department (which exists to promote UK exports)fails to meet Vega's terms, Wilder must decide whether to risk his personal ambitions. Wilder has been lobbying for a knighthood, and is scheduled to appear on a TV show where he will praise Government policy on the Aviation industry.
Wilders' speech refers obliquely to the 1957 decision to end defence spending on fighter aircraft and the subsequent consolidation following the appointment in 1959 of Duncan Sandys as Aviation Minister. In the first draft of his speech, Wilder says that despite initial doubts he now believes the Government was right to force the airline companies to merge. "It was the only way to make us competitive with the rest of the world."
Miller says it's a surprising view and Wilder replies that, "There's no point in stating the obvious."
However, in an attempt to put pressure on the Minister to get extra credit for Vega, Wilder redrafts his speech to say that the Government has shown insufficient support for the industry. It is this speech that leads to Henderson's final disillusionment. With the Vega deal all but lost, Saville offers to bet five pounds that Wilder will revert to his original speech. Henderson accepts, convinced that Wilder is acting on principle.
William Goldman once quoted a Hollywood movie star as saying, "I don't want to be the man who learns. I want to be the man who KNOWS." This episode tends to conform with Goldman's dictum that nobody knows anything. Wilder is wrong about Vega's interest, wrong about Saville's capability, wrong about Henderson's decisions. Henderson, in turn, is wrong about Wilder's ambitions. The episode is a counterpoint to "Don't Stick Your Neck Out" because in that episode Wilder was supernaturally aware of the true situation whereas in this episode Wilder is in the more precarious situation of not knowing how things will turn out and having to gamble.
Good performances in this episode both from Wymark and Watling (who shows some expressive body language in his frustration and rebellion), and Richard Vernon as the cryptic MP (it would be interesting to know if this was originally conceived as a part for Sir Gerald Merle).
This episode sees the first mention of Scott Furlong's new chariman when Wilder's secretary Miss Lingard tells him that he has an appointment with Sir Gordon
This episode also sees the first mention of Wilder's son when he tells Vega that his son is away at school. Vega asks if it is a grammar school. Wilder says, "No,no, it's a public school. Grammar School's tend to produce a different type. More ruthless."
Shots of the Sovereign taking off appear to electronically superimpose a model plane over a real sky ("The Plane Makers" used electronic cameras for exterior shots and this appears to be the same standard of special effect used in TV news programmes with a very visible edge around the model).