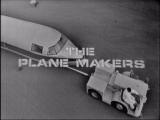 10 December 1963
The Best Of Friends Writer Lewis Davidson Director James Ferman.
"There isn't time to repair anything these days. If something doesn't work you just chuck it out and get a replacement unit" Henry Forbes
Co- pilot Simon Wanleigh almost causes a crash when he misreads the Sovereign's altimeter during a test flight. Wanleigh is distracted by his wife's affair with a colleague, but the stress also causes an eye injury which threatens his career as a pilot. Bernard Brown appeared as Wanleigh in the first episode of the series, accompanying HenryForbes in the Sovereign's near fatal first flight. This episode focuses on Wanleigh, his wife Ann (Zena Walker) and his colleague Terry (Brian McDermott).
There are some good scenes in the first act between Reginald Marsh, who is probing for the cause of the near miss, and Robert Urquhart, who is defending his co-pilot. The story forms a turning point for Henry Forbes, after Sugden tells him, "I think you ought to decide how far this cockpit loyalty goes. It's not like the good old days."
When Terry tries to speak with him about Wanleigh's crisis, Forbes refers back to his earlier conversation with Sugden saying "A man I've got a great deal of respect for told me I've got to make up my mind between cockpit loyalty and loyalty to the company."
When Terry tries to defend thecockpit loyalty, Forbes responds 'When you take that plane off the deck you've got 20,000 employees and all their wage packets, hire purchase, school fees, and everything else in their hand. On top of that you're sitting on the savings of another 5,000 investors. Are we anything more than businessmen or well-trained office boys? We don't create anything. We don't fear death any more than the average taxi driver. The insurance rates prove it."
Nevertheless, although Forbes says he doesn't want to know about Wanleigh's problem ( saying he seems to have spent his life as " a combination social worker and money lender.") Forbes is forced to confront it the next day when Simon reports for duty.
Bernard Brown had an extensive stage career and appeared opposite John Paul in ITV's "Probation Officer" and would go on to appear in countless TV series including two episodes of Inspector Morse. He appeared in the 1971 "Out of The Unknown" episode "Welcome Home" by Morris Fahri and also appears in the 1972 "Dead of Night" episode "Return Flight" as a Flight Controller.
Other actors had appeared as co-pilots since Brown's appearance, but this episode appears to have been substantial enough to tempt him back. While many viewers may not have recalled Wanleigh from the first episode, his return appears to reflect the growing practice bringing minor characters back to create a serial atmosphere.
Bernard Brown's strong performance is as an undemonstrative character whose tendency to "swallow instead of spit" creates a level of mystery which has to be gradually unpeeled, although towards the end it's not clear if he's being self-sacrificing or melodramatically guilt-inducing. Brian McDermott and Zena Walker are also good as the other two sides of the triangle ( although it seems clear from their attitude that their liaison is so casual as to make the word triangle an overstatement.)