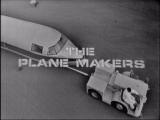 31 December 1963
Loved He Not Honours More. Writer Raymond Bowers. Director Hugh Rennie.
"I could not love thee dear, so much, loved I not honour more" Richard Lovelace, Royalist poet.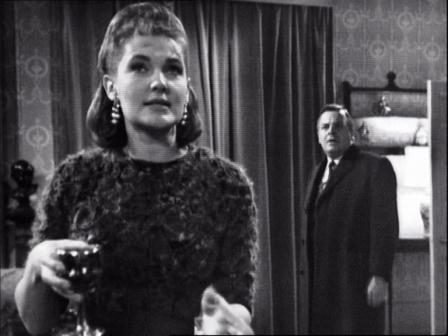 In the first episode of this series (Too Far To Fall, Peter Humphreys (John Arnatt) said that Wilder had been climbing all his life and now found himself at the top of the tree. "One more hop and he's perched for good. He'll earn himself a knighthood. Then he can write his own ticket. Politics, industry, anything." Now the question of whether Wilder will be knighted becomes more crucial - not just to secure his future but to ensure his survival within the company. Sir Gordon Revidge wants John Wilder out from the role of Managing Director of Scott Furlong, but knows that if Wilder is awarded a Knighthood in the New Year's Honours list, it will make it politically impossible to remove him. Sir Gerald Merle, returning from a sales trip to India, agrees that Wilder must go. They have a small window of opportunity to put their plan in action. Although Sir Gordon deduces that Wilder will not receive a Knighthood, he holds back until New Years Eve so that Wilder will have no more room for manoeuvre. He declines an invitation to Wilder's party, saying, "Executioners seldom accept invitations from their victims, John." But no-one foresees the crucial role that Pamela Wilder will play in the outcome.
Raymond Bowers revisits some of the themes from "The Trouble with Auntie", enabling Barbara Murray to develop more resilience for Pamela Wilder against her "semi-detached husband" and William Devlin to recreate the character of Sir Gerald Merle. Bowers explores the etiquette of removing a managing director in conjunction with the honours system and also uses the character of modernising union leader Bessiter to comment on the conflict between Revidge and Wilder.
Although transmitted on New Years Eve, the action begins in early December and ends on New Years Eve. "Strings in Whitehall" showed us that Wilder was aiming for a knighthood and a passing comment showed Sir Gordon was aware of this in "One Out-All Out!". Revidge has advised the Elbertsons board to remove Wilder as Managing Director of Scott Furlong before the New Years' honours list is published. Removing him after the knighthood is announced would look like poor judgement, but if they take quick action it could cause the offer of the honour to be withdrawn. Revidge proposes to offer Wilder the Chairmanship of a subsidiary out in Australia so it looks like a promotion instead of a sacking. If he refuses the bank will starve Scott Furlong of funds and Wilder will inevitably be removed by a vote of no-confidence.
Wilder's first tactic is to try and stave off any Scott Furlong board meeting until after the 19th December. That is the latest date when he can expect to receive a letter giving him chance to refuse the honour. If he is not offered a knighthood, he must keep that knowledge from Revidge long enough to develop some alternate defence. After New Years Day, when the honours are announced, it will be open season on Wilder ( protocol over such matters was then observed by political parties and the press).
An unexpected twist comes when Sir Gerald Merle (Wiliam Devlin) returns from a sales flight to India on a Sovereign piloted by Henry Forbes (Robert Urquhart). An article on Scott Furlong has appeared in socialist newspaper "The Globe" and Sir Gordon Revidge analyses the way John Wilder's photo has increased in size between the first and final edition, inferring that someone has instructed the editor to boost Wilder. Merle denies any involvement. Wilder is visited by newly appointed union chief James Bessiter (Harold Innocent) who implies that he influenced the newspaper article.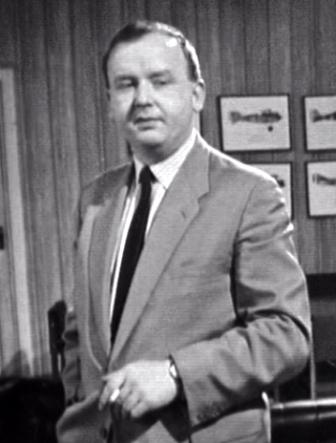 Harold Innocent, a slightly cherubic actor who often played heavies, depicts Bessiter as a feline moderniser in a modish striped shirt. Calling Wilder a "beloved enemy", he refers back to the previous episode crediting Wilder with averting the redundancies. When Wilder states the Revidge viewpoint that Wilder could have ruined Scott Furlong and the bank's investment, Bessiter characterises Sir Gordon as a witch doctor. "Like all money men. He expects to find portents in statistics. He's no different from a stone age soothsayer, breaking bones, throwing the bits up in the air and expecting the Gods to blow them down in prophetic patterns. What Sir Gordon failed to consider was the driving power of determined men. He preferred to listen to some rattletrap gibbering computer"
Bessiter expresses his support for Wilder. "I know you're no philanthropist. You're a man whose whole record points to a man who gets things done by a kind of selfish brute force. A brute force that means constant dividends for shareholders that I don't give a damn about and constant wage packets for men that I do care about."
Wilder tells Don Henderson that both union chief Bessiter and Merle the Labour MP are "old Wykehamists" (ie educated at Winchester College, the oldest public school in England) which he thinks is "a terrible waste of private money." In reality, Hugh Gaitskell, leader of the Labour Party at the time of transmission had been educated at Winchester, as had Richard Crossman and Sir Kenneth Younger (Labour MP for Grimsby when Wymark lived there). This reflects the reality that a privately educated elite were represented across the political spectrum in the 1960's, just as today.
The difference in approach between Bessiter and Merle is outlined when they discuss the Honours List. Bessiter says, "I believe men should honour one another individually and personally, not by some feudally derived committee" and Merle replies, "I accepted mine, Jimmy, because I thought it less ostentatious to accept." However, Bessiter then pointedly tells Revidge and Merle that if we are to have an honours system, he insists as a representative of half a million trades unionists to influence the selectors to chose the men he thinks should be on it.
Barbara Murray had originally been offered only three episodes of The Plane Makers as Pamela Wilder, but once the future of the character was secured she set about fleshing out the character. She told the TV Times that, "I felt it was a series written by men for men, and the women weren't real, weren't complete." Wilfred Greatorex confirmed that, "We'd hold long discussions abut how the character would be expanded. Barbara suggested that we add a sense of humour, and that a woman like Pamela Wilder would want to improve her existence instead of sticking in her shell."
"The Trouble With Auntie", also written by Bowers, showed Pamela making a principled decision to defy her husband, an acte which deepened the rift between Wilder and Merle. In this episode, Pamela once again shows initiative, although this time the unintended consequence has a more positive outcome for her husband. Wilder holds a quarter of a million pounds worth of shares in Scott Furlong, but he had also made Pamela a gift of £3000 worth of shares ten years ago in exchange for the money to put a deposit on their house. Telliter (John Wentworth) a financial advisor recommended by Henry Forbes, informs her that the shares are now worth a quarter of a million pounds. Together, she and John Wilder own 15% of the Scott Furlong stock. Wilder had earlier told Pamela that Elbertson's have a controlling 27% interest in Scott Furlong – both a strength and a weakness if the share price falls. If his back is against the wall he will start selling his shares in order to depress the price. Seeking to defend her own unexpected fortune, Pamela instructs Telliter to sell her shares as quickly as possible. In the final showdown with Revidge, this sudden sell-off unnerves Sir Gordon who thinks he has misjudged Wilder's recklessness and agrees to back down. By the end of the episode, Telliter's manipulations have also resulted in Pamela being the biggest single shareholder. "Doesn't that make me your boss, in some way?" she asks Wilder.
Barbara Murray makes the most of her scenes as Pamela Wilder, resignedly knitting when we first see her ("I caught it from Auntie. He knits all the time. He says it soothes him."), dazed when Telliter explains the extent of her fortunes and then dizzily excited in the final scene when she reveals to Wilder that she is behind the mysterious sell-off which has saved his career. 21st Century viewers might be appalled by the unliberated portrayal of Pamela - the fact that she has been kept in ignorance and is like a child playing with a new toy. But, the picture of a woman discovering her power is heartening, and the overall comic effect of Barbara Murray's scenes with Patrick Wymark lift the episode. Pamela's final dissembling line to Wilder hints at more to come.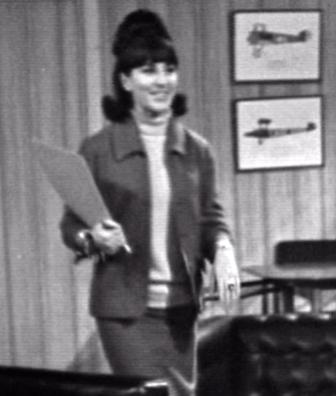 Norma Ronald as the indispensible Miss Lingard.
Robert Urquhart as "Auntie" is subtle as ever, whether at the controls of the Sovereign, reacting to Sir Gerald Merle asking him to send a radio message for his limousine meet him on the runway, or sharing music and wine with Pamela Wilder. John Wentworth, who plays the fey stockbroker Telliter, would return as a different character in the third series of The Plane Makers and would later star in Edmund Ward's "The Main Chance" as Henry Castleton.
The ever-efficient Kay Lingard (Norma Ronald) tells Wilder that she's drafted an up-to-date invitation list for his Managing Director's party on New Year's Eve, asking whether she should put Arthur Sugden on the list, and substituting Don Henderson for Peter Humphreys (thus tying up the disappearance of John Arnatt's character from the first episode).
If there is one off-note in the episode, it is the sudden reappearance of Sir Gerald Merle. A line of dialogue from Bessiter suggests that Merle was one of Wilder's opponents in the previous episode, which obviously was not the case (unless it was by proxy vote from India). It would be interesting to know if Merle was originally intended to be the MP played by Richard Vernon in "Stings in Whitehall" but at this remove we will probably never know.