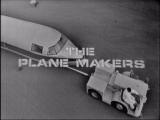 7 January 1964
A Bunch of Fives. Writer Peter Nichols. Director James Ferman.
With his last sales effort a failure, Don Henderson (Jack Watling) leads a sales team into Europe. Pressured by the presence of an ambitious and successful younger salesman (Frederick Bartmann), Watling is unamused when company Stewardess Jane Gaunt (Wendy Craig) becomes the focus of romantic rivaly between Copilot Glyn Houston and publicist Barrie Ingham
Until the Inspector Morse episode "Greeks Bearing Gifts", it was relatively rare for playwright Peter Nichols to contribute to someone else's TV format. When Nichols wrote for TV, he usually contributed single plays to strands like "Play For Today". This "Plane Makers" episode was written after the staging of his first stage play "The Hooded Terror" but several years before his 1967 success "A Day in the Death of Joe Egg"
Although Robert Urquhart as pilot Henry Forbes, and Jack Watling as Don Henderson are the above the title stars, "A Bunch of Fives" is an ensemble piece, in some ways foreshadowing Nichols' later stage success "Privates On Parade" - a disparate bunch of British citizens both pressured and in some ways unfettered in the anonymity of a foreign setting. Unlike the national service entertainers of "Privates On Parade", the Plane Makers have a more peaceful mission (to sell Sovereign jets), although at a million pounds a plane the stakes are still high.
To sell the plane, Henderson needs engineers to explain the technical aspects (including Neville Smith, who would go on to write the 1971 Albert Finney movie Gumshoe), salesmen, a publicist to drum up interest, pilots to fly the plane and a stewardess to dispense hospitality.
The title comes from co-pilot Colin Stock (Glyn Houston) who we first see in bed with his wife, waking from a nightmare in which he is rescuing an old lady from yobs with the "bunch of fives" of the title. Despite being generally competent and genial, Stock is apt to threaten and dispense the bunch of fives at various points throughout the episode. Stewardess Jane Gaunt (Wendy Craig) becomes the focus of stifled extramarital longings, but she herself is a young widow who now finds herself trapped at home with her mother in a premature middle-age. Publicist Barrie Ingham - part of the new, upwardly mobile working class, dispensing champagne to the press of Milan - may seem the most enviable but even he reveals hidden insecurities. He is acutely aware of having no real marketable skill compared to pilots like Stock, part of a class that, "spends all our time trying to keep our jobs or trying to get someone elses." But ironically, Stock's career is put under threat by his explosive loss of temper over Jane.And in a reflection of how things were in the 1960's, Jane is warned by Henderson to keep Colin happy for the duration of the trip.
Houston, Ingham and Craig were already established actors on the verge of massive careers. Houston had starred in the 1962 Edgar Wallace movie "Solo For Sparrow" and would appear with Patrick Wymark in 1965's "The Secret of Blood Island" but also had a long career in TV. Barrie Ingham would return as Garfield Kane in the third series of "The Power Game", while Wendy Craig would soon star in "The Nanny" (1965), domestic comedies such as "Not In Front Of The Children" and "And Mother Makes Three" and continue to appear as the Matron in "The Royal" (2003-2011). All three give touching, perplexing performances in the Nichols script
You can read a review with photos of this episode at TV Minus 50