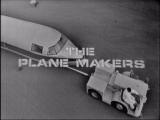 14 January 1964
The Smiler. Writer John O'Toole. Director Bill Stewart.
"He's good natured. He's cheeky and he's brilliant. And I like him. But he's got to go!" John Wilder
Harvey Graves, nephew of the hapless Wing-Commander Cooke, becomes "available" after leaving a competing aircraft maker. Wilder thinks Graves may have knowledge from his previous employers which would be useful and orders Sugden to find a role for him at Scott Furlong. Although regarded with suspicion by workforce and managers, Graves quickly begins making practical suggestions to improve production.
'The Smiler' picks up on themes from the earlier episode 'The Old Boy Network', with Patrick McGee returning as the pugnacious manager William Breen. Like Nigel Carr, Harvey Graves is another smart young man with the right background. Sugden expresses distaste for the manner in which men of his background "don't just come out and say they want a job. They become available". But Sugden is won round when Graves uses his connections to get through to a civil servant who has been avoiding Wilder.
Harvey is smart enough to detect "the normal procedure for an unwanted man," when Breen tries to fob him off on supervisor Ray Mort(suspecting that he will quickly be sidelined) and demonstrates natural authority in turning the tables on Breen. Within a couple of days, Harvey has an office and a secretary, is wandering around the factory suggesting improvements and begins dating Wilder's formidable secretary Kay Lingard (Norma Ronald).
Harvey becomes a source of paranoia. Managers suspect that he is being groomed to take their jobs... even Sugden decides to cancel a week's holiday, remembering that he is still on probation as General Works Manager. And Wilder himself eventually becomes suspicious that Harvey may still be working for his former employers, having used his guileless uncle as a route into Scott Furlong's trade secrets.
The urbane James Villiers plays the charming and ambiguous title role. A RADA graduate, Villiers had appeared in Shakespearean roles on the West End stage before progressing to film and TV. While often playing villainous roles in films like 'Some Girls Do' and 'Blood From the Mummy's Tomb', he could also convey comic congeniality. In 1965 he would appear opposite Bette Davies in Hammer's The Nanny as the husband of Wendy Craig (from last week's 'A Bunch Of Fives'- Jack Watling played a doctor in the same movie). Villiers would also appear (in separate scenes from Patrick Wymark) in Roman Polanki's Repulsion. In a long career, Villiers was also the first actor to play Ian Fleming's chief of staff Bill Tanner opposite Roger Moore in 'For Your Eyes Only'.
We're never quite sure how to read Harvey. Most of the time he seems straightforward, but there's a tricky moment where Sugden seems to have caught Harvey poaching his ideas. Harvey says Wilder must have misunderstood him and perhaps he did. And we never really have time to see whether all Harvey's bright suggestions will really pay off. Intriguingly, Graves stops short of revealing some gossip about 'poor Johnny Wilder' to Miss Lingard, only saying Wilder 'has more guts and push than anyone I know..but John feels he's not quite accepted. We all have our dreams and John feels his spiritual home should be with the landed gentry.'