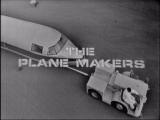 4 February 1964
"A Condition of Sale". Writer Tony Williamson. Director James Ferman.
Arthur Sugden comes under pressure from Wilder to have new and untested Mark Seven engines fitted to a Sovereign so that it can be flown to Rome for a demonstration. A flu epidemic has reduced the workforce, and Sugden must prepare the factory for this rush job before travelling to Manchester with Kay Lingard to negotiate with the engine manufacturers.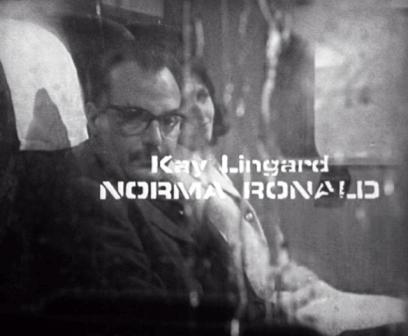 In 'Don't Stick Your Neck Out', Sugden flew to Milan with Wilder and was forced to compromise his principles, being told that, "Everybody's soul is just a bit smaller than the mortgage on his house." The twist in Tony Williamson's story is that Sugden resists every test of his business principles and then throws them aside in an act of gallantry.
Like John O'Toole, Manchester born Tony Williamson was a writer for the fledgling 'Coronation Street'. He would become best-known for writing ingenious takes on action-adventure series like 'The Champions' and 'Counterstrike'. Ironically, he would also write the first treatment of Gerry and Sylvia Anderson's 'Doppelganger' which featured both Patrick Wymark and Norma Ronald playing 21st century versions of their 'Plane Maker' characters. In this episode, however, Williamson shows that he was equally adept at finding a new angle in the more pedestrian setting of Scott Furlong.
Don Henderson (Jack Watling) relays instructions from an unseen John Wilder that 'a Sovereign has got to be converted to Mark Seven engines by next week.' A demonstration flight is one of the conditions by the Italian buyers before they'll sign the contract. Once again, the spectre of Scott Furlong's French competitors is looming – the new engines are superior to anything the French have got, but until Scott Furlong can prove it they'll lose out to the existing French state of the art.
With Sugden's regular secretary Margie (Elizabeth Begley) suffering from the flu which has hit the Scott Furlong factory, Wilder's secretary Kay Lingard (Norma Ronald) sends Margie home. Miss Lingard offers to cover for Margie until personnel can sort out a replacement. With Wilder away in Rome, there are less demands on her time although there's a joking implication that her presence will help Wilder keep tabs on Sugden's progress. Similarly, Sugden voices a suspicion to Henderson that Wilder has only agreed to the 'rash promise' about the Mark Seven engines to enable him to blame Sugden if the deal falls through. Jack Watling at his most hero worshiping ('Trust John to pull it off!') denies it, and suggests that Sugden uses the false prospect of work on a military modification of the Sovereign to pressure the contractors into delivering the engines.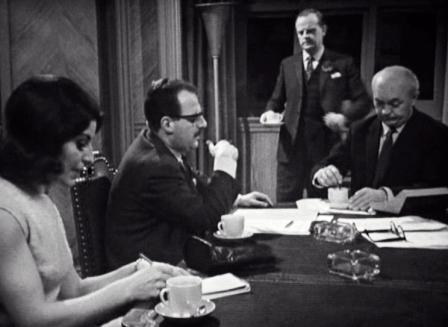 Sugden and Miss Lingard travel to Manchester to negotiate over the acceptance trials for the Mark Seven engines with the sub-contractors, Sam Wescott (George A Cooper) and his technical director Geoffrey Lewis (Lloyd Lamble). Their objections are logical; Scott Furlong gave no indication that the engines would be needed so quickly. Crane Wescott have other customers who they need to supply. Their staff are tied to scheduled work. Above all, Crane Wescott has a reputation for quality. The engines need 600 hours of static proving on a test bed before they can be fitted to an aircraft.
Sugden proposes that they ship the engines back to Radley Heath, fit them onto the Sovereign and test the engines on the plane. Written down, it looks like a crazy idea and Wescott asks why they should risk their reputation to make Scott Furlong a quick profit.
All seems lost and Sugden makes an unsuccessful attempt to phone Henderson. But then he learns that Lewis has made a pass at Miss Lingard outside the dining room. Sugden confronts Lewis who laughs it off, telling him to stop being so sanctimonious. Enraged, Sugden returns to the dining table and uses the tactics suggested by Henderson, telling Wescott that unless they fit the Mark Seven engines, the firm will be out of the running for the military modification of the Sovereign. Ironically, while Lewis correctly guesses that Sugden is bluffing, Wescott suspects that John Wilder is behind the threat and takes it seriously.
Director James Ferman would go on to become Secretary of the British Board of Film Classification, so it's interesting to see how he deals with the assault on Miss Lingard. Earlier on, at the Crane Wescott factory, Lewis has taken Miss Lingard to his office to phone the hotel and book a table for dinner. As Miss Lingard moves to leave the office, Lewis discretely half blocks her path, saying it's a pity she and Sugden are staying only one night. There's a brief downward glance of displeasure on Norma Ronald's face before she smiles up at Lewis, continuing forward and telling him, 'Now we wouldn't want to out-stay our welcome would we?'
Later on, at the hotel restaurant, Sugden suggests she takes a break from minuiting the meeting, so that he can continue the negotiation with Wescott off the record. Lewis suggests they go for a walk and accompanies Kay to her room so she can collect her coat. Lingard is confident enough to invite Lewis in while she repairs her lipstick, and ignores his attempt at flirting. When Lewis nods to the telephone and suggests they have drinks sent up to her room, Miss Lingard firmly rebuffs him saying, 'I don't think so.' As she tries to walk to the door, Lewis suggests that John Wilder is a 'more interesting' travelling companion than Sugden. Lingard coolly replies that "Business comes first with both of them" and continues towards the door. Lewis grabs hold of her and kisses her. At this point, the action cuts back to the restaurant with Sugden failing to convince Wescott.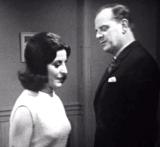 As Sugden goes to reception to phone Henderson, we see Lingard and Lewis coming separately down the stairs. 'You've got a good girl there', Lewis sneers, 'Saving it all up for you.' When Sugden demands to know what Lewis meant, Miss Lingard tries to laugh it off, saying Lewis 'made a bit of a nuisance of himself.'
Although Sugden is outraged (enough to lie to Wescott about the military modification) Miss Lingard downplays the event on the train home. Lewis was, 'a little gentleman compared to some,' she tells Sugden, 'It's all part of the job, isn't it? I HAVE been on these trips before.' And then seeing Sugden's reaction she adds, 'But thank you all the same.'
Bearing in mind the episode, 'A Bunch of Fives', where Wendy Craig's stewardess is warned by Henderson to keep a male character happy during a sales trip, and the off-handed comment in 'Loved He Not Honours More' that Lingard is 'busy vamping a client', it's clear that this was, to some extent, viewed as all part of the job (when Sugden first phones Crane Wescott we see Lewis pawing the arm of his secretary). However,the question is what control the women have within that context.
Kay Lingard is not being depicted as ruthless. She is caring enough to see that Margie is suffering with flu in the opening scenes and tries to bring it to the notice of the oblivious Sugden before taking control and convincing Margie to go home. On the train up to Manchester, she is playful when Sugden says it's a far cry from trips to Rome , saying, 'Oh, I've BEEN to Rome with Mr Wilder, but I've never been to Manchester with you.' And she innocently links arms with Sugden in the hotel foyer as they walk towards the restaurant (when the dastardly Lewis then takes Lingard's elbow, escorting her into the restaurant, it's shown dispassionately with no special emphasis). But, in her own words, Kay Lingard is clearly as 'capable of looking after herself' as the Avengers Cathy Gale.
Unlike Miss Lingard, who didn't know the difference between Yorkshire and Lancashire and had never been North of Birmingham, Norma Ronald was born in Northumberland. She was 27 at the time, and had been an actress since the age of 15. She had already established the role of secretary Mildred Murfin in the radio comedy series, 'The Men From The Ministry' which ran from 1962 to 1977. Norma reputedly preferred stage and radio work to television and appeared in several radio plays including an episode of the 1968 'Doctor in the House' starring Richard Briers as Simon Sparrow.
Nevertheless, the role of Miss Lingard was productive, continuing with Wilder into 'The Power Game'. Gerry Anderson, who was a big fan of the show, then cast Norma Ronald as Pam Kirby, secretary to Wymark's Jason Webb in the movie 'Doppelganger'. She then continued into Anderson's TV series 'UFO' as Miss Ealand, secretary to Ed Straker.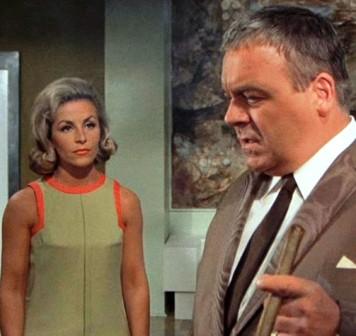 In 1975, she appeared as herself in the game show 'Husband of the Year', where she played wife to the contestants in scenarios putting them to the test. In reality, Norma Ronald was married to actor Edward Judd (The Day The Earth Caught Fire). She continued to appear in radio plays such as Ian Cullen's 'Angel of the Deep' (1976) and Wally K Daley's 'What's Stigmata' with Plane Makers alumnus Peter Jeffrey. Her last TV role was as the voice of the alien parent in 'Chocky's Challenge'(1986). Norma Ronald died in 1993.
The episode leaves the question of what really motivates Sugden. 'In The Book' showed that Sugden could 'fight like a tiger' for something Wilder thought irrelevant. Is it gallantry, or vanity which stirs Arthur to push Wescott into a corner?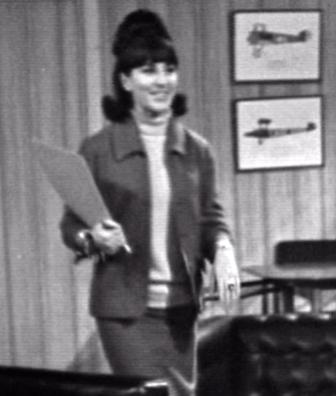 In a final irony, while Sugden is still negotiating with Wescott, Don Henderson receives a phone call from Wilder to tell him that the Italians have agreed to buy the Sovereign without a demonstration of the new engines. Through the first half of the show, we have watched Sugden pushing this rush job through the factory: the designer who has to work late to draw up the fittings ('We could have done the job a dozen times' he tells a colleague), the union negotiator who has to sell the weekend overtime to the men. Now we know it is all for nothing.
George A. Cooper, who played Sam Wescott, was a prolific character actor who played Mr Fisher in Billy Liar (1973) and the caretaker in Grange Hill. The lecherous Lewis was played by Lloyd Lamble, the Australian actor who had already been on the receiving side of girl power as the police superintendent fiance of Joyce Grenfell's character in the St Trinians films.
We learn in this episode that Arthur Sugden comes from Ossett, near Wakefield. Henderson is dining at his Hampstead home with Sir Frank Bennington from 'In The Book'.
Once again, you can read a review with photos of this episode as part of a review of that evening's TV at TV Minus 50