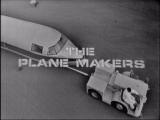 3 March 1964
'A Question of Priorities'. Writer Raymond Bowers. Director Eric Price.
"I want her back home and I want her back today!" John Wilder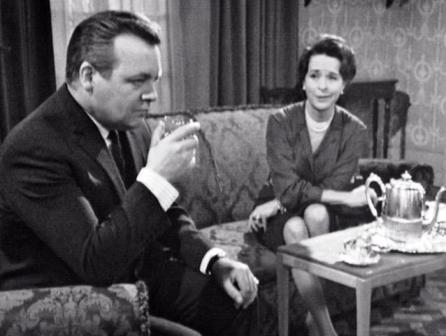 Wilder's mother-in-law Marion Brown (Margaret Rawlings) tells him that Pamela is suing for divorce. As he tries to save his marriage, Wilder also schemes to stop Jeff Rossiter (James Kerry) a member of the design team from taking up a job in America.
We met Wilder's mistress Kate Barber (Ingrid Hafner) in "Don't Stick Your Head Out" , although he worried that the relationship was reaching a terminal point. 'Loved He Not Honours More' confirmed that Pamela Wilder viewed John as a "semi-detached husband'. Now, her mother reveals that Pamela has employed private detectives to follow Wilder and Kate Barber. She has enough evidence to apply for a divorce, a prospect that outrages Wilder.
"Whatever I've done - whoever I've done it with – has been completely aside from my marriage. It's been like a busy man taking time out to go to the pictures."
Against expectations when Wilder complains that he is planning a lot of important business dinners that only Pamela can arrange, her mother offers to step in and says she wants to see their marriage survive. "As the widowed youngest daughter of the youngest son of a baronet, I know just how much I owe to my daughter's marriage.
Unfortunately, Wilder puts himself in a weaker position by wining and dining Dawn Rossiter (Georgina Ward), wife of the designer who has flown to New York to discuss taking up a new job. Rossiter says he can't be bought (the career prospects are what attracts him to America) but Wilder hopes he can persuade Dawn to influence her husband to stay. His scheme backfires in two ways. First because Wilder's mother-in-law has manoeuvred Kate Barber into visiting the restaurant - Mrs Rossiter remarks to Wilder that 'a woman in a suit came in – took one look at us- and walked straight out again.'
Wilder's scheme also backfires because when Rossiter learns about Wilder's overtures, he sends a telegram from New Work to Bancroft, the technical director, saying he resents personally and professionally, 'Wilder's approaches to my wife' Wilder concludes that Rossiter 'knows how to stir up gossip'
James Kerry, who played Jimmy Rossiter in this episode also played the identical character of designer Jimmy Shaw in 'A Question of Sources', the episode which introduced Tom Bancroft.
Patrick Wymark and Don Henderson perform some fine machiavellian scenes as Wilder and Henderson discuss the merits of technical director Tom Bancroft (Douglas Muir). When Henderson refers to "Old Bancroft?" Wilder asks, 'Why do you call him old? " Wilder asks, 'He's only just over 50," Henderson avoids the question and Wilder then calls Bancroft in to explain a technical report where Bancroft passes off the work of Rossiter as his own. Wilder knows because Rossiter had already told him about the problem and the solution and had already confirmed that the problem was trivial. Henderson says that every executive lives off the back of his staff – "Why not? He's got the responsibility". Wilder counters that "Any executive who passes off another man's work as his own, know he can't do the job as well as the man he's robbing."
Henderson asks what Wilder thinks about Rossiter, who is prepared to stich up his own boss. "He's a man with somewhere to go." Wilder replies, "Bancroft is a man trying to stay where he is." But, when Henderson asks when Wilder is going to get rid of Bancroft, Wilder replies that "the Sovereign is a proved aircraft now, needing only routine management by routine people. A new technical director now may prove more loyal to the chairman than to me."
This episode appears to mark the end of Wilder's relationship with Kate Barber as she tells him, "I feel like your wife – used and then not used." Wilder appears devastated at first, although the final scene, in which Wilder orders events to his own advantage is a supreme example of what Wilder would later describe (in The Power Game) as "rearranging the pieces to make sure the form a pattern that suits you."
Early on in the episode, Wilder suggests to Kate Barber that they go and see 'the new Fellini'. Presumably this is a reference to 'Eight and a Half' which was specifically referenced in the 'Steptoe and Son' episode, 'Sunday for Seven Days Only.'.
It's not clear if the character of Marion Brown was introduced as a last-minute replacement for Barbara Murray.Patrick Wymark certainly seems disconcerted in her first scene, when Mrs Brown gives him Pamela's photo which she found in the drinks cabinet. "Yes, " Wymark says,"Barbara would put it in the drinks cabinet.'
Margaret Rawlings was apt casting as the strong-willed mother of Pamela Wilder. She was a founder and Vice President of Equity, the actors union. She was also Lady Barlow, wife of Sir Robert Barlow, chairman of the Metal Box Company (described as "autocratic, ruthless, cunning and devious").
In 1939 she starred in London and Broadway in Charles Morgan's ' The Flashing Stream (1939) as one of two passionate and sexually experienced mathematicians suppressing their desires to perfect a new missile to defend England. She impressed critics in a number of roles including Pygmalion, The White Devil and playing Lady Macbeth opposite Alec Clunes (father of Martin Clunes).
In film she appeared in 'Roman Holiday' and also played the medium Madam Bullard who explains the plot in 'Hands of the Ripper'("Why it's…" she exclaims with momentary delight as she recognises the Ripper in her trance, before horror crosses her face).
Georgina Ward, who plays the ambiguous Dawn Rossiter ('I give that marriage two years' Wilder predicts) was ironically the daughter of the Honourable George Ward, later Viscount Ward of Witley, who had been an MP and Secretary of State for Air from 1957 to 1960. She appeared in episodes of The Avengers, Gideon's Way and Danger Man, and two episodes of The Main Chance (1970) written by David Weir. From 1966 to 1970 she was married to reviewer Alistair Forbes, and she subsequently moved to Mexico with second husband Patrick Tritton (reputedly model for Dicky Umfraville in Anthony Powells Dance to the Music of Time novels).