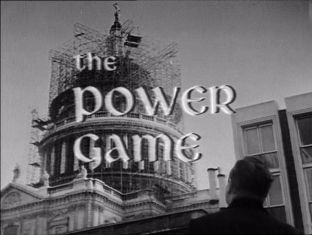 17 January 1966
Saturday's Women. Writer Raymond Bowers. Director John Cooper
"I think you fluttered to the wrong nest. John's migratory. Not regular in the seasonal sense. Nor consistent. But frequent and versatile." Pamela Wilder
Ken Bligh arrives at Heathrow airport, his bid for the second African Dam rejected. Ken is not just disappointed, but also perplexed because he knows he made the lowest bid (as Wilder had obtained details of the competing bids from Susan Weldon via the National Export Board). At the same time, Don Henderson is returning from a secret trip to Venezuela and the driver sent to collect Don tells him that Sir John Wilder has just secured a UK motorway construction contract.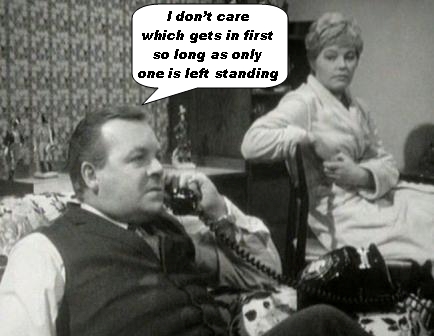 Ken returns to his wife Justine, but Caswell also arrives to tell Ken that Wilder met with Alan Lacey MP (from "Hagadan"), parliamentary secretary to the UK Government minister underwriting the dam (which being built in a British protectorate). Caswell says Wilder caused the bid to be rejected, but Ken knows that his father also met Lacey, and accuses Bligh of also wanting the foreign project to fail saying he is "motorway mad". Bligh tells Ken that a parcel of tropical clothing for Henderson was delivered after Don had left and Caswell's secretary signed for it. He warns Ken that Wilder is planning another foreign adventure.
Don arrives at the Wilder home to find Susan unaware that he had been summoned. She has not seen John since the previous weekend, and as she predicts, he is currently breakfasting in Notting Hill. Susan Weldon challenges him about his plan to return to Pamela for the rest of the weekend and Wilder elects to stay with Susan. He phones his house and instructs Don to show Ken Bligh his Venezuela research. The country is opening up, providing massive investment opportunities. Wilder has called a board meeting for Friday, but he will now vanish. Wilder will guarantee to deliver a tender with the lowest price so long as Ken takes the meeting and gets the board to support Wilder's bid for a Venezuelan project.
Ken agrees and with his father disagreeing, Wilder foresees a "bloodbath". But then, Susan gives Wilder an ultimatum. Start divorce proceedings by Wednesday, or she will end their relationship and leave the National Export Board.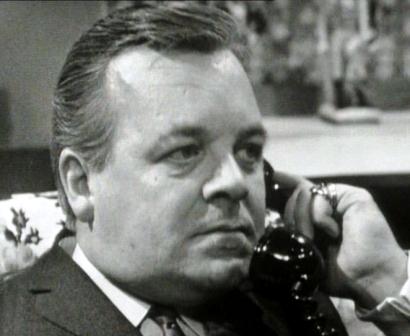 After the slightly brutal and disappointing "Lady For A Knight", Raymond Bowers delivers a more satisfying episode in which the apparent contradictions of the previous episodes are explained as Wilder's long term strategy is laid bare. The only value of the motorway contract was to give Caswell more salt to rub in Ken's wounds. Wilder wants to set son against father. "I don't much care which gets in first, as long as only one is left standing. With blood all over him." Even the tropical clothes were delivered to Caswell's secretary on Wilder's instructions to get Caswell wondering where Don had gone and perhaps suspecting that Ken may have known what Wilder was planning.
Patrick Wymark exudes calculated menace as he lays out his plans, "I want (Ken) to get his own back and I want him to tear out his father's guts to get it." The viewer gets a sense of how Wymark might have performed in The Duchess of Malfi or Malatesta.
The title of the episode emphasises the fact that the women in the story are increasing in power. At his moment of potential triumph, Wilder is pressured by his mistress Susan Weldon, to divorce Pamela and marry her. Wilder protests that, "I cannot divorce Pamela because I have no grounds. She won't divorce me, although she has grounds."
Rosemary Leach captures the resurgence of Susan's determination as she realises that Wilder's plan hinges on having access to the contract bids by competitors which pass over her desk at the National Export Board. Susan tells him to "make the impossible happen" as he has just done with the Bligh's. "As a Civil Servant I find your attentions dishonourable. As your wife I'd think otherwise."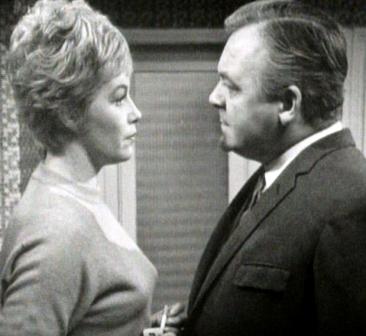 Barbara Murray is entertaining as Pamela Wilder, charming and cynical when she greets Don Henderson in the grounds of her home, amused when she learns Henderson has been told to meet Wilder at the house, resigned when Wilder phones home and tells the maid he's calling Henderson rather than his wife. Although not protesting the situation, her body language is that is someone aware of her own power. As Wilder says, when Susan demands that he gets his solicitors to draw up divorce papers, "I can't induce Pamela to perform actionably in four days."
Rachel Herbert continues to demonstrate a nurturing charm as Justine Bligh, sidelined to the role of spectator although clearly calm and intuitive. She flatters Caswell over the rose bush he gave as a present, and instructs the new maid on how to make bacon for breakfast ("for Mr Bligh, you dip lean slices into boiling lard for 20 seconds". The maid says she thought Mr Bligh liked it pressed down on a stickless pan and Justine explains, "Mr Ken Bligh does, but not Mr Bligh" It's no surprise that Bowers was later asked to write for Upstairs Downstairs). She attempts to discretely defuse the more aggressive exchanges between father and son, but when Henderson arrives she is dismissed. "I'll discuss business with Father in front of you," Ken says, "but not with an employee present."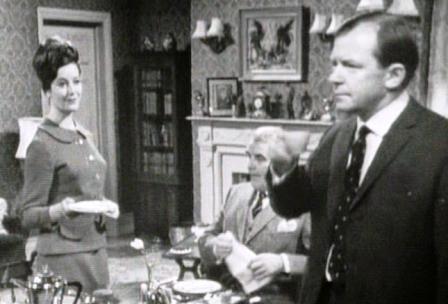 Breakfast with the Bligh's - Rachel Herbert, Clifford Evans, Peter Barkworth
Peter Barkworth, who until now has been restrained, almost tortoise-like in his thick coat and bowler hat, displays some petulance in the confrontations with Bligh. Until now, Barkworth has been generally calm and reserved, but his outbursts illustrate the deep-rooted resentment that Wilder hopes to exploit. "When your mother was alive, I told her everything I did. In business, politics, everything." Caswell says at the breakfast table. "That would explain her early death." Ken retorts.
Jack Watling breezes through the episode, providing an opportunity for Ken, Pamela and Wilder to open up their thoughts and demonstrating the easy charm of a man who "gets through" life without too many qualms. A reference to not having a moustache since the Battle of Britain reminds us that these men may have spent their formative years in a life and death struggle. A passing comment to Pamela suggests that Henderson is now a single man ( we saw his wife in two episodes of The Plane Makers).
Wilder says Susan's demand is "Poppy Bloody Nonsense" - With the rise of Mrs Whitehouse, ATV was obviously worried about one of its stars saying "cock" on national TV.