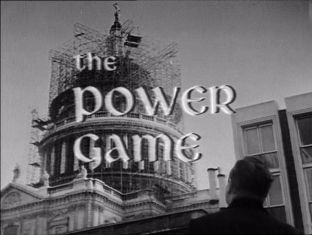 24 January 1966
The Switch. Writer Edmund Ward. Director David Reid
"All disasters leave a few pieces behind. The secret is to shuffle the pieces into the pattern that you want. " Sir John Wilder.
Lord Scaife, the unseen Chairman of the National Export Board retires and Caswell Bligh sees himself as the natural successor. Meanwhile, Sir John Wilder plans to acquire a plant hire firm on behalf of Bligh Construction. The owner, Joe Panton (Alfred Burke) is a long-time friend and supplier of Caswell Bligh, but the bank has been wanting a return on its investment and approves of the acquisition. Ken Bligh has his own reasons for publicly supporting the acquisition, but privately advises Joe Panton how to sink the deal..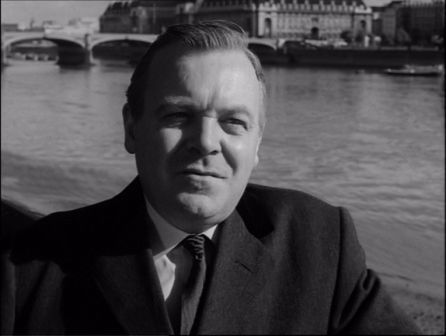 For some unexplained reason, this whole episode seems a little bit of an anti-climax. Both Wymark and Alfred Burke had appeared in the 1963 movie "Children of the Damned", and Burke had starred as private detective Frank Marker in ABC's Public Eye. The prospect of Wilder versus Marker must have seemed like a hot ticket at the time, but it never really comes off. Sporting a grizzled beard, Alfred Burke plays Joe Panton, the embittered owner of the plant hire firm which Wilder targets for a take-over.
In some ways Panton seems like a plaything of fate. Although he vows to be awkward, he knows that his fate is sealed. Although Bligh's will issue a statement to say they've no plans to change the current management, he knows this will only last as long as it takes them to become familiar with his company. Panton has known Caswell Bligh for 25 years and gave Ken his first work experience when he was fifteen. As he tells Wilder, "I'm not a graceful man. This isn't a graceful business."
Wilder has come from a meeting with Sir Gordon Revidge, who is "dissatisfied with the return on capital invested in Bligh's". Wilder therefore intends to use some of the capital to buy up Panton's firm which supplies the machinery used in road construction.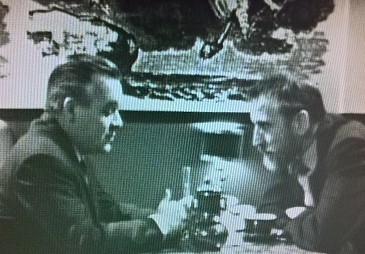 Sir John Wilder (Patrick Wymark) bargains with Joe Panton (Alfred Burke).
Wilder shows Panton a copy of his own profit and loss account, amended to show what would happen if Bligh's took their business away. When Panton tells him that civil engineering is in a recession, Wilder says that why Bligh's must diversify or cut down on sub-contractors' costs. Since plant hire is one of the highest costs, "I think it's high time Bligh's had their own hire plant division." Panton counters that Bligh's could set one up, but Wilder replies that he would sooner have one ready-made. "We could still supply the rest of the industry profitably. If we set up our own division you'd lose two thirds of your income anyway." Wilder ends the argument by saying, ""Accept gracefully and we'll talk figures. Otherwise you're beating your head against a stone wall…it's your head. I just provide the wall."
Peter Barkworth, as Ken Bligh, demonstrates more deviousness when Caswell Bligh tries to stop the take-over. He tells his father that he agrees with Wilder, although tips his hand by saying he agrees in principle that Elberdson's investment capital should be freed up. Ken has already been lobbying his father about a Central American Strategic Highway project, so it's no surprise that he visits Panton with a plan to overturn the take-over deal. He suggests that Panton cancel a £200,000 new equipment order and put in another order with a foreign firm, preferably Germany, and say it's the policy of the new owners. This will embarrass Wilder, who is a member of the National Export Board, which was set up to encourage UK trade. For good measure, Ken suggests Panton contacts union leader Ted Newark (Philip Madoc), who also sits on the NEB.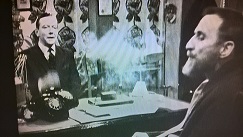 Ironically, Peter Barkworth had appeared in one of the first episodes of Public Eye as the self-assured Managing Director of a tycoon Marker is hired to protect. In this episode, Barkworth seems slick and convincing when he outlines the plan, although when it later threatens to go wrong it's noticeable that Barkworth once again wears the high-collared coat and bowler hat that makes him seem like a cross between a tortoise and a little boy.
From a strategic point of view, Panton's options are limited. As Wilder tells Caswell Bligh "You're confusing Auld Lang Syne with economics". Where Panton and Caswell see a personal relationship, Wilder and Ken see that this can only last as long as the two parties are mutually useful. If Panton's business was part of the Bligh empire, they would have a reason to find work for it. As an outside supplier, there are no guarantees. But even within the Bligh organisation, Panton's business unit would have to show a return on the capital invested. The story has ironic overtones of Gerry Anderson's Century 21 Productions, which started out as a supplier to ATV, and was then more amicably bought up by Lew Grade ("Lew told me he was going to buy my company and I thought what a cheek, And then he told me what he was going to pay, and I thought what a good idea").
Jack Watling shares a couple of amusing scenes with Barbara Murray and Rosemary Leach. In the first, Don has taken Pamela to a restaurant that Wilder has recommended. When she learns this, Pamela exclaims, "Togetherness by proxy.All part of the latest plan. Wives will be worn this season!"
Later on, Don arrives at a pub to apologise to Susan Weldon when Wilder is unable to meet her. Ordering a pink gin he describes himself as, "in my usual capacity – a trusty but drunken go-between."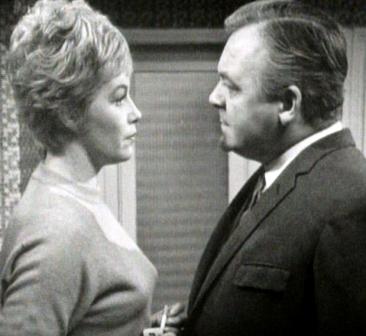 Susan observes that, "It's like something in a comic opera. Second Act, Baritone Aria; 'My beloved Master is detained on business."
Watling looks chastened and supports the previous episode's implication that he's now single, saying, "Get in a bit about the trusty go-between's sex life. It's suffering!"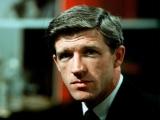 The retirement party for Lord Scaife provides an opportunity for Pamela Wilder to come face-to-face with Susan Weldon, reminding Susan that they spoke once on the phone when Pamela was looking for Sir John ('Lady for a Knight'). Barbara Murray glances pointedly at Jack Watling as she says the party is, " a marvellous opportunity to meet people one has only HEARD ABOUT."
Surveying the aftermath of the party, James Maxwell as Colin Townley says, "Empty glasses and full ashtrays. The remains of tribute." The drink emboldens him to warn Susan that they must not get drawn into the jockeying for the Chairmanship. Although Bligh thinks the position is his, an unseen character called Gillingham has also shown an interest. Colin reminds Susan that the Civil Service provides continuity during regime change, "Whatever happens WE are involved. Not the self-seekers; the Gillingham's, the Bligh's…the Wilder's. US – the agenda compilers, the writers of minutes. Gillingham understands this – I doubt the others do."