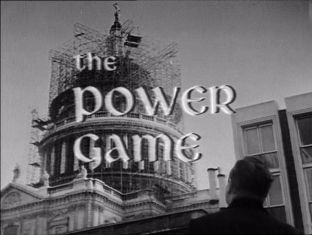 37 February 1966
Late Via Rome. Writer Wilfred Greatorex. Director Peter Collinson
'You're lowering, John - frowning menace.' Kenneth Bligh
Kenneth Bligh returns from Africa on a delayed flight as rumours spread in London that his airport construction project has encountered problems which will drive up the costs. Meanwhile, the Minister has appointed a new secretary to the National Export Board, Sefton Kemp. Susan Weldon suspects that Kemp will try to have her transferred on security grounds, while Wilder and Bligh speculate whether the new chair will revive attempts to remove one of them from the NEB.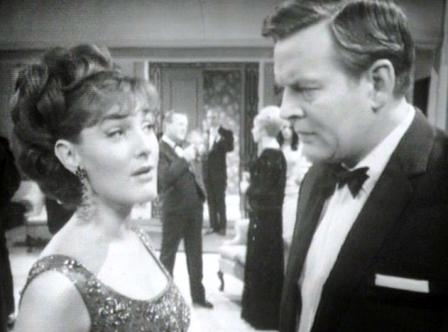 Barbara Murray, Patrick Wymark, Clifford Evans, Rosemary Leach & Jack Watling
One of two episodes directed by Peter Collinson, (The Italian Job) Late Via Rome opens with some adventurous camerawork in the meeting of the National Export Board. As Wilder ponders a mysterious note, the camera passes over his shoulder to meet the stares of new chairman Gillingham (Ralph Michael) and secretary Sefton Kemp (Holm). They have noted that both Wilder and Caswell Bligh have been receiving and ignoring messages about Ken Bligh's North African airport construction project during the meeting.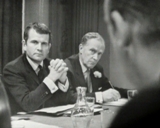 Throughout the episode, Collinson alternates between sociable wide shots and tight close-ups as characters group and plot. After Ken Bligh has shown unexpected independence during one meeting, Wilder and Henderson look down at the office car park. "Ken's taken to driving himself lately" Jack Watling observes as they see Bligh swapping places with his driver in the car park. "So, I've noticed" lowers Wilder.
Deborah Watling, daughter of Jack , plays a precocious fellow aeroplane passenger of Ken Bligh (Peter Barkworth) on his return flight to England. She had played the niece of "The Invisible Man" in ATV's 1959 TV series, and had more recently starred as "Alice" in Dennis Potter's 1965 "Wednesday Play" about Lewis Carroll and Alice Liddell (Coincidentally, Ian Holm, who plays Sefton Kemp , would star as Lewis Carroll in Gavin Millar's 1985 remake "Dreamchild").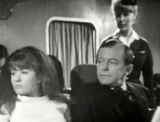 "You're much cleverer than you pretend, aren't you?" she says, after he solves one of her crossword clues. And her words are significant. Until now, Ken has been depicted as the incompetent son of Caswell Bligh (Clifford Evans). Sir John Wilder has used Ken as a means of wresting control of Bligh Construction from the politically ambitious father. But now, Wilfred Greatorex's script shows Ken turning the tables on the vultures who are circling to take advantage of the failed African construction contract.
The replacement of James Maxwell's Colin Townley as secretary to the NEB is explained in a couple of lines as Ministerial manipulation. Kemp, who was 'weaned on protocol at the Treasury' has come over from the Board of Trade. Where Townley was serenely protective of Susan Weldon, Sefton Kemp will remove anyone capable of doing his job. He displays irritation at the "singular diffidence" of his predecessor in expanding the powers the NEB and reactivates the question of the Official Secrets Act while making it plain to Susan that he will not object to her relationship with Wilder so long as it works in favour of the Board. Ian Holm, who had played Verges to Patrick Wymark's Dogberry in the Royal Shakespeare Company's Much Ado About Nothing, wishes to expand the powers of the National Export Board and reactivates the question of whether Bligh or Wilder should leave the NEB. If the sudden replacement of Townley has unsettled Susan Weldon, she doesn't show it, with Rosemary Leach making her almost cockily self-assertive in front of the new chairman. Ralph Michael brings an amused gravitas to the role of Bob Gillingham, an Imperial Engineering executive who moves effortlessly between private industry and the Civil Service ("cross-fertilisation" Kemp calls it). While avuncular on the surface, anyone who had seen Michael in the haunted mirror segment of 'Dead of Night' would know of the steel below the surface.
Like Patrick Wymark, director Peter Collinson was born in Cleethorpes, although in vastly different circumstances. The unwanted child of performers, Collinson was placed in the Actors' Orphanage at the age of eight. At the time, Noel Coward was president of the Orphanage and discovered Collinson weeping in a corner after his father failed to visit him. As recorded in the recent radio play, "Mister Bridger's Orphan", Coward was moved by Collinson's plight and took up his cause, eventually becoming his godfather. Coward arranged for Collinson to get his first job in the theatre and by 1967, Collinson was directing movies. In 1969 he offered Noel Coward the role of Mr Bridger in "The Italian Job".Although he didn't need the money, Coward accepted, as if to acknowledge how far Collinson had come.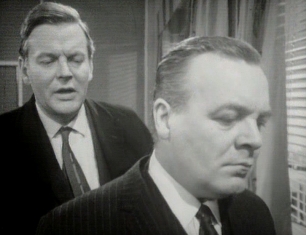 "Late Via Rome" provides a similar validation for Ken Bligh, as the final scene reveals that his protracted journey via Rome was taken to give time for inaccurate rumors of his failure to spread and smoke out a profitable reaction from their partners. Instead of being the fall-guy, Ken has been orchestrating the whole episode.

Ken reveals to Wilder that Caswell Bligh made his fortune during the war, building airfields for the Government on a cost plus basis with the clerk of works fixed to allow them to bill for more materials than they used. "It must have been so bloody easy," Ken sighs.

In earlier episodes, Don Henderson seems to have been throwing out about living the life of a single man. In this episode, while waiting for his driver to bring Henderson in on the way to work, Wilder tells Pamela that, "his wife's got flu or something". When Henderson arrives, Pamela sends her sympathies to "dear Pat" and Henderson looks nonplussed.

<