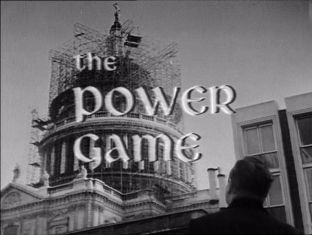 26 September 1966.
Nothing's Free" Writer Edmund Ward. Director Peter Moffat.
"I'm not sure I like ambition in women. Bit unnatural – like throwing the discus." Sir John Wilder
Due to the General Election delaying the final two episodes of the first series, there had only been a two month gap between series one and two of The Power Game. But if the first series had run its intended course, it would have been six months since the last series – matching Sir John Wilder's six month secondment in Brussels.
"Nothing's Free" opens with Wilder preparing to capitalise on the contacts made during his time as Britain's Special Plenipotentiary to the European Community. Pamela Wilder has been sent home to prepare the way, and Wilder phones Susan Weldon to tell her he will be arriving in Paris by train with Dutch engineer Dr Vrieling (Eric Porter).
Wilder is hoping to set up an Anglo-Dutch-Italian consortium for a £50 million regional development scheme in Italy. The project will be split £15 million for the Dutch, £15 million for the Italians and £20 million for the British. Although Wilder has already committed Bligh Construction to the project, Caswell and Kenneth Bligh are unaware of it. Wilder also needs to get a credit guarantee from the British Government, and these aren't usually offered to consortia. He asks Pamela to tempt her friend Charles Grainger (Robin Bailey) out of his "Treasury mousehole" to get his support.
In this opening episode it is not only Wilder that is reinvigorated by his European sojourn. Each of the supporting characters advances their own interests. Pamela (Barbara Murray) warns Wilder that, "I don't want this Susan Weldon circus starting again. I'm tired of sweet reason and tolerance!"
Susan Weldon (Rosemary Leach) also fires a warning shot that she's not sure she wants to continue being Wilder's 'other woman'. Privately she has heard that Gillingham is resigning as Chair of the National Export Board and Wilder is certain to be offered the post. If that happens she will be transferred. With Sefton Kemp also leaving, she would prefer to stay at the NEB and offers Caswell Bligh her support. Don Henderson, shunted by Caswell into the "meaningless job" of Director of Personnel Relations, has been quietly researching all Bligh Construction's activities and demands that Wilder give him, "A Golden handshake or a real job. I'm tired of bouncing about in your wake."
Bligh Construction, meanwhile, has been ticking over with a series of safe, small municipal construction projects arranged by Caswell. Kenneth Bligh is ambitious to run the British end of the consortium although Wilder tells him he's not in the same political league as their collaborators and the Dutch and Italians will eat him alive.
As the episode progresses, Wilder learns from Granger that there a long-term plans for the National Export Board to be "Discretely and quietly absorbed by other bodies." Knowing that Caswell wants the NEB Chair, Wilder bluffs him by saying he's decided to leave but, "With control of the consortium plus my present powers I might have an incentive to stay. Plus a share option."
In the space of an hour, Edmund Ward reasserts everything that viewers had come to expect from "The Power Game". Each of the actors is given a moment to assert themselves: Jack Watling demonstrating the former Sales Director of "The Plane Makers", frustrated at his role as Wilder's bagman – Rosemary Leach determined to advance herself but also petrified when Wilder deduces that she's kept the news of Gillingham's departure concealed.
Probably the biggest shock for returning viewers would be the new "swinging" arrangement of the theme tune.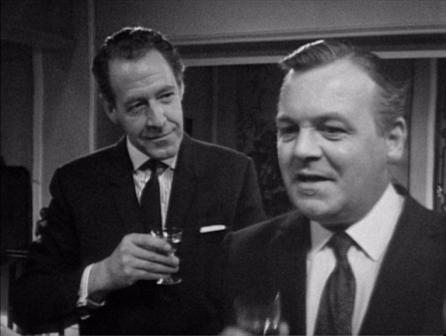 Charles Grainger (Robin Bailey) offers advice to Sir John Wilder(Patrick Wymark)
Continuity Point: During a heated argument, when Wilder dismisses Bligh's current projects as a "church bazaar", Bligh retorts, "Walk out! Put your two years in the church bazaar to experience" implying that the first series covered 18 months of intrigue.