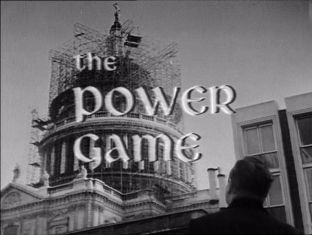 Monday 21 November 1966
"Safe Conduct" Writer Wilfred Greatorex Director John Nelson Burton
"I'm throwing myself on your better judgement Sir Trevor. I'm a distressed British female abroad in temporary need of funds." Susan Weldon.
Kenneth Bligh (Peter Barkworth) is served a deportation order following his failed attempt to bribe Magalian politician Kofe Lokwe (Calvin Lockhart). Sir John Wilder (Patrick Wymark) meets with prime minister Jordan Kobola (Earl Cameron) hoping to secure the contract for the Dam. Caswell Bligh (Clifford Evans) tells Frank Hagadan (George Sewell) that he knows Ken has fallen into a trap set for Wilder, but this convinces him that they need Hagadan leading Bligh Construction and offers to top whatever salary Infells are paying.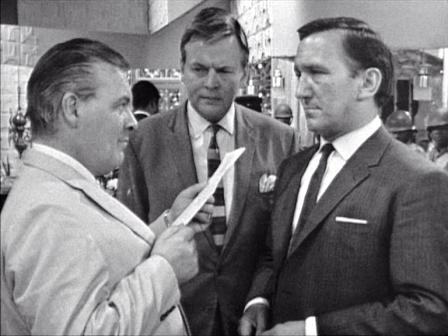 In the midst of revolution, Sir John Wilder (Patrick Wymark) examines the safe conduct pass offered by Hagadan.
With Wilder holding her return air ticket, Susan Weldon (Rosemary Leach) pleads with the High Commissioner (John Barron) to help her get back to England. But when a military coup topples Jordan Kobola's government, it's Hagadan who is offering an escape route with a safe conduct pass signed by Kofe Lokwe.
This follow-up to "The Chicken Run" keeps the audience guessing with a new twist at each commercial break. In the first part, we're reminded of last week's events when Don Henderson genially challenges Hagadan over his yarn about Kofe Lokwe being open to bribes. Plain speaking Caswell Bligh confirms that Ken fell into a trap set for Wilder but bears no grudge against Hagadan. He views Hagadan's tactics as a qualification to replace Wilder as joint managing director at Bligh Construction. While Caswell wants Wilder out of the way, Ken's gullibility proves he can't be left in full control of the company.
If Calvin Lockhart's reaction in the previous episode to Ken's bribe seemed a little pious, it soon becomes clear that Kofe Lokwe was looking for an opportunity to demonstrate his honesty. But both he and Jordan Kobola take a pragmatic attitude. If the news of Ken's actions become public, Bligh Construction would be out of the running for the dam. But Kofe Lokwe says completion of the dam is more important that "any story about a Government minister." As long as Ken goes quietly, the matter will be hushed up.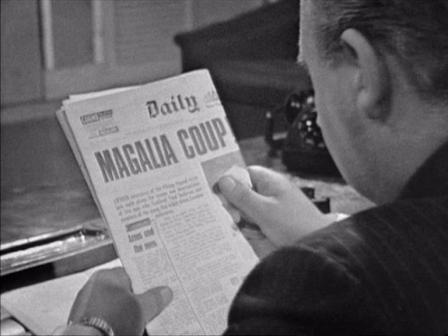 The second part depicts the coup – economically played out on a couple of interior sets with some newsreel footage inserts as Caswell and Don Henderson (Jack Watling) peer out of the hotel windows. Despite the machine gun bullets raking the hotel lobby, the coup is played mainly for laughs. Jack Watling gets to do the old reaching-up-to-the-bar-for-a-drink-only-to-have-the glass-shot-at gag. Susan Weldon is at the High Commissioner's residence when the coup breaks out (tired of having her student friendship with Jordan Kobala used by Bligh and Wilder to further their business interests, she tells Sir Trevor that she's a British subject in distress and asks him to lend her the air fare home). When the shooting starts, Sir Trevor tells Susan "theres some civil disturbance involving the military" and he wouldn't usually start so early but that "as this seems to be developing into a rather special occasion.." offering her a particularly fine whisky (this episode was filmed two years before "Carry On Up The Khyber" but John Barron's performance anticipates Sid James in the climactic dinner party scene). The Carry On similarities continue towards the end of part two as everyone dashes onto the plane and then, as it takes off from Magalia, Wilder looks around the seats and says, "Wait a minute. Where IS Hagadan?" Cut to George Sewell grinning as he watches the plane take off.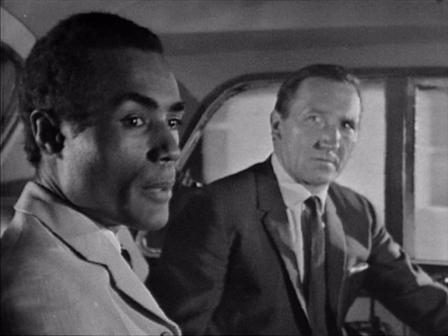 Kofe Lokwe (Calvin Lockhart) and Hagadan (George Sewell) discuss the future of the High Dam project
Part three deals with the consequences, as Wilder returns to London and finds his enemies massing against him. Ken reveals that he and Hagadan agreed that whoever won the contract would take the other in with them. But Wilder says there is no way they are sharing a contract with Hagadan. The resolution of the story could seem a little lazy. We expect Wilder to do something clever, but in this case he relies upon the vagaries of African politics.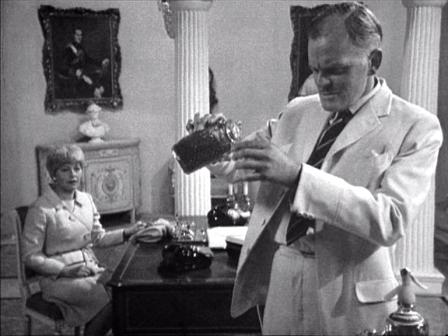 Sir Trevor (John Barron) offers Susan Weldon (Rosemary Leach) "the next best thing to a bomb shelter"
After some pretty sparse appearances earlier in the series, Jack Watling is given a fair crack at the whip this episode, affably challenging Hagadan about the trap Kenneth fell into, and playing along as Caswell sounds him out about working under Hagadan. Much of the siege scene is played for laughs – Caswell begins to recall his war service with the Royal Engineers, and when Don tells him to knock it off saying he's got a friend who's only just finished fighting El Alemein, Caswell reacts condescendingly saying Don was probably "reserved occupation – aircraft industry" during the war). There's also an amusing scene where Wilder tells him to find Susan. When Don says the phone's been cut off and the street is full of armed soldiers, Wilder snaps,"Dodge them!"
After going all doe-eyed earlier in the series, Rosemary Leach also gets some fire in her blood, refusing to unlock the connecting door to Wilder's hotel room in "The Chicken Run" and defying both Wilder and Bligh in this episode.
After a low-key performance in the previous episode, John Barron displays characteristic dry humour as the High Commissioner, whether deflating Ken Bligh's attempt to play the "Do you know who my father is" card or deferring to John Wilder's greater knowledge of the political system gleaned from "four days in Magalia."
The fictional state of Magalia is portrayed with a relatively even hand. The presence of a High Commissioner suggests this is a British protectorate, rather than a former colony. The competition from communist China and the Soviet Union against British and American interests to complete the Dam indicates that it is one of the many small states which attempted to preserve their economic independence by remaining non-aligned. Viewed from a 1960's perspective, the two episodes provide a challenging view of an emerging nation. Kobola and Lokwe aren't played for laughs – nor are they sanctified. They're regarded with the same cynical eye as Sir Gerald Merle and James Cameron-Grant in "The Plane Makers".