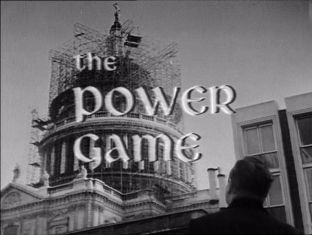 Monday 5 December 1966
"Tax Return" Writer Raymond Bowers Director John Cooper.
"Lord Wilder, newly ermined, couldn't be bounced out of Bligh's within a year." Caswell Bligh.
Wilder sends Henderson to Rome with a message for the European Consortium, but also asks him to visit Pamela with an invitation to meet Wilder to confirm their tax arrangements. Pamela agrees to visit Wilder in his London office (since that is a place where business is done). However, on the evening of the visit, Wilder is surprised to find that Pamela has asked her friend, Treasury officer Charles Grainger to attend the meeting.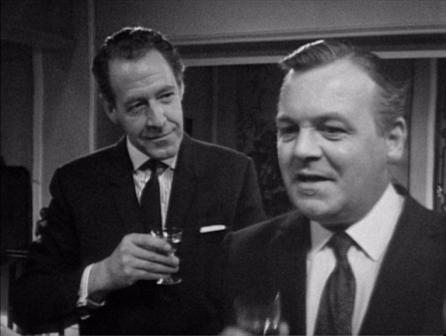 Grainger (Robin Bailey) has an ulterior motive for visiting Wilder (Patrick Wymark)
In some ways this appears to be a retread of Raymond Bowers' Plane Makers script, "Loved He Not Honours More.". In the Plane Makers episode, Sir Gerald Merle was anxious to remove John Wilder from Scott Furlong aviation, but unwilling to act while there was a possibility that Wilder might be knighted for services to industry. In "Tax Return" Caswell Bligh (Clifford Evans) wants to oust Wilder from Bligh Construction, but believes Wilder is in the running for a Peerage. Bligh believes a scandal about Wilder's marriage will count against his ennoblement, and manipulates both Susan Weldon and Pamela Wilder in an attempt to draw attention to it.
The other similarity with the "Plane Makers" episode is that in "Loved He Not Honours More", Pamela Wilder began to take an interest in the Scott Furlong shares which Wilder had made over to her in exchange for a down payment on their house, while in "Tax Return" Wilder wants a meeting with Pamela to agree what their assets are. Bowers raises the interesting proposition that Wilder put his trust in advisors to allot his and Pamela's assets in the most tax efficient way (as he reminds Treasury official Grainger, "Tax evasion is illegal, tax avoidance is not") for a marriage, but neither of them is clear on who owns what.
This episode is cunningly structured, with the first act almost seeming like a red herring. Ken Bligh (Peter Barkworth) is positively genial as he prepares for a meeting with Wilder to agree a response to National Export Board queries, convinced that he's finally out-strategised his fellow managing director. Caswell Bligh (Clifford Evans) and Susan Weldon (Rosemary Leach) are waiting for the answer in Caswell's flat above the Bligh Construction office and when Susan visits Wilder's office with Caswell's good wishes, it takes Wilder to point out that the seemingly avuncular Bligh could be threatening Susan's career and reputation by engineering an apparent evening meeting between the two on company premises. Gossips would naturally conclude that as an impartial Civil Servant, her only reason to be in the Bligh building would be to visit Wilder.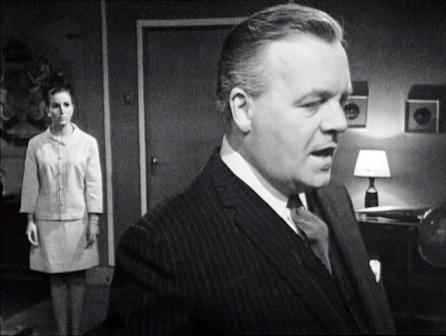 Wilder tells Miss Lingard (Norma Ronald) she's working late
The late evening meeting also serves to illustrate Wilder's relationship with Kay Lingard (Norma Ronald) – distracted by personal worries, Wilder only tells her about the meeting as she's packing up to go home. Barely missing a beat, Lingard's only question is how long the meeting will take as she's "got a man" and is attending a party with him. Lingard is sanguine about keeping the man waiting, obviously no stranger to sexual politics.. Later on, Wilder notices that Miss Lingard has been sewing a button on his coat . He tells her that Lady Wilder wasn't in the habit of sewing buttons and bluffs that he still has domestic staff. In the closest she comes to a rebuke, Miss Lingard tells him to see that his staff brush beneath his coat collar ("It's a dirty winter"). When Wilder later checks beneath his coat collar and says it is clean, Miss Lingard coolly concurs, telling him that's because she brushed it. There's a great moment where Wilder –with a mixture of sheepishness and off-handedness – thanks Miss Lingard and she responds with a brief smile. Lingard is no hero-worshiper, but she still values a difficult acknowledgement at the same time as Wilder suddenly realises what Pamela used to organise without him noticing.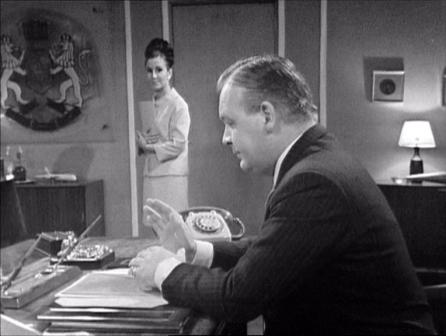 That certain smile
The central point of the episode comes when Wilder tasks Don Henderson with stopping off in Rome to see Pamela. When Don bristles at being used as a go-between, Wilder tells him it's a service which only another director can perform. Wilder needs Ken to convince Pamela that he's asking her to meet at a place of her choosing, and is not issuing an ultimatum. Although the subject is the tax position of their shared assets, Don tells Pamela that Wilder doesn't care about the money. That may seem glib, but earlier episodes have reinforced the theory that money is just a means to achieving ambition for Wilder. Even so, although Don is successful in getting Pamela to return, he's reluctant to tell Wilder that Charles Grainger was also a caller at Pamela's freezing Roman retreat. It therefore comes as a devastating shock to Wilder when Pamela's former childhood sweetheart attends the reunion. In the closest The Power Game has ever come to an "action sequence", Patrick Wymark pushes Robin Bailey out of the office, slamming his weight against the door to stop him getting back in. It's Wilder's fury at Grainger's interjections which finally makes it clear to Pamela (and perhaps to Wilder himself) that he was missing her.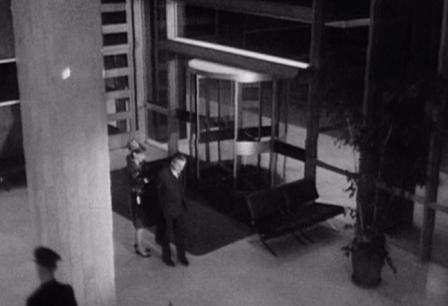 During the end titles, Pamela helps Wilder into his coat, visually echoing the earlier conversation with Miss Lingard
When Wilder goes off to find his car and driver, Bligh and Grainger make a last-ditch attempt to scuttle the reunion by telling her that Wilder is in line for a Peerage and intimating that this is the only reason Wilder's made an effort to get her back. In fact, Wilder has already told Bligh he doesn't want to be a Lord but whether or not that's true, Bligh still presses ahead. Barbara Murray adopts the same wide-eyed innocence she displayed in the earlier Plane Makers episode, as Pamela begs them not to let John know they've told her. "Otherwise he might think that's the only reason I've come back.".
As we've noted before, "The Plane Makers" and "The Power Game" were never repeated in the 1960's, so the production may have felt justified in repeating old themes. Despite the echoes of previous episodes, this is still a satisfying conclusion to the "story arc" concerning the Wilder marriage. Once again, Jack Watling explores the contradictions of Don Henderson, irritated at Wilder constantly reminding him that he owes his Directorship to Wilder, embarrassed by Grainger's presence at Pamela's borrowed apartment, but deadly sincere when he tells Pamela that Wilder isn't interested in the money. It's also particularly rewarding to see Norma Ronald's character of Miss Lingard (who has often been relegated to a few lines) well acknowledged for her contribution