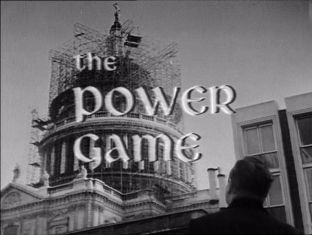 21 January 1969
"Special Envoy: The Outsider" Writer Wilfred Greatorex Director Peter Moffat.
"When I was building pipelines across the Syrian desert, I played poker every night with a man like you. He always developed an imperative air when he had nothing in his hand!" Lord Bligh.
Jan Novak (Donald Burton) tells Sir John Wilder he wants British firms to supply plant for a new road building contract in communist Poland. Jason Fowler (Richard Hurndall) warns that Novak is the top Polish intelligence agent working in the UK and is not to be trusted. Wilder, Lincoln Dowling (Michael Jayston) and Don Henderson (Jack Watling) fly to Warsaw to represent three British firms, but are hindered by British Embassy staff who think it's a waste of time. When Sir Holford Bagenall (Anthony Nichols), the British Ambassador hears that Wilder has been investing in the firm most likely to win the contract, he provides Fowler with the evidence he needs to finish Wilder.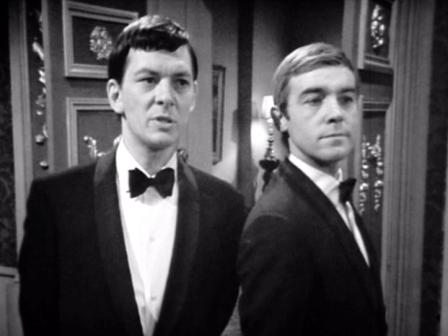 Jan Novak (Donald Burton) and Lincoln Dowling (Michael Jayston) exchange hostilities in Warsaw.
Set in a Cold War period when much of Europe was still under the control of the Soviet Union, the episode reminds us that we were still trading with the "Eastern bloc" despite political rhetoric. It also reiterates the theme from the opening episode (as Julian Critchley put it in The Times), "the belief, implicit in the series that the 'players' in the shape of Wilder are frustrated not by their infelicities but by the machinations of the gentleman amateur. "
Wilder articulates this belief, telling Don Henderson that Fowler and Bagenall are, "Career diplomats who see the Foreign Service as the private preserve of a few silver spoon families, whose untalented sons have a birthright for the plum jobs."
By contrast, Jan Novak is a colouful counterpart of Wilders and provides a straightforward motivation for his scheme. "Poland needs new roads. You have the road-making machinery. " When Wilder queries how the Russians will react, Novak blithely replies that they will have to lump it. "Besides, we owe Britain some trade. Last year we sold more than 20 milion pounds worth of goods. More than we bought." Donald Burton (Novak), would go on to play private eye Ackermann in Granada TV's "Big Breadwinner Hogg" and later star as the captain in the BBC series "Warship". Novak is a charming and convincing fixer although it's never quite clear what his intentions are.
Greatorex deals with three concerns throughout the story – the spy angle, the commercial angle and the "gentlemen v players antagonism". The spy angle is covered during the first act, with Novak pointing out the security officer shadowing him during his meeting with Wilder in a hotel lobby. Due to Jason Fowler's concerns about Wilder's meetings with Poland's "top intelligence agent in the UK", Caswell Bligh calls in Conyers (Frank Duncan) of MI5. Conyers reassures Bligh and Fowler that Wilder is no security risk because "he went to the wrong school for treason". Picking up on Dowling's comment in the first episode that Fowler failed to spot Kim Philby as a security risk, Fowler now protests about Conyer's profiling potential traitors as coming from Oxford and Cambridge. Fowler points out that 90% of the diplomatic service went to public schools and Eton, Oxford and Cambridge. Nevertheless, Conyers is trusting enough of Wilder to ask him to keep an eye on Novak and "string him along."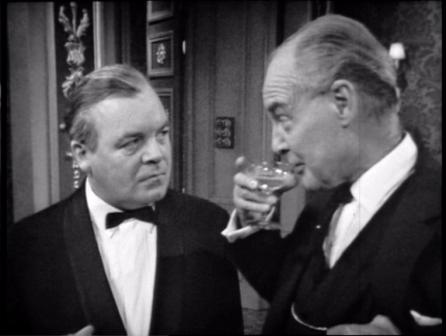 "I'm here to sell," Wilder tells the British Ambassador (Anthony Nicholls) "And you're going to help me!"
The tacit approval from MI5 to keep working with Novak raises a second concern. Earlier on, Bligh had dismissed Fowler's concerns saying, "If Wilder is up to anything, it'll have to do with personal profit, not left wing politics." With the spying angle laid to rest, Fowler can still resurrect the concerns expressed in the first episode about Wilder's lust for money. For men like Fowler, there is a fundamental belief in the professionalism of the Foreign Service. As Sir Holford Bagenal (Anthony Nicols) the British ambassador tells Wilder, they are men "of the right quality – immune to corruption."
Bagenal thinks he has proof of Wilder's greed when Wilder asks Don Henderson to send a cable to Pamela's financial advisor asking him to buy her 20,000 shares in Listons – the company which they have just recommended to the Polish Trade Minister. As all telegrams out of the embassy are vetted, the Ambassador thinks Wilder has been " a shade naïve" but still takes great pleasure in telling him he's finished as a Special Envoy.
Regular viewers will have known that naiveté was not one of Wilder's flaws. Wilder had made a great play of showing Dowling the specifications for Listons and telling him they were only going to recommend "the best", but during the meeting the Poles are shown specifications for all three companies. Back in London, Wilder takes great pleasure in phoning the financial advisor and asking him to confirm to Fowler and then Bligh that no shares were bought in Listons or any other company. The telegram was sent for Bagenall's eyes to demonstrate the naiveté of the Foreign Service professionals. When they're alone, Bligh tells Fowler that he fell into Wilder's trap and warns him at the risk of his career to leave any future Wilder-baiting to Bligh himself. P>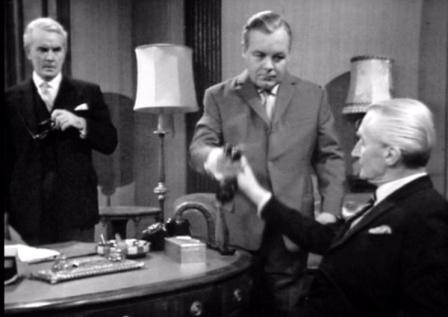 Lord Bligh watches "with his fingers in his ears" as Wilder forces Jason Fowler (Richard Hurndall) to take an unwelcome phone call
In defence of the Civil Servants, the whole episode is played out against Cold War politics. Although it was a Warsaw Pact country, Poland's failing economy depended on trade with and credit from Western nations. The United States and the Soviet Union were acknowledged as the two dominant voices in international affairs. Although Novak tells Wilder that the Russians will have to accept Britain selling the road-making equipment to Poland, the British Ambassador tells Wilder that he's nothing more than a decoy to warn the Russians not to take Poland for granted. Whether or not Wilder could have won the Polish Trade Minister over, we learn at the end of the episode that the Americans have invoked a NATO agreement barring sales of strategic equipment to the Eastern Bloc. Road-making can be considered strategic, Bligh explains, "as it could lead to increased mobility of Soviet forces."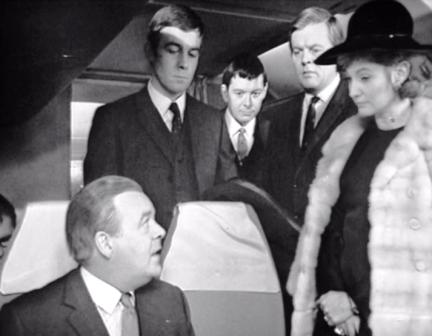 Wilder, watched by Dowling, Novak & Henderson (Jack Watling) tells Pamela the plane trip is strictly business

After many episodes in previous series depicting Don Henderson (Jack Watling) as Wilder's leg man, it's gratifying to see him demonstrate his original sales expertise, even though it's mainly in private. On the drive over to the airport for the plane to Warsaw, Wilder shows Don the specifications from the three rival firms. Don makes recommendations which Wilder later repeats to the Polish Trade Minister: "Listons will give you three meters per hour more road, Steadley's appear to need less maintenance. Bolton's have the best after-service." However, even though Wilder exploit's Henderson's expertise, he relies on his own personal touch for the deal-breaker. When the Minister asks about the most important criterion of delivery time, Wilder says, "I'll personally put a bomb under whichever management you offer the contract to."

Michael Jayston continues to tread an ambiguous path as Lincoln Dowling. He flirts outrageously with Pamela Wilder (Barbara Murray) on the way to the airport and it's obviously not politics that make his hackles rise when he spars with Novak. Wilder counts on Dowling having his first loyalty to the civil service – when he recommends that Don asks Dowling for the safest way to cable his broker, Wilder assumes Dowling will be duty-bound to report Wilder's apparent insider-dealing. But Dowling is loyal enough to suggest Pamela takes responsibility for buying the shares and argue that what Wilder has done is stupid but not criminal..

One of the most entertaining scenes comes when the Wilder's party arrives in formal dress for what Novak had promised would be, "a very personal and private dinner with the Minister of Trade." Instead they are confronted by a massive affair with informal dress. Dowling quickly discerns that the Wilder's have been placed at insignificant seats on the table and this must have been with the agreement of the British Embassy's protocol officer. Dowling notes that Lady Wilder is not due to receive one of the bouquets being presented to prominent female guests. He desperately tries to organise one for her, but in the face of a language barrier it's Novak who comes to the rescue with a wink. Barbara Murray continues to sparkle as Lady Wilder. The wife of the British Ambassador tries to put down the Wilder's for wearing black tie. "Diplomacy is full of ironies," she tells Pamela , "I suppose you imagine these people, being communists, might try and impress and dress for dinner." Pamela assures her that, " I think all the communists look quite delightful,"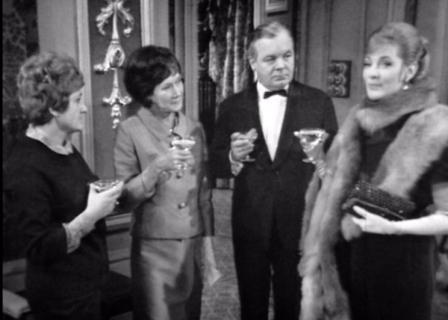 An entertaining episode, enlivened by Donald Burton's performance as Novak, and Anthony Nicholls (previously playing a civil servant in "The Plane Makers, but now more familiar as Tremayne in "The Champions") as the feline British ambassador. The episode satisfies the viewer with the sight of Wilder outsmarting the establishment, even if the bigger prize is lost.