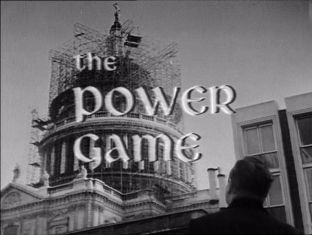 28 January 1969
"Special Envoy: The Goose Chase" Writer Peter Draper Director Cyril Coke.
" I must say intellectually I'm not wholly enthusiastic about some of my country's pursuits. But it's the only country I have." Professor Mobbs.
Professor Heathcote Mobbs (Michael Aldridge) is vetting Lincoln Dowling (Michael Jayston) as a potential recruit for MI6. Dowling is unaware of this, or that Nightingale (Terence Rigby) has him under surveillance. Pamela Wilder (Barbara Murray) is set to make her debut as a diplomatic hostess, but Margot Fellowship (Caroline Blakiston) is planning to host a society party on the same night. As part of Mobbs' scheme, Lord Bligh agrees to send Sir John Wilder to Vienna with a film crew making a documentary about refugees. The poet Vaclav Vitek from the Czech Ministry of Foreign Affairs is expected to cross the border and this has been deemed a "Special Situation".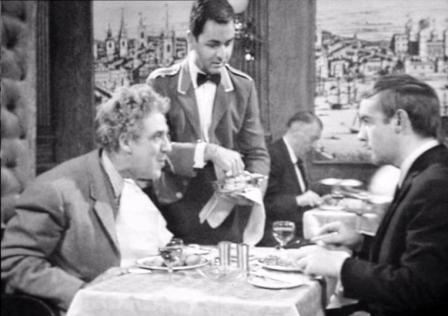 Mobbs (Michael Aldridge)invites a reluctant Dowling (Michael Jayston) to try some mint sauce ("I'm sure it's not out of a jar..")
The casting of this episode now seems ironic because ten years later in 1979, Michael Aldridge and Terence Rigby would play two of the title characters in the Alec Guinness version of "Tinker,Tailor, Soldier Spy", while Michael Jayston would be cast as "scalphunter" Peter Guillam.*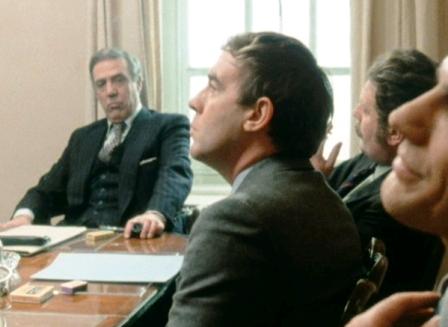 Alleline (Michael Aldridge) grills Guillam (Michael Jayston) as Bland (Terence Rigby) listens in Tinker Tailor Soldier Spy.
John Le Carre's novel was not even written at the time this episode was broadcast and Michael Aldridge was then best known as Ian Dimmock, one of the university-based criminologists in Granada TV's "The Man In Room 17". However, the character of Mobbs is much less robust and vigorous than Dimmock. With his wild hair and camp, distracted manner he comes across as a blend of Tom Baker and Jon Pertwee, or perhaps a visualisation of Edmund Crispin's academic detective Gervase Fen.
Not surprisingly, the treachery that would form the basis of "Tinker, Tailor, Soldier, Spy" is referenced in this episode. The running joke about Jason Fowler (Richard Hurndall) failing to spot real-life double agent Kim Philby (much as Aldridge's Percy Alleline would be fooled in the Le Carre adaptation) is brought to the fore. Mobbs takes great pleasure in telling Dowling that Fowler worked for MI6 before the war and "has one blazing star of achievement – he recruited Kim Philby!"
Earlier, when Fowler complains that he finds Mobbs' continual recruiting drive rather tedious, Mobbs apologises that, "We've had to have a re-think since that tiresome business with Mr Philby. We're not so keen old Old Etonians as we were." And when Fowler persists that he's unhappy having agents recruited from his department, Mobbs comforts him with the thought that, "At least, my dear, you'll have the satisfaction of knowing this one's working for us."
Another elegant script by Peter Draper illuminates the character of Lincoln Dowling through social intrigue with Lady Wilder and the ferreting of Professor Mobbs. It must have been clear to audiences at this stage that Jayston's character was more than just a stand-in for the rarely seen Don Henderson. Dowling's loyalty to Wilder is far less slavish, much more based on his position as Ambassador (although Dowling does imply to Fowler that he likes Wilder's unconventionality). His growing relationship with Pamela Wilder is also becoming noticable. So much so that Jason Fowler warns him that it's more difficult to resist approaches from MI6 if they have something on you. When Dowling protests that he just been helping Lady Wilder arrange her party, Fowler responds, "As men we can always find time to assist attractive women in the most trivial occupations. We don't seem to be able to find such time to assist the unattractive ones."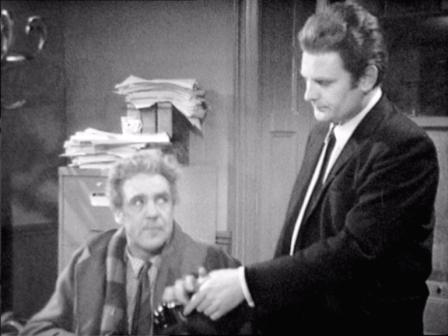 Mobbs (Michael Aldridge)warns Nightingale (Terence Rigby) to keep his expense claims reasonable
Mobbs thinks Dowling will be of use to MI6 because Wilder has a roving commission and it will take Dowling to places they are interested in. When Mobbs' superior points out that Dowling had been "approached" at university and turned it down, Mobbs counters that Dowling's refusal was "partly on conscience grounds ( he thought the work was nasty)," but also for career considerations. Mobbs thinks Dowling has now reached a point in his career where he will find it more beneficial to work with MI6. At their interview Mobbs puts it to him that they will always retain the file they've put together and if he's going for promotion to a job handling classified information, the board might ask for their opinion on his trustworthiness (viewers with long memories will, of course, remember the fate of Reginald Marsh's character in the "Plane Makers" episode "It's a Free Country Isn't It?").
In this episode we learn that Dowling won a scholarship to Manchester Grammar School. As in "The Outsider" when Wilder was said to have "gone to the wrong school for treachery", Dowling's downmarket education is seen as a plus. "Since that business with Philby," MI6 is "not so keen on old Etonians as we were."
After three years at Kings College, Cambridge, he emerged with an interest in cybernetics. Dowling tells Lady Wilder that he sees the point of machines as being "to free people to do more, not less." In tune with the whole "White Heat of Technology" of the Wilson Government, we learn that Dowling took a Civil Service position because a lot of the change people are talking about has already happened. "The job of people like me is to help absorb the changes into society."
By contrast, Dowling's induction to the secret service follows an almost Masonic pattern. Draper slips in an amusing moment when Jason Fowler engineers an introduction, and asks Dowling if he's heard of Professor Mobbs. When Dowling says yes, Fowler is surprised and suspicious until Dowling tells him that Mobbs is the author of a book on the Peloponnesian Wars.
Similarly, when Mobbs lunches with Dowling, he is taken aback by the younger man's directness. "You have a most penetrating way of making conversation, dear boy. Don't you have any small talk?" Mobbs asks. "No," Dowling replies, "I'm not very good at it." It's noticeable that, although Jayston is the newcomer to the series, director Cyril Coke keeps the attention on him, alert and calculating when listening to Fowler, direct and satirical when responding to Mobbs.
Dowling is also delegated by Wilder to help Pamela with her debut as a society hostess ("I gather for the good of the country it's essential that its leader's meet and to drink champagne.") and this leads to a lunch where Dowling once again finds his loyalty to Wilder tested.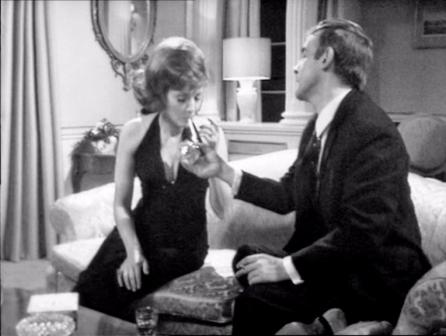 Pamela asks Dowling , "Is it one of your functions, wining and dining wives – or mistresses?"
"As far as I know, "Dowling replies, "Sir John hasn't got a mistress."
"As far as either of us knows," Pamela replies darkly, "But being a man, you wouldn't have said, even if he had."
"Being a man I wouldn't have mentioned it," Dowling agrees, "But being a woman, you of course had to…in case you might find something out. Women are masochists. They have to keep sticking their tongue into the hollow tooth to see if it still aches."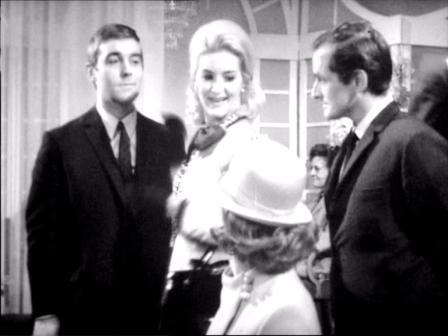 The episode features a striking cameo by Caroline Blakiston as Margot Fellowship, an admirer of Wilder's who is organising a party for the same day as Pamela's. Blakiston was well established as a femme fatale in ITC shows like The Champions ("The Experiment") and The Saint ("The Convenient Monster") and it's unfortunate that the battered export kinescopes used for the Series 3 DVD produce such an washed out image that diminishes her blonde glamour.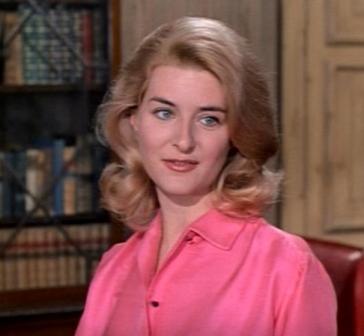 Caroline Blakiston in "The Saint" episode, "The Convenient Monster".
Even so, she has a devastating impact as she charges into the restaurant like a huntress, laying a proprietary hand on Dowling and exchanging insincere pleasantries with Pamela Wilde. When she later learns that they're both holding their parties on the 28th, Margo drawls, "Isn't it awful? Two marvellous parties at the same time – everyone's wildly excited.!" As Dowling points out, Margo's guest lists run to over 150 prominent people. Including those Pamela needs at her party. "Why can't she stick to adultery?" Pamela asks, "At least it doesn't tie up half of London!" Dowling is not so sure, but comes up with a plan to nobble the five or six most prominent guests, ensuring that Margo cancels her party.
While all this is going on, Sir John Wilder is tied up with the "goose chase" of the title. Mobbs' plan appears to involve Wilder providing a highly publicised ambassadorial escort to a film crew making a documentary about refugees in Vienna. Alluding to the Soviet invasion of Czechoslovakia in August 1968, Caswell Bligh (Clifford Evans) tells Wilder that after, "those bumpkins in the Kremlin sent their tanks into Czechoslovakia, some of the Warsaw Pact countries thought they could control it but now are beginning to have their doubts."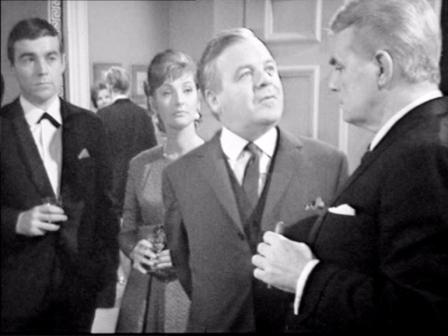 Dowling and Pamela watch as Wilder (Patrick Wymark)tells Bligh of his adventures.
Bligh tells Wilder that poet Vaclav Vitek, formerly of the Czech Ministry of Foreign Affairs, will be one of those aiming to cross the border. As Envoy for "Special Situations" Wilder must be there to welcome him to the West. Wilder allows that, "At least a poet can't do any more harm than professional politicians", but quickly discerns that Bligh himself has not been told the whoe story. Nevertheless, Bligh is happy to have Wilder out of the country because it means Bligh will have to take over a meeting with someone called Detzinger "which might affect the whole of the financial structure of half of Europe."
In fact, Vitek's potential presence has been invented by Professor Mobbs and Wilder is intended to serve as a decoy, while MI6 makes contact with other refugees. Even without knowing this, however, Wilder is determined to get out of the Vienna business. Bligh warns him that his presence on the frontier has been announced and a failure to appear might look like he was afraid – and even be a resigning matter.
Unsurprisingly, Wilder returns to London in time for Pamela's party (and his meeting with Detzinger the next day). He tells Caswell that the Americans scooped up the refugees yesterday (three journalists, a professor of philology and a team of heart transplant surgeons). Wilder takes pleasure in telling Bligh that there was no-one called Vitek at the frontier, although he mentions in passing that there was "someone called Mobbs wandering about looking very worried." When Bligh asks if Wilder bribed the Americans, Wilder snaps back, "You don't have to bribe the CIA. They believe in free enterprise and that's what fleeing communists are looking for first!"
Draper's script reflects a mood of resignation that Britain's imperial role on the world stage had been diminished or exposed as an illusion. It also reflects on the way forward. Mobbs tells Dowling that "as a nation, its previous trade outlets dwindling (Britain) can only penetrate its new areas of influence with a new kind of diplomacy – its spearhead is trade followed by what might be called public relations" ("or spying" as Dowling puts it). It's perhaps significant that Wilder is more interested in influencing the financial structure of half of Europe (this was before Britain's entry into the EU) rather than defectors from the Warsaw Pact. Whatever the individual talents of the refugees, Wilder as ever, is interested in a big spectacular success.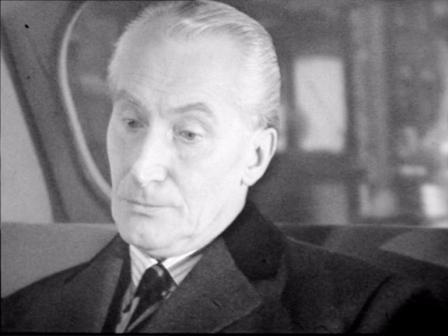 Jason Fowler (Richard Hurndall)ponders his motivation.
Draper also gives Jason Fowler a concluding speech which sums up the mood of disillusion. Previously depicted as a petty opponent of Wilder, Fowler is shown in this episode to be a good manager, protective of Dowling's interests and determined to make him aware of the implications of the approach from MI6. Fowler reflects that, "We seem to be pursued into necessity. One does something because it seems right – because it seems to be the things one stands for - humanity -'the country' – only to find one has done it for quite the opposite reason. I suppose the decay of religion took away our sense of moral absolutes."
By contrast, Wilder and Bligh have absolute certainty in their goals and motivation. During a dinner, Wilder congratulates Bligh on finally being able to live like a Lord. "I always have, John" Bligh replies, "My elevation merely confirmed my natural inclinations."
As noted above, Terence Rigby plays Nightingale, the investigator following Dowling, bugging his phone "generally invading his privacy" (as Fowler puts it). A phlegmatic, chain-smoking, Brummy (very similar to Rigby's performance as Roy Bland in "Tinker, Tailor, Soldier, Spy") , Nightingale is harassed by Mobbs over his expense claim ("19/6 for a taxi- where did you go?Brighton?") and told to reduce it to ten bob. When Nightingale protests that, "I'm not subsidising the bloody Government" he's told that things have changed at MI6 and warned not to put in a claim for more than a sandwich and a thermos of coffee when he observes Dowling's evening dinner with Lady Wilder.
Martyn Wyldeck , who played Wilder's fellow director William Keeble in several episodes of "The Plane Makers", here has a very different role as Langrost, the abrupt controller of Mobbs. Wyldeck's performance is very much in the vein of Philip Stone 's Brigadier Davidson in Rediffusion's "The Rat Catchers". However, to be fair the character is directed by the script as a constrast to the eccentric Mobbs.
Another modern irony is the name of the Godot-like poet who Wilder is supposed to welcome to the West. Clifford Evans pronounces the name as Vaclav Vicheck, although Czech-speakers assure me the name would be pronounced Vaclav Vitek. Mobbs claims to have "invented" Vitek, although it is more likely that he invented his journey to the West since it seems unlikely that even Wilder would have travelled to Prague if he'd learned that Vitek didn't exist. To modern ears, the name calls to mind Vaclav Havel, the dissident poet and playwright who eventually became President of the Czech Republic after the fall of communism.
A very entertaining episode which expands the sexual tension between Dowling and Pamela, and allows Patrick Wymark and Clifford Evans to exchange some silky sarcasm over the right way to deal with a cigar band. Michael Aldridge dominates the episode as Mobbs and if – at the end – it all seems to be Much Ado About Nothing – that's probably the point..
*Extending the irony, Rex Firkin the original producer of the "The Power Game" was involved in abortive attempt in the mid-1970's to adapt the Le Carre novel for London Weekend Television.