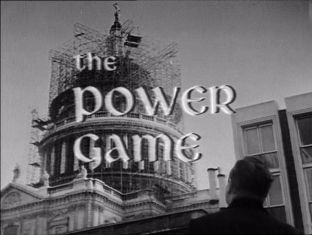 Tuesday 11 February 1969
"Special Envoy: Without Prejudice" Writer Raymond Bowers Director Peter Moffatt.
"No-one can get John Wilder on Race Relations when he's being divorced for sleeping with that enchanting creature" .Lord Bligh
Naranda (Bari Jonson) flies to Switzerland to collect the money he needs to buy the Wilder's house and leaves his 18 year old daughter Trina (Louiza Flamma-Sherman) in Wilder's care. When Wilder is told that Naranda intends to use the house as a base for Malian's evading the immigration controls, he puts the house back on the market. Lord Bligh then instructs Dowling to read through the Race Relations Act with the intention of prosecuting Wilder for refusing to sell his house to a black man.
Pamela begins divorce proceedings against Wilder for sleeping with Trina and Bligh abandons his plans. Wilder decides to sell the house to Naranda after all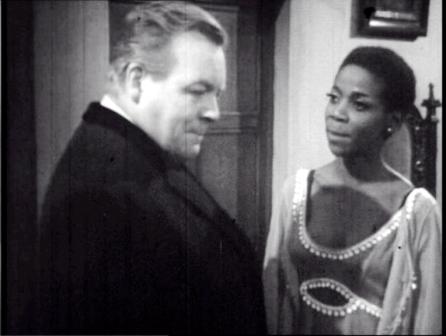 Farce is piled on farce as Raymond Bowers continues his running joke of the local workmen constantly erecting and removing the "For Sale" sign at Hackton Hall.
Jack Watling at last reasserts Don Henderson in the Foreign Office, sparring with Lincoln Dowling over which of them has Wilder's best interests at heart. "Don't worry, Rover," Dowling tells him, "Between us – you in your doggy amateur way and me in my catty professional way – we can make sure nothing goes wrong for our master today."
As in the previous episode, Bligh's private secretary Hindlesham (David Saville) is acting as Wilder's informant, although with Dowling also consulting Bligh it becomes increasingly difficult to determine who is working for whom.
This episode sees the introduction of Deborah Grant as Jill Tenby, Sir John's Personal Assistant. Her role appears to be restricted to helping Wilder off with his coat as he enters the office and bringing in a cooked breakfast for Wilder and Henderson
As an odd piece of social history, Wilder is astonished to see Hindlesham in the corridor with his Civil Service issue towel tucked under his arm and asks what he's doing. Hindlesham says he's going in the bathroom and Wilder pokes his head in before declaring, "It's insanitary in there. A grubby, communal loo!"
Wilder explains to Henderson that the deal he's trying to negotiate with Kidrich involves trying "to winkle British capital into a Yugoslav combinat that is openly using Russian technicians. Russians won't like it because it capitalises communism. British hardliners won't like it because it communises capitalism." Bligh, who wants to take credit for the deal, tells the Prime Minister that it will mean an increase of £15 million in trade.
As noted above, farce is piled upon farce as Pamela still thinks Wilder is being unfaithful. "I've admitted enough in the past. Why should I lie about this one?" Wilder demands. Raymond Bowers tries to squeeze more mileage out of the Dictaphone with Wilder still trying to convince Pamela that he was not sleeping with the Yugoslav secretary Fredolina by proving that she said "Darling" when she meant "dowling". Tapes go missing. Tapes are placed the wrong way round. Barbara Murray maintains a dignified, heart-broken tremble in her voice, convinced Wilder is playing another long game.

As Naranda flies to Switzerland for some money, he leaves his daughter in Pamela's care. But when Wilder learns about Naranda's scheme to bring in immigrants he puts the house back on the market. Pamela abandons Wilder and tells him he can fulfil their promise to look after Naranda's daughter. Wilder takes her out for dinner at the local pub. The next morning, Hindlesham tells Dowling that Pamela is suing Wilder for divorce. "Got it from a solicitor – Charlie Grainger – used to be in the Treasury." So now we know what effect that "large smelly pigeon" Wilder dumped in Grainger's in-box had on his career.

But with Wilder being accused of sleeping with a black girl, Bligh decides the Race Relations angle won't fly. And Pamela withdraws the divorce proceedings. And Naranda returns with his suitcase full of money. And they all lived happily ever after.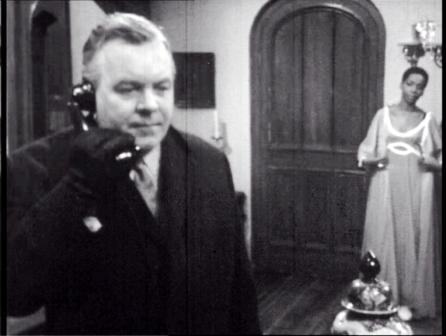 The 1968 Race Relations Bill prohibited racial discrimination in employment, commercial services and housing. It was set against a background in which landlords had signs on their doors reading, "No blacks, no Irish". It was also passed weeks after the British Government passed a bill to invalidate the passports of Kenyan Asian refugees. The Race Relations Bill met strong opposition, not least from Conservative MP Enoch Powell who spoke for "ordinary English" people who had a "sense of being a persecuted minority."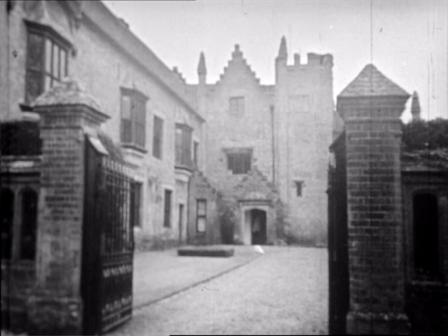 In this episode, the Race Relations Bill is seen as a weapon to be used for private malice. Wilder is warned that Naranda (Bari Jonson) plans to bring Malians in under diplomatic visas because they couldn't get through the normal immigration controls. Because they will be living in the house Wilder sold to Naranda, "You'll be smeared with conspiracy in the deportation proceedings". When Wilder tries to pull out of the deal, Caswell Bligh cynically prepares to have him sacked for refusing to sell his property to a black man.
As Dominic Sandbrook points out in 'White Heat:A History of Britain in the Swinging Sixties", racial prejudice has elements of class resentment; "liberal politicians and commentators usually lived in areas far too expensive for most immigrants whereas poorer working class voters had to compete with them." Bowers script therefore includes an element of wish-fulfilment when Naranda purposely targets the heart of upper middle-class privilege.
It's notable also that while the Commonwealth Immigrants Act of 1962 specifically restricted incomers to those with specific skills or contracts or the dependants of those with residents, Lord Bligh is shown supporting the rich Naranda to exploit a loophole, claiming to be a dependant of his bus driver father".
Poor as it is, this episode does speak to the Britain of the 21st Century and the Brexit view that the fears of the ordinary disenfranchised Briton are not just ignored but devalued by a patronising, self-serving elite.