John Wilder has put himself out of the race to succeed the late Lord Bligh as Minister for Special Situations and Trade. Some suspect he's refused it only to be offered a greater inducement such as a peerage, later on. .

Prescott (Hamilton Dyce) is acting Minister and anxious to merge the Department for Special Situations and Trade with his own. Wilder supports Mrs Bunty Lovell MP (Jean Harvey) because he thinks she's the only contender he can control. But self-made millionaire Garfield Kane (Barrie Ingham) has spent too long on the Labour back bench and is eager for promotion.

Script Editor Wilfred Greatorex follows the dramatic exit of Lord Bligh with an amusing piece of "Power Game-Lite", in which the lead characters circle, trying to work events to their own advantage. As the title suggests, the story introduces Barrie Ingham as the new minister Garfield Kane. Barrie Ingham was familiar to viewers from his role as Sejanus in Granada TV's "The Caesars" (1968) and before that as part of the "Company of Seven" performing long-lost plays in Granada TV's "The Victorians"(1963). Ingham had also played one of the Thals in the film version of "Doctor Who and the Daleks" (1965) and more recently had starred in Hammer's "A Challenge For Robin Hood (1967) – John Arnett (Peter Humphreys in The Plane Makers) was Ingham's Sheriff of Nottingham. Ingham had also played an unrelated character, smarmy David Fleet in The Plane Makers episode "A Bunch of Fives". Although this episode is about the contest for the Minister's job, pre-publicity, plus the fact that Ingham's name occupied Clifford Evans' spot in the title sequence, may have given viewers a clue to the outcome.

The episode opens with Wilder, Lincoln Dowling (Michael Jayston) and Don Henderson (Jack Watling), speculating over Lord Bligh's successor. Dowling uses his inside knowledge to rule out the two business candidates and the five MP's tipped by the pundits.

Dowling is probably alluding to former Foreign Secretary George Brown when he says, "We've had enough of Ministers with big lungs, sharp tempers and outsize thirsts." Wilder congratulates him on "learning to speak out instead of wrapping everything up like so much diplomatic fish and chips.". Dowling suspects Wilder is backing Mrs Bunty Lovell in the hope that she will be a short-term appointment, allowing Wilder to replace her. Wilder reiterates the philosphy stated in the first series ("I don't have politics – only friends.") and tells Lincoln, "Let's get this straight. I never join any political party. Certainly never for however brief and dazzling power in government. I have to remain independent."

Dowling backs "Someone pacing himself from the back like a quality miler." Garfield Kane MP "Mr Instant Success" a Francophile gourmet and industrial consultant who started life in an orphanage. Lincoln manages to surprise Wilder by telling him."he's at this moment dining at Le Gourmet Francais – lunching with your wife.".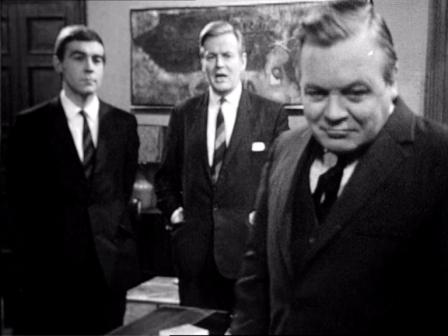 Dowling (Michale Jayston, Henderson (Jack Watling) and Wilder (Patrick Wymark) debate the horse race for the New Minister
Kane charms Pamela Wilder (Barbara Murray) relating his background, and telling a story about a former union official and government minister which reflects on the British attitude to French cuisine (salt and vinegar with everything, even snails). Kane has invited Pamela to work on a charity fund-raising committee, but quickly drops in that he wants to work with Wilder "as his Minister"
Pamela initially rises to leave, affronted at Kane using the pretence of charity work to make a contact with her husband. But Kane protests that the charity really exists, and raises money for his old orphanage ("we even have a tie"). Charmed, Pamela declines a lift in Wilder's official car (in which Dowling is watching the restaurants) and accompanies Kane to his flat overlooking Shepherd's Bush. Wilder and Henderson are bemused when Pamela returns home drunk on champagne clutching a modernist painting which Kane has given her as a gift.
Jason Fowler (Richard Hurndall) and Dowling are summoned to Prescott (Hamilton Dyce), the acting Minister, who tries to win them over by saying how sorry he is that Fowler's excellent ideas weren't followed up and saying Dowling should be groomed to succeed Wilder. Both Dowling and Fowler agree that Prescott should not succeed Bligh as he intends to merge the two departments and bring in his own staff. Kane has already warned that Prescott intends to merge the job of Minister with Ambassador, because "he fancies VIP trips on expenses pulling off vast deals ".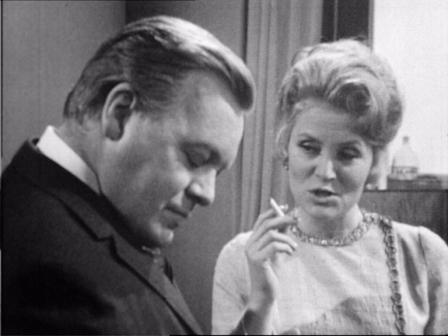 Wilder (Patrick Wymark) supports Mrs Bunty Lovell MP (Jean Harvey) despite her saying she'll fight him all the way.
Wilder favours Mrs Bunty Lovell MP as minister. Dowling's assessment of her ( "She's a pusher. She has talent she's tough. She has one drawback – she's a woman.") is relatively moderate for the time: Barbara Castle, the then Minister of Transport was only the fourth woman Cabinet Minister in history. Don's assessment is more predictable: "She's the hottest politician since Eva Peron."
Wilder's view of Mrs Lovell is similarly sexist. She has been a Parliamentary Private Secretary (an MP acting as a Minister's PA) but Wilder says he hears, " you had half your civil servants over the moon after you.". Bunty refuses to be flattered and warns Wilder she'll fight him all the way. She reminds Wilder, "You wouldn't take that woman who was such an expert in swing wing geometry onto your board at Scott Furlong." He responds in a reflection of 1960's boardroom mentality,"It was her own geometry that bothered me – I didn't want distracted directors playing footsie"
Jean Harvey plays Mrs Lovell with a touch of light operetta, but would still have made an intriguing opponent for Wilder as Minister. Unfortunately, Wilfred Greatorex's script reflects the level at which women were generally regarded in the 1960's. Deborah Grant, as Wilder's secretary turns the table my sexually taunting Jason Fowler when they're alone in Wilder's office, while a 60 year old French aviation industry expert proposes a night on the town to Kane's secretary (Caroline John, who would soon be assisting Jon Pertwee as the new Doctor Who).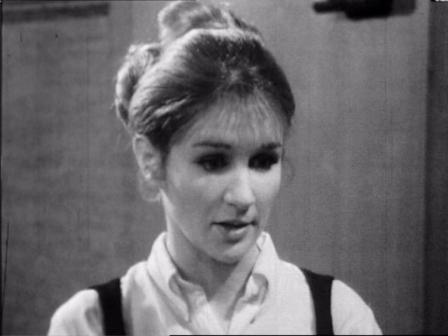 A pre-Dr Who Caroline John as Garfield Kane's secretary, Maggie.

Despite Pamela Wilder's protestation in "Cat is You, Bird is Me", that she doesn't want to "do anything people don't need to know about" she indulges in some mild flirtation with Lincoln Dowling when he reveals his jealousy over her lunch date with Kane. In publicity for the series, Wilfred Greatorex acknowledged that Dowling and Pamela's romance had originally been intended as a passing affair. However, once he saw how the actors played it, the decision had been made to take the romance further. A struggle to see if Dowling's fingers are "pudgy" while drawing up her social diary nearly turns into a kiss before Wilder walks into the room with Mrs Lovell

.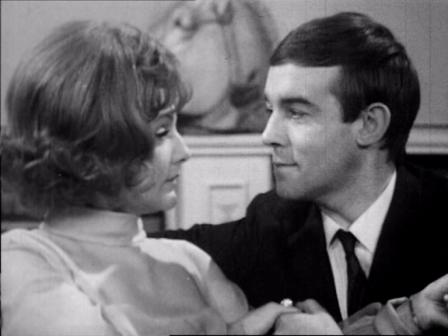 Pamela tells Kane that Wilder "Wouldn't join your party if you gave him the powers of Cromwell." Kane replies, "Hasn't he caught the Oliver C virus? Spreading worse than Hong Kong Flu?" (Patrick Wymark had, of course, played Cromwell in "Witchfinder General" (1968) while both Wymark and Michael Jayston would appear in Ken Hughes' "Cromwell" (1970) filmed soon after "The Power Game").
Patrick Wymark seems to play a lot of this episode in "quotation marks" overemphasising his reactions for comic effect. But this is one of the few episodes of this series to make reference to Wilder's previous life in "The Plane Makers". Wymark conveys a rare enthusiasm as he and Henderson meet up with Simon Davey (Robert McBain) a previously unseen executive at Scott Furlong who is developing a new executive jet.
As Wilder admires the aircraft blueprints, Simon Davey asks him if he'd ever go back to the airline industry. Wilder says only when he has a European set up that can smash in on the Americans. "I think that's what you've missed John all these years. The challenge of keeping 20,000 people in work." It's certainly the most engrossed Wilder has appeared for a long time.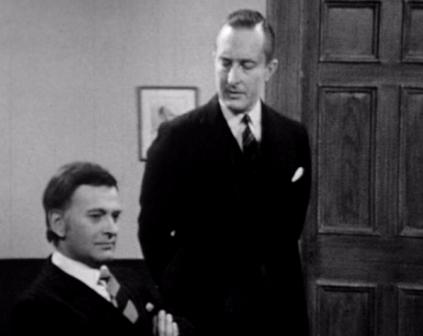 Kane (Barrie Ingham) bargains with the Chief Whip (Peter Cellier).

Although Scott Furlong is almost tied up in a German co-production, Wilder suggests showing the plans to the French, using them as bait to force the German's had while Wilder takes care of any anti-German prejudice on our side. "you sure that's all John?Nothing more to it?" Wilder looks him franly in the eye. "What else could there be?"

Wilder subtley initiates negotiations with the French, ensuring that Kane's finds out on the grapevine, so that it is Kane who brings up the subject with Wilder, telling him he could hasten a deal with France."

As Prescott and Kane entertain the French to drinks, Dowling drafts a letter of complaint from Scott Furlong about this French interference which Simon Davey signs. This is sent to the Foreign Seccreaty with an accompanying memo from Wilder (also drafted by Dowling).

Prescott gets a phone call from the Foreign Secretary telling him they're potentially botching a big deal with the Germans that could be signed today. For Prescott it's a fatal blow, but Kane has been helping the Whips hold off "a half dozen recalcitrants" from attacking the Government.

Meeting with the Chief Whip, Kane shows grudging respect for Wilder's trap, but learns that his persuasive manner with the rebels has won him the post of Minister." P>

Kane calls on Wilder at home and tells him he might well offer him a drink. "After all, I did come here. As your new Minister I could have well sent for you."