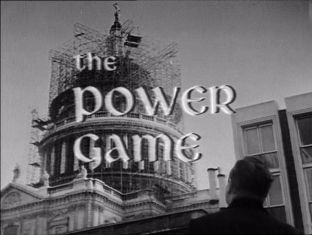 Tuesday 18 March 1969
"Special Envoy: Drinks On Sunday " Writer Peter Draper Director Robert Tronson.
"I've been a civil servant far too long to commit myself to anything so bold as a judgement." Jason Fowler.
Sir John Wilder is entertaining Littlejohn (John Sterland) and Papajay (George Roubicek), two American Treasury officials who have arrived ahead of next week's negotiations on solar energy . As Minister for Special Situations and Trade, Garfield Kane (Barrie Ingham) should know what they are doing, but he and Deputy Under Secretary Jason Fowler (Richard Hurndall) are equally in the dark. They hope to learn something when Wilder brings the Americans to a Sunday lunchtime drinks party organised by Mirabelle Wentworth (Anne James). But Don Henderson (Jack Watling) and Lincoln Dowling (Michael Jayston) are under orders to keep make sure Kane doesn't catch the Americans alone. .
When Wilder takes the Americans to lunch, Lincoln Dowling invites Lady Wilder (Barbara Murray) back to his flat to watch an old film on TV. But a sleepy Sunday afternoon suddenly becomes compromising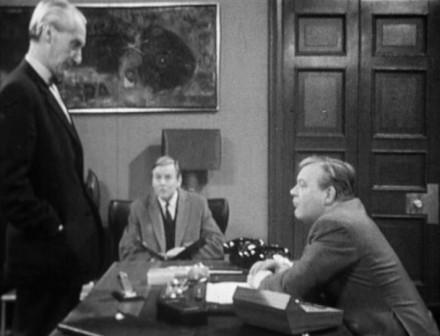 Peter Draper delivers an entertaining script, which probably owes its plot to the input of script editor Wilfred Greatorex. Previous episodes had touched upon the decline of the American-led Bretton Woods financial exchange system, and this episode picks up on the resultant strained relations between Washington and Paris. In the world of "The Power Game" though, nothing is ever as straightforward as it seems. A British scientist has developed a new photovoltaic cell and motor array which can cut the costs of solar energy by a fifth. There are only two factories capable of developing the system – one in France, the other in Germany. Wilder supports the German bid, while Francophile Kane supports the other. The question is, which way will the Americans go?
Now established as Minister for Special Situations and Trade, Garfield Kane is finding it as difficult as his predecessor did to determine just what Wilder is playing at. Unlike Caswell Bligh, Kane is an experienced back-bencher, respectful of the civil servant's power to obstruct a Minister's ambitions and willing to make use of their intelligence. Jason Fowler warns him that, "Wilder doesn't really care, you know, whether the contract goes to the French or the Germans. What he wants, as always is that he shall be on the winning horse and you, preferably, will be on the loser".
Dowling learns that the two Americans are not from the American Treasury, but from the foreign economics department of Central Intelligence. Littlejohn (John Sterland) and Papajay (George Roubicek) are depicted as an amusing double act. Their surnames sound like codenames and it's never clear how sincere their exchanges are. When Wilder expresses surprise that they're not staying at the Hilton, Littlejohn replies that, "If you stay at the Hilton, you never feel you've been out of America." When Papajay interjects that their employers would prefer they did stay at the Hilton, Littlejohn describes Papajay as a chauvinist, and Papajay retorts that "Mr Littlejohn wishes he'd been born European." Littlejohn admits to admiring European culture, which Papajay finds "Admirable but dead". Littlejohn closes the conversation by saying, "I never think it's polite to tell people their culture is dead. Especially when it's an admirable culture."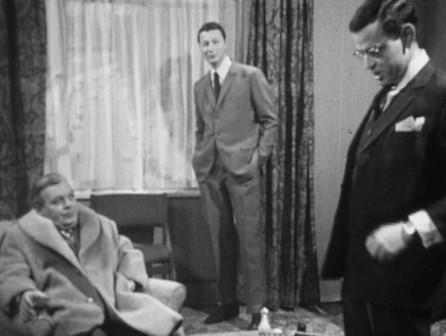 At the Sunday lunchtime drinks party, Dowling and Henderson are tasked with ensuring that neither Kane nor Fowler get a chance to be alone with the Americans. Lincoln Dowling tries to get hold of Professor Mobbs (from "The Goose Chase" ) for advice, but is unsuccessful. Littlejohn later signals that he's aware of Dowling's connection, asking after Mobbs and saying, "I hear there's been quite a few changes at MI6. I hear they even considered installing a computer. But only if it makes tea."
While Wilder entertains the Americans, Dowling takes Pamela Wilder (Barbara Murray) out for lunch. Jason Fowler and Don Henderson are stranded in Whitehall with post drinks gloom. Henderson refers to Barbara Castle's 1967 introduction of the breathalyser saying he's "too slightly sloshed to risk the breathalyser on the M4" (the Motorway only extended as far as Maidenhead at this time). He also reflects that, "In the old days I might have been taking Pamela to lunch." Don and Fowler go off to lunch at a nice little restaurant in Pimlico that he knows. Both Jack Watling and Richard Hurndall are given an opportunity to broaden their characters in this episode. Henderson appears to have shaken off the angst which hit him at the end of series two – perhaps a couple of years running a small to medium enterprise has ground down his ambition. Unfortunately, there is no mention of his wife (Jane Sofiano having gone over to the BBC to play a regular character in The Power Game's main competitor, The Troubleshooters) and Don only expresses a quiet wistfulness that he doesn't get to take Pamela for lunch. Fowler becomes dulled by alcohol during the day, his increasingly maudlin observations irritating Kane, who is still focussed on business. Fowler wishes he'd had children as, "I might have had some influence on the future," and later concludes that he only came in on a Sunday because, "I suppose I was afraid I might miss something if I didn't…I'm not sure even now that I didn't!"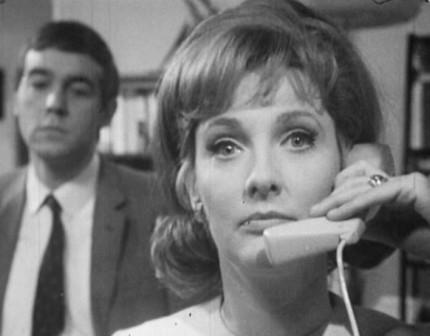 Discovered? Pamela Wilder(Barbara Murray)answers the phone for Lincoln Dowling (Michael Jayston) and hears John Wilder's voice.
The most significant development comes after lunch when Dowling invites Pamela back to his flat to watch an old film on TV. Although they kiss, things don't go much further because Pamela answers Dowling's phone and hears Wilder's voice. He's back at the office and asks to speak with Dowling, wanting to know where Dowling keeps a security file. Unsure whether Wilder has recognised her voice, Pamela returns home to prepare for another party in honour of the Americans. Unknown to the guilty couple, Kane had driven to Dowling's flat with the intention of questioning him about the Americans and has spotted Pamela's car with her distinctive hat slung on the rear window.
Dowling is summoned to the party and both he and Pamela are in a state of tension as to whether Wilder knows it was Pamela. Wilder doesn't ease the tension when he tells Pamela, "Did you know Lincoln has a Sunday secretary? I rang him this afternoon and a girl answered." He turns to Dowling and asks "Who was she Lincoln?". Although Dowling bluffs that it was just a friend, Wilder's behaviour suggests he knows or suspects. Even if he doesn't, Garfield Kane has already told Dowling that he was passing his flat earlier, "Did Lady Wilder lend you her car? I noticed it outside."
The issue is left hanging, as Wilder answers Kane and Dowling's curiosity about the reason for the American's visit. Their system appears quite rational – chauvinistic Papajay and Europhile Littlejohn prepare two separate reports and then a third party prepares a "Readers Digest" version for the decision-makers. However, Fowler has warned Kane that "A very great deal of American foreign policy is based on emotionalism."
When Wilder and Papajay had discussed the merits of the French and German factories, Wilder gave an economic argument for German reliability – "Germany is set on a clear road for ten years." Interestingly, even though there is American investment in the German factory, when Wilder argues that the French communist party is strong (and therefore may interfere with productivity), Papajay counters that the communists "are conservative – their part in the student riots showed this." (the communists supported the wildcat strikes but denounced the student leaders.)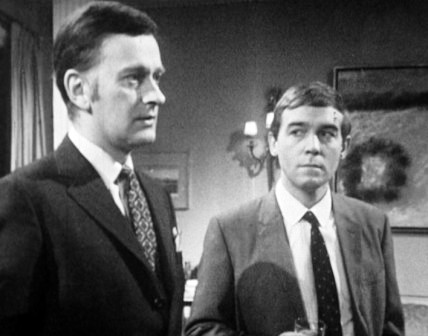 Eventually Wilder discerns that the American interest is much more focussed. The new solar motor can be used to drive a tank and will be particularly useful in developing nations with more than four hours sunshine a day. The Americans would really prefer that the British scientist takes his invention to the United States. But if he insists on staying in Europe, they are concerned that the owner of the French factory has a son in the communist party. As in The Plane Makers episodes It's A Free Country Isn't It? and A Question of Sources the economic concerns are outweighed by the political. The security file of Dowling's which Wilder was so anxious to consult highlights the French factory owner as a risk. As Wilder tells Kane, "If your great grandmother waved at Karl Marx out of a bus they'd underline your name in red."
Kane realises that Wilder has backed the winning horse – if the scientist can't be persuaded to go to America, the British Government will support the German bid.
For Pamela and Dowling, the consequences of the afternoon are left unspoken. As Pamela says, "It was quite an innocent afternoon really – all things considered."
In "Cat Is You, Bird Is Me", director Robert Tronson had used a Beatles track to comment on the action. In this episode, the establishing scenes are set against the opening of the long-running BBC Radio show "Family Favourites" (credited at the end "by permission of BBC Radio"). This episode will probably have extra nostalgic value for anyone who is old enough to remember sitting down to Sunday lunch as "Family Favourites" was playing. Although often remembered as "Two Way Family Favourites" with requests played for service men stationed in Germany, by 1969 it had expanded to "Worldwide Family Favourites". Michael Aspel gives the introduction "In Britain it's twelve noon, in Canada it's 6am, in Australia it's 9pm. Time once again for Worldwide Family Favourites". The excerpt plays James Last's 1966 cover version of Lara's Theme and Manfred Mann's 1967 hit "Ha Ha Said the Clown". It's probably going too far to read anything into the use of Tony Hazzard's lyrics ("Has the King lost his crown…never thought I'd be brought down by her lies.") or the fact that the radio show was about international relations (Bill Paull from Canadian Broadcasting is also heard). But the soundtrack does create a very strong sense of time and place and would probably have had an even greater effect at the time of transmission when it was still part of the Sunday lunchtime ritual.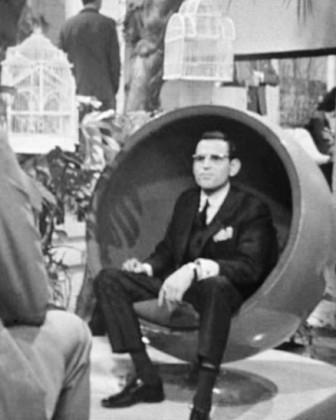 Littlejohn (John Sterland) wants information from Dowling.
It would probably also be too much to read anything into the fact that Littlejohn is sitting in one of the Eero Aarnio designed globe chairs used in "The Prisoner" when he questions Dowling. Of course, there had been some crossover with -The Prisoner; Clifford Evans (Caswell Bligh) had played Number 2 in the episode "Do Not Foresake Me Oh My Darling", while Rachel Herbert (Justine Bligh) had starred in "Free For All" as Number 58. Guy Doleman (Wilder's rival Stephen Gray in Where Shall I Go?) was, of course, the first Number 2 in "Arrival". However, the 1963 design classic is the sort of furniture you would expect to find at the home of a hostess like Mirabelle Wentworth. Having said that, the only previous time John Sterland and Patrick Wymark worked together was in the BBC production of "Brand" starring Patrick McGoohan.
George Roubicek, who voiced The Count of Monte Cristo in the Halas and Batchelor cartoon series, also appeared as the space captain in the classic Dr Who serial, "The Tomb of the Cybermen".
Garfield Kane is shown hanging on original Mondrian on his office wall. In contrast to Caswell Bligh for whom paintings were an investment to hold his wealth in his bank vaults and pass on to his grandsons, Kane is an enthusiast. He tells Fowler he's traded up from a small watercolour in the same way as a car owner starting with a clapped out old Ford. When Fowler suggests he "get a man" in to hang the painting, Kane says he prefers to do it himself, saying it's the only chance you get to touch the painting.
With references to Professor Mobbs in "The Goose Chase" it's a pity that the drinks party has not been thrown by Margot Fellowship (Caroline Blakiston) from that episode. Margot might have added more edge to the party scenes, although Mirabelle Wentworth (Anne Jameson) is an arguably more agreeable host. Party guest Suky at first appears to be Sally Geeson (who as we know from "Cat Is You, Bird Is Me" was busy leading Norman Wisdom astray in the Tigon Film "What's Good For The Goose"). Suky is the first TV appearance of Juliet Kempson who later played Sid James' daughter in "All This And Christmas Too" (1971) – a one -off special released after the first series of "Bless This House" (with Sally Geeson playing Sid James' daughter).