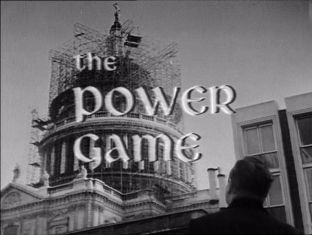 Tuesday 1 April 1969
"Special Envoy: Mergers " Writer Wilfred Greatorex Director David Reid.
"Wilder's about as capable of being inactive as Vesuvius." Garfield Kane.
Garfield Kane (Barrie Ingham) the Minister for Special Situations and Trade, has isolated his Ambassador Sir John Wilder, leaving him with no work to do. Kane knows Wilder has too many friends in Cabinet to sack him, but hopes enforced idleness will trigger some indiscretion. Kane pressures Wilder's assistant Don Henderson (Jack Watling) to keep him advised of Wilder's actions. .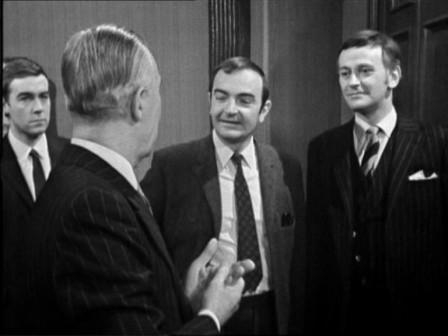 Kane also offers Wilder's official secretary Lincoln Dowling (Michael Jayston) a contract to leave the Civil Service and join an Anglo-French consortium he's setting up with Frank Orwell (Ernest Clark) of National Electric to win contracts in developing countries. Kane is aware of Dowling's relationship with Pamela Wilder (Barbara Murray) and suggests she's more likely to leave Wilder if Dowling is on an inflated salary with the consortium.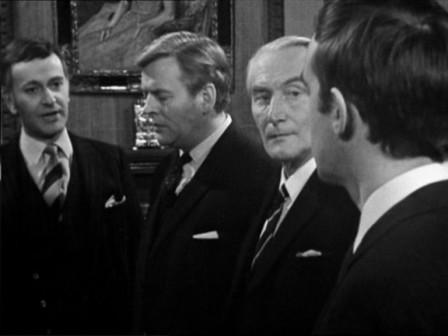 Jason Fowler (Richard Hurndall) realises he can no longer trust his protege Dowling (Michael Jayston).
It's ironic that Don Henderson criticises Kane's treatment of Wilder saying, "I suppose you learned that when you were a business consultant – leaving someone so far out on a limb that they resign out of boredom." Ironic because this was a strategy of Wilder's at Scott Furlong. It was so well-known that it even had a name – Wilder's Island Game.
Kane attempts to subvert Don Henderson just as the Bligh's had done in previous series. Once again Jack Watling plays along so guilelessly that he credibly raises doubts as to whether Henderson has betrayed Wilder. Watling has been an exceptional "non-verbal" performer throughout "The Plane Makers" and "The Power Game". His reactions in this final episode as Kane forces him to endure a meeting in a sauna are amusing, although it's questionable whether Don is affecting his discomfort in the same way that he overplayed his drunken-ness in Magalia. Certainly, Don manages to drop the false information Wilder wanted before making his hurried exit from the steam bath.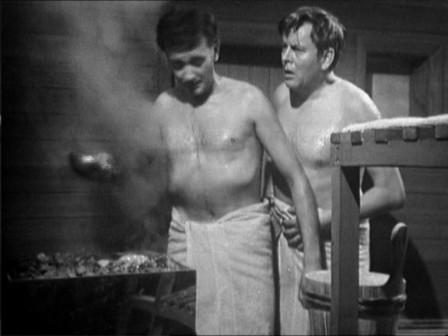 Kane's proposed joint venture between National Electric and Electroniques Francaise is conceived as a strategy for co-operating in bids for contracts in developing markets (rather than competing (as Britain and Italy did in "The Heart Market"). With the Anglo-French Concorde having just completed its first flight, co-operation between the two countries was firmly in the public mind, but Kane's proposed consortium would have been aimed firmly at the vital export market. Unfortunately, at the end of part one, Wilder tells Lincoln Dowling, "That consortium is not going to happen. I have a better idea."
Wilder's "better idea" is to organise a merger between National Electric and a rival firm owned by Norton (George Belbin). Carey (Richard Aylen) of the Commercial Reconstruction Board supports the idea as a "natural marriage". Wilder says it promises cost reduction and vastly increased exports. Wendell (Paul Bacon) of National Electric worries that his fellow board members will, "see their muddled old heads rolling in the City of London." He says Orwell will fight, three of the younger Board members will agree immediately, and "others are open to persuasion, provided they can be promised places on the new combined Board."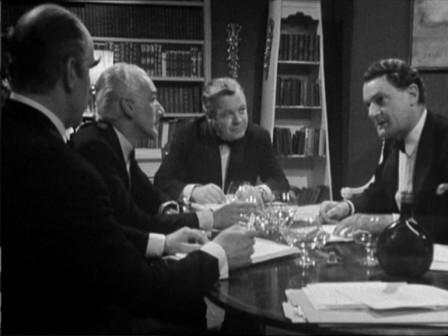 Wilder ironically asks Dowling to pass the Armagnac as he negotiates the deal that will sink the Anglo-French consortium.
The deal is reminiscent of the 1967 takeover of Associated Electrical Industries by Arnold Weinstock's General Electric Corporation. The takeover had financial support from the Industrial Reorganisation Commission under Tony Benn, who had been charged by Harold Wilson with creating "national champions" capable of competing on world markets.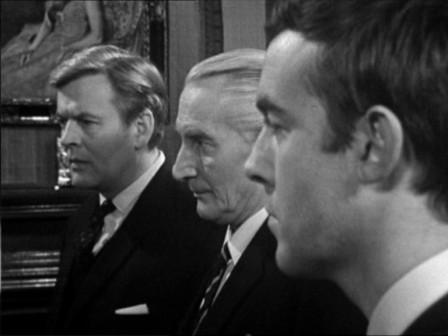 With both Kane and Wilder seeking Lincoln Dowling's support, the question is which way he'll jump and whether it will be safe. Dowling openly questions whether Kane will honour the offer of a job with the consortium once he's resigned from the Foreign Office, and Wilder has been known to deal vindictively with his wife's lovers before. When Wilder warns Dowling that the tightrope he's walking between himself and Kane could be yanked away, Dowling replies that he's got a safety net. Twice in the episode, we're reminded of Dowling's links with MI6, and in the end this provides a Deus Ex Machina to resolve Dowling's dilemma. A voiceover tells Dowling that, "Whether we get the British merger or the Anglo French Consortium is academic. But it is important that we penetrate an organisation of that size selling military equipment and electronics to other foreign powers."
While Wilder is confirmed as Managing Director of the merged company, Dowling is imposed on him as a director. Earlier in the episode, Wilder had told Dowling that, "with a little bit of practice, you may not look out of place behind a cigar." At the episode end, Wilder offers Dowling a cigar and tells him he'll find a cutter on the drinks table. "That's all right, " Dowling says, "I have my own now." The episode ends with the hysterical laughter of Pamela Wilder, who realises that her chance to redeem Dowling has passed, and he has become another Wilder.
Writing in the TV Times the following week, Anthony Davis noted that, "the stage is set for another series, with a new antagonist for Wilder in his erstwhile assistant. And with the triangle of the two men and Pamela unresolved."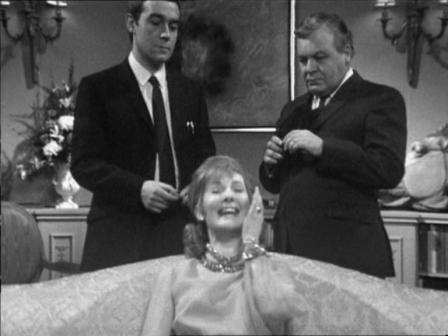 Pamela Wilder (Barbara Murray) closes the series with hysterical laughter
After his attempt to refer the British deal to the Monopolies Commission is out-manoeuvred by Wilder, Garfield Kane calmly consider his position and resigns as Minister. Barrie Ingham delivers a controlled, charismatic performance throughout the episode. Whether or not he was intended to return in any further series of "The Power Game", Ingham would star in Wilfred Greatorex's 1971 series "Hine" as a ruthless arms dealer.
Patrick Wymark is cunning and assured, throughout this episode, whether it is toying with Lincoln Dowling or ruthlessly dispatching his rivals (There is some irony in the casting of Ernest Clark as the ousted chair of National Electric, since he played the advocate who defeated Wilder's defence counsel in the Scales of Justice feature "The Material Witness") .
Speaking in the TV Times Wymark said that, "I shall miss John Wilder. It's a wonderful part and I have really enjoyed it, After all this time I have got to know him pretty well. There are rumours of another Power Game, but nothing has been decided. In the right circumstances I'd do another series and I'm certainly not fed up with Wilder."
Anthony Davies observed that ATV had tempted fate bringing the Power Game back. There was the danger of a flop, but although the ratings varied, it reached number one at times and had been viewed in seven million homes. If The Power Game had returned, the next series would have been in colour.
Sadly, it was not to be. But "The Power Game" did go out on a high with a strong final episode looking forward to the dominance of professional managers .