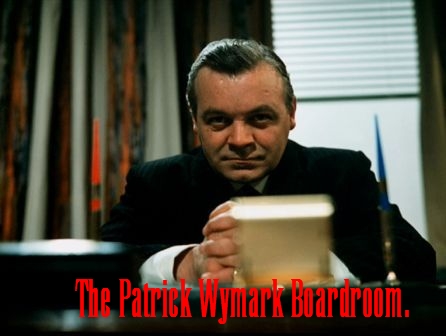 Patricia Cutts and Anthony Ainley in...
Spyder's Web
by Harry Dobermann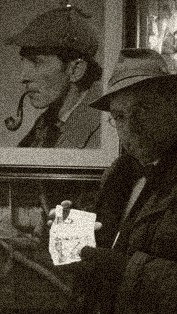 Premiered on 21 January 1972, ATV's Spyder's Web was an oddball spy series which was spun for thirteen weeks in 1972 and then was blown away by the mists of time. Working from an anonymous Victorian office block in Soho, Arachnid Film Productions was the cover for Charlotte 'Lottie' Dean (Patricia Cutts), an award-winning documentary film-maker who also controlled the "Spyder" network of secret agents.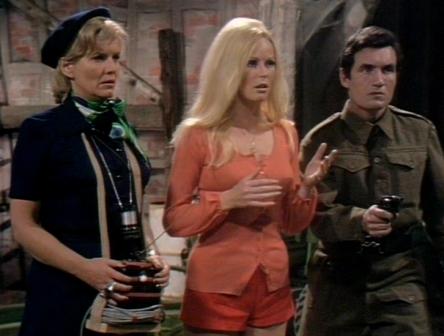 Patricia Cutts, Veronica Carlson and Anthony Ainley in Spyder's Web
For any readers of "Famous Monsters" magazines, "Spyders Web" would have been significant at the time for the presence of third-billed Veronica Carlson (Hammer's "Dracula Has Risen From the Grave" ) as Lottie's secretary, Wallis Ackroyd. When released on DVD 40 years later by Network, the participation of Roger Lloyd-Pack (Only Fools And Horses) as Sound Engineer Albert Mason and Anthony Ainley (The Master in "Dr Who") were big selling points. The mystery, both then-and-now, was the starring role of Charlotte Dean, played by Patricia Cutts.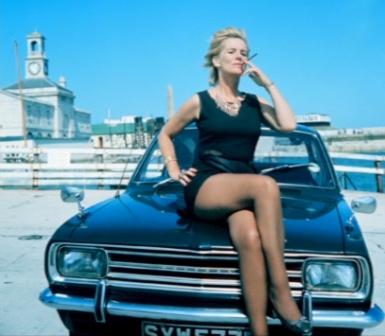 Patricia Cutts on location in Broadstairs for 'Red Admiral'
The week after "Spyder's Web" made its debut, ITV's listings magazine TV Times ran a remarkable article ("I Spy the Disappearing Lady") in which Innes Gray explained Patricia Cutts' past and said, "the attraction of Patricia…lies partly in the way she assaults male self-delusions. I said she was frightening and our male companion agreed. So we sat there being frightened for a moment."
The daughter of Graham Cutts (director of The White Shadow and The Sign of Four), she reputedly attended 13 different schools and ran away from home at the age of 14 to become an actress. In 1950 she changed her name to "Patricia Wayne" for the Robert Montgomery movie "Your Witness" starring Robert Montgomery. Although the film was made in England she was allegedly fed barbiturates to ensure her lower body weight met Hollywood standards.
Reverting to her birth name, she starred in further movies such as Hammer's "The Adventures of PC 49", before emigrating to America in 1955. During her time in America she appeared on stage in "The Matchmaker", made several guest appearances on TV but made only three movies.
She had a two-word, but amusing scene towards the end of Alfred Hitchock's "North By Northwest" when Cary Grant escapes through her bedroom (As North By Northwest also featured Mission:Impossible's Martin Landau , Ed Platt (the Chief in "Get Smart") and Leo G Carroll ("The Man From Uncle") it was quite productive in terms of casting future spy adventures).
Patricia Cutts' biggest Hollywood movie role was in William Castle's "The Tingler" (1959) playing Vincent Price's unfaithful wife ( Ironically, Anglia TV screened "The Tingler" at 11pm on February 25th – the same evening as the "Spyder's Web" episode "Emergency Exit" ). Returning to the UK in the late 1960's she appeared in the 1971 movie "Private Road" starring Susan Penhaligon, before landing "Spyder's Web".
In one way this series was ground-breaking . It wasn't the first TV series to star a woman (there had been 1957's The Adventures of Aggie for instance), but the leads were usually in comedy or soap opera. While "The Avengers" had trail-blazed the concept of women co-starring in drama, Steed's female companions had always been relatively virtuous. In Lottie Dean, "Spyders Web" presented a woman of ambiguous morality. The first episode depicts Lottie Dean as a "bloody woman" (as in "that bloody woman") but by the end of the episode it's clear that her hands really are bloody.
Watching the first episode, it's undeniable that Patricia has problems making all of Lottie's dialogue roll naturally off the tongue when attempts are made at Avengers style repartee. But viewing the series as a whole she comes across naturalistically when being seductive or intense, and those episodes where Lottie is adopting another persona.
The first episode ("Spyder Secures A Main Strand") introduces us to veteran agent Clive Hawksworth (Anthony Ainley) who is re-assigned to the covert "Spyder" network with his first mission being to recruit Lottie as a new agent.
Directed by series producer Dennis Vance, "Spyder Secures A Main Strand", is all about appearances being deceptive. The teaser is a film sequence showing a British spy (Number Six!) being fatally misled, in a manner which may have led viewers to expect something along the lines of "The Avengers". But after the title sequence the show reverts to studio bound video tape and it's clear the series is going to be something very different.
Hawksworth thinks he is recruiting Lottie, but she is actually testing him. (Charlotte can call on several agents, but none of them know her). She reports to the British government through her unseen contact "J.Smith".. British Intelligence hides behind an export agency but its director (John Savident) is stressed by demands to show trade balance figures for the cover. Secretary Wallis Ackroyd is played by glamorous Veronica Carlson but the character hails from Scunthorpe and is studying Tolstoy and Philosophy (the patronising joke was extended by Alfred Shaughnessey in "Lies and Dolls" when she surprises Lottie and Hawksworth by talking to an East European puppeteer in his own language ). There is some ambiguity over whether Lottie or the unseen Smith is "Spyder". It wouldn't have been too surprising if Wallis herself had been revealed as "J Smith" in the final episode.
Even ITV's scheduling contributed to the air of mystery. John Savident ( now best known as Coronation Street's butcher Fred Elliott) was also playing secret agent "Forrester" in Victor Pemberton's childrens' TV serial "Tightrope" (also for ATV) , so his appearance as Hawksworth's manager made it seem as if he'd stepped out of one series into another.
"Spyders Web" was shown at 9pm on Friday Evenings. This was opposite the BBC 1 news, with the hit drama "The Onedin Line" following at 9.20. A cynic would say that ITV had fifteen minutes to grab restless viewers before they switched over to the BBC and another forty minutes to convince them to come back next week.
Given that ticking clock, it's unclear what ATV thought it was serving up for viewers. The series format was credited to Richard Harris, who had also co-created "Man In A Suitcase" with Dennis Spooner, although Harris did not write for the series itself. Had Harris intended this as another globe-trotting ITC film series? Or was it was always intended as a video-taped drama? The superficial resemblance of Patricia Cutts to Honor Blackman, and the presence of former "Avengers" script editor Malcolm Hulke recalls the early days of the ABC series before it moved to film and became more fantasy-based.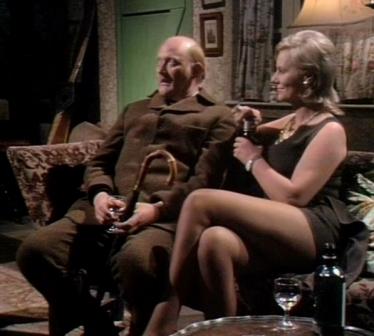 Lottie interrogates one of the Woffington clan(Nicholas Smith) in her own inimitable manner
However, where "The Avengers" spiced up its dramatic intrigue with a layer of sardonic humour, "Spyder's Web" was overspiced . Barry Linehan's clownish Soviet spy in "Emergency Exit" (by David Ellis) and the absent-minded scientist in Marc Brandel's "The Prevalence of Skeletons" are just two characters who would not be out of place on children's television. By contrast, "Things That Go Bang In The Night", evokes Old Dark House farces like "What A Carve Up", ending with a darkly humorous punchline you probably couldn't get away with today. Disconcertingly, these overtly comic episodes were interspersed with more conventional mysteries like Alfred Shaughnessy's "Lies And Dolls" so that viewers would never be quite sure what to expect. This may not be too surprising since five of the thirteen episodes, including the first, were written by Roy Clarke, now best-known for comedies such as "Last of The Summer Wine" and "Open All Hours". However, it should not be assumed that the humour automatically undermined 'Spyders Web' . Clarke's episodes are some of the best, and he usually delivers quirky twists on conventional spy plots.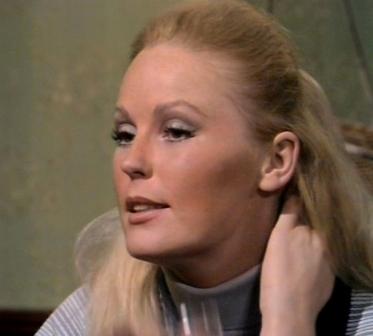 Veronica Carlson's character of Wallis Ackroyd could be seen as a precursor of Clarke's forthright female characters, (especially since she hails from Scunthorpe, not far from Clarke's home town). It wouldn't be difficult to imagine Veronica Carlson her striding through the streets of Doncaster to berate David Jason in Roy Clarke's sequel, "Still Open All Hours".
Even in the opening episode of 'Spyder's Web', the second film sequence isn't an action scene but footage of intelligence chief John Savident arriving at his suburban home and having to squeeze out of the side of his car because of a caravan blocking the drive in a scene which is now very reminiscent of the visual humour in "Keeping Up Appearances".
The third broadcast episode, Roy Clarke's "Death On Wheels", is probably most significant for featuring Peter Sallis only a few months before he was cast as Clegg in the pilot for Clarke's "Last of The Summer Wine". Lottie and Hawksworth pose as tourists on a coach tour to Eastern Europe which promises romance but actually provides a shopping list of anonymous singletons whose identities can be stolen by communist spies. It's a humorous variant on "Ten Little Indians" as we wonder which of the eccentric tourists will be the first to disappear. Hawksworth adopts the pose of gentleman farmer called Wormley ("pronounced Wumley"). Carolyn Jones is amusing as a Joyce Grenfell-esque sports enthusiast who the viewer begins to hope will survive through to the end of the story. Thankfully, Clarke delivers both a gothic "Avengers" style climax and a Hitchcock-style coda which provide a satisfying conclusion.
Clarke's "An Almost Modern Man" has an intriguing storyline which could probably have worked as an episode of "The Avengers", where a Che Guevara type South American president visiting London is threatened by voodoo. But when Hawksworth learns that Lottie filmed the president (Mike Pratt) when he was a rebel and was romantically involved, Hawksworth fantasises scenes out of a 1930's "Tarzan" movie.
Roy Clarke had already taken a character from an episode of the BBC drama series, "The Troubleshooters" and spun him off into his own ATV comedy series "The Misfit". This starred Ronald Fraser as an ex-colonial returning from Malaysia (where the Edwardian way of life had been preserved) , trying to make his way in Swinging Sixties Britain. Clarke won a Writers Guild award for "The Misfit" and the success may well have influenced the character of Clive Hawksworth in "Spyder's Web".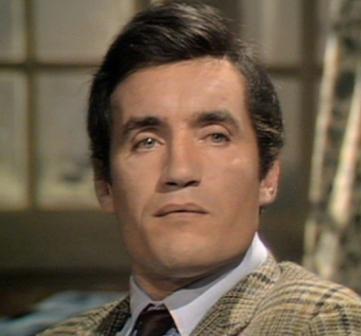 As portrayed by Anthony Ainley, the character of Hawksworth is very much a misfit. He is one of three agents recalled to London by John Savident's character, but while the other two fly home from Europe, Hawksworth is shown behind the wheel of a vintage Lagonda. And then just when we think this may be in the vein of Avenger John Steed, the camera pulls back and we see that his car has broken down and is being towed by a pick-up truck.
[Ainley later went on to play The Master in Dr Who and it's thanks to his association with this series that a biography (The Man Behind the Master by Karen Louise Hollis ISBN 978-1-78196-138-4) was published which revealed the past Ainley kept veiled throughout his life. The son of unmarried waitress Clarice Holmes and Shakespearean actor Henry Ainley, he and his brother had been placed in the Children's Orphanage ( an institution set up as a form of pre-Welfare State extended childcare where most of the children, "knew of at least one living parent"). Hollis provides a fascinating picture of this institution and the children who grew up in its care.]
Although Hawksworth is skilled at double-entendre flirting with Savident's secretary, he thrown into a panic when Lottie asks him to "get close" to the sister of a South American president in "An Almost Modern Man". Clarke has him tongue-tied and overwhelmed when the sister (Lea Goldoni) pursues him as a "typical English gentleman". Biographer Karen Louise Hollis points out that Ainley was, "very much in favour of speaking correctly and rarely used slang or shortened words, "although in acting he preferred simplicity in dialogue.
Anthony Ainley had played sidekick to William Mervyn's Chief Inspector Rose in the 1965 crime series "It's Dark Outside and more recently played the persecuted Reverend Fallowfield in "The Blood on Satan's Claw". Ainley also starred in a 1971 episode of the BBC's "Out Of The Unknown" – Morris Fahri's "Welcome Home" as an apparently affable and solid citizen whose world collapses into a paranoid conspiracy. But these were straight dramatic roles, whereas Ainley's performance as Hawksworth is charming enough but often uses humour to relieve a character borders on the psychopathic, chortling with amusement in one of the final episodes when it looks as if Lottie has been killed in an admittedly absurd way.
In some ways, the humour could be seen as a brave attempt at differentation. Thames TV had scored a big hit with "Callan" by playing the bleak scenario of a state execution department deadly straight. But it could be argued there was an element of "having your cake and eating it". James Mitchell's "Callan" was always questioning his orders from "The Section", only willing to kill someone if he (and the audience) thought they deserved it. In effect, "Spyder's Web" turns this idea on its head by saying what if the people making these life or death decisions aren't qualified to make them?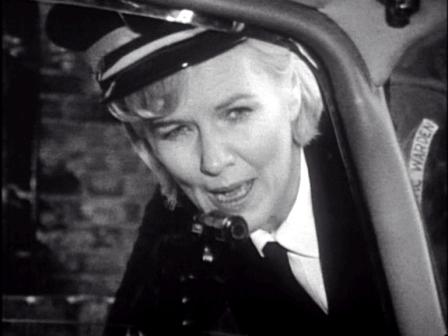 In several episodes, Lottie kills someone because it's expedient ("Emergency Exit" opens like an episode of Brian Clemens' "Thriller" with the unusual exploding into the mundane; Lottie dressed as a traffic warden, suddenly shooting a motorist with no explanation). On the one significant occasion when she does disagree with killing someone, it's because she's taken a personal liking to them.
The episode "Red Admiral" by Alan Hackney is an interesting counterpoint to "Callan". John Barron plays a retired Admiral and former wartime Motor Torpedo Boat hero with a lot of secrets in his head. Intercepted mail shows that he had started writing poetry with pacifist leanings and J Smith orders Spyder to check him out as a potential defector. His priggish pacifist son despises him, while his son's university lecturer is fond of moral challenges. Hawksworth, who despises lefties and intellectuals, makes the prediction that if Barron, "has become a dove or some kind of crusader for peace, I'd give this country a minimum of two years."
Maintaining the conceit that Veronica Carlson and Roger Lloyd-Pack's characters are unaware of what's happening, Lottie brings in a second, silently sleazy sound man played by Milton Johns, to fill the Admiral's house with listening devices. This episode has some picturesque location filming in Broadstairs, but Lloyd-Pack only appears in the studio scenes, so it's not clear whether a scheduling conflict led to the new character being introduced. Nevertheless, Milton Johns delivers a characteristically amusing performance, which provides a counterpoint to the potentially serious overtones of the episode. "Red Admiral" is one of the few stories where Lottie and Hawksworth fall into conflict as she demands cast-iron proof of Barron's intentions.
Hawksworth, on the other hand, has no qualms about killing people. In "Romance On Wheels" he says that the undercover mission on a singles holiday is no job for a man like him – "I'd much rather be shooting people". He despises "lefties" and "intellectuals" , commenting about a university professor in 'Red Admiral' that he, "Can't wait for the word to drop him down a mine shaft.". Hawksworth constantly harks back to past murderous exploits, although it's not clear how much is banter. Intriguingly, "Things That go Bang In The Night" has Lottie challenge him about a claimed wartime murder, saying she's checked the records and it didn't happen. But since the conversation is within the context of game-playing by both characters it's never fully resolved. The production errs in Hawksworth's favour at times ; he admits to robbing and hospitalising the lawyer of a spy at one point so that the lawyer can't get his client bailed, but we learn this through off-hand dialogue rather than being shown what happens. However, Hawksworth is one of the few TV characters to cold-bloodedly shoot someone who poses no real threat (other than the threat to national security).
The second episode, "The Executioners", written by Alfred Shaughnessy ("Cat Girl", "Upstairs Downstairs") and directed by James Gatward also opens like an episode of "The Avengers". Andre Morell leads a country house shooting party to open fire on a blindfolded man tied to a tree before inviting everyone to a hearty breakfast.
Mysterious death notices have been appearing marked "Pro Bono Publico" (for the public good) relating to the disappearance of people in the vanguard of the "permissive society". Ordered to investigate, Lottie announces that she is going to produce a ground-breaking sex film in order to smoke out the killers. Lottie then fakes her own disappearance.
Hawksworth announces that he will contine with her movie and is invited to Morell's country house.Put on trial by a jury of masked establishment leaders, Hawksworth attempts to win them round by saying that he admires what they are doing. It's a classic Steed stratagem – except that it appears that Hawksworth really is sympathetic to them. He abhors the "permissive society" and believes Morell's group is justified.
In a memorable, though not too plausible development, Lottie returns from the dead and convinces the credulous Wallace that they have to save Hawksworth. Patricia Cutts and Veronica Carlson invade Morell's estate in the guise of Nuns collecting for charity. Wallace (who still thinks they are just film makers) then agrees to cause a diversion by getting into bed with one of Morell's drugged henchmen - a ruse which Morell quickly sees through with the memorable challenge: "Why has that Nun got long hair?" In a face-saving revelation, Morell's group is not actually killing their targets, but subjecting them to absurdist brain-washing which strays into "The Prisoner" territory ( a "blue" comedian literally has his mouth washed out with soap). However, the fact that the victims are not killed doesn't counter the fact that the will of a few privileged reactionaries is imposed on them. Far from being at risk, Hawksworth (who has been made to write out lines ("I must not sneak") like a schoolboy, heartily approves and assures Morell that he will make a positive report to Whitehall.
Intriguingly, Alfred Shaughnessy would go on to write the treatment for Peter Walker's 1973 horror film, "House of Whipcord". Although he was supposedly unable to script the film because of his duties on "Upstairs Downstairs", Shaughnessy advised Walker to "do the film so they don't know what side you're on."
It's episodes like "The Executioners" and "Red Admiral" which show "Spyders Web"at its best. They are amusing but also provide a counterpoint to the more established series like "Callan" and "The Avengers". They show a viewpoint – maybe not entirely clear, but different.
Whatever its merits however, "Spyders Web" did not return. Patricia Cutts returned to the stage (Terence Rattingan's "Bequest To the Nation") and unfortunately died in 1974 after recording two appearances as Blanche Hunt, mother of Deirdre Barlow in "Coronation Street". Anthony Ainley went on to appear in the Edgar Rice Burroughs movie "The Land That Time Forgot" and TV series such as "The Pallisers" before landing the role of "The Master" in "Dr Who". Writer Roy Clarke went on to create a string of long-running BBC comedies which continue to this day with "Still Open All Hours". And "Spyders Web" faded into the shadows.