THE WILDER WAY
THE POWER GAME OF THE PLANE MAKERS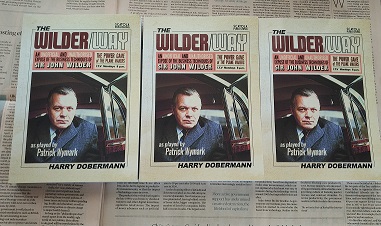 The Wilder Way - The Power Game of The Plane Makers by Harry Dobermann. The ATV series THE PLANE MAKERS created a TV sensation in the early 1960's, as it charted the rise of the Scott-Furlong aircraft company and its ruthless managing director John Wilder.
The role of Wilder made Patrick Wymark into one of Britain's biggest TV stars. And Wilder was too big for just one series.
THE POWER GAME tracked Sir John Wilder's battles in the worlds of construction, politics and international trade.
Unofficial and Unauthorised, THE WILDER WAY follows the behind-the-scenes intrigue that launched THE PLANE MAKERS and the creative forces behind THE POWER GAME. Producer Rex Firkin, script editor Wilfred Greatorex. The two series boasted a host of acting talent including Barbara Murray, Reginald Marsh, Jack Watling, Michael Jayston, Robert Urquhart, Alan Dobie, Peter Barkworth, Ann Firbank, Wendy Gifford, Peter Jeffrey and Clifford Evans.
An Episode Guide covers both series, and there is also coverage of the two 'interim' productions Front Page Story and The Curtis Affair. Extensive career histories of Patrick Wymark and Barbara Murray, plus background on the series main writers; Edmund Ward, Raymond Bowers and Peter Draper . There's even a profile of the indispensible Miss Lingard (Norma Ronald).
The techniques practiced by Sir John Wilder are still valid in today's competitive world and build into ten steps in which you too can learn to do business THE WILDER WAY!
Harry Dobermann runs the Patrick Wymark Boardroom website (www.wymark.org.uk) dedicated to the star of THE PLANE MAKERS and THE POWER GAME. His previous book, Beyond The Borders of Fear, is also available from Scatola.
You can buy The Wilder Way for GBP 16 plus postage from Lulu or other online retailers. Go to the Lulu shop at this link!