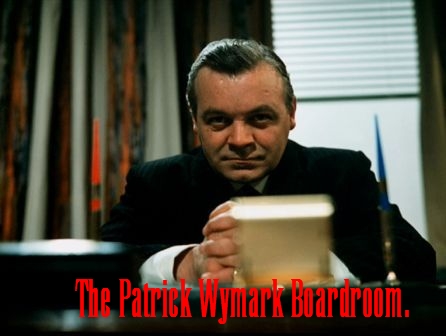 BITTER HARVEST (1963)
TWENTY THOUSAND STREETS UNDER THE SKY (2005)
BITTER HARVEST (1963) stars Janet Munro and John Stride in a compromised adaptation of Patrick Hamilton's trilogy Twenty Thousand Streets Under The Sky. Munro played Jenny, a girl from the back streets of Wales whose taste for luxury ultimately destroys her. Stride played the idealistic barman in love with her. Updated to the 1960's and undermined by behind-the-scenes disputes the film was not a success, and it would be another 40 years before the BBC could present a more faithful TV adaptation of Hamilton's work. Ironically, both adaptations were scripted by high profile writers - Ted Willis and Kevin Elyot.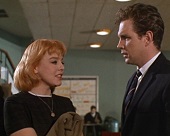 Janet Munro and John Stride in Bitter Harvest
Patrick Hamilton is today probably best-known for the filming of his stage plays Gaslight(1940) and Rope (1948). When his eve-of-war novel Hangover Square was filmed in 1945, it was reimagined as a Victorian gothic to make it more of a piece with Gaslight. But before his Hollywood success, Hamilton had been the acclaimed author of contemporary novels which dealt with the underside of London life. Published in 1929, when Hamilton was only 25, The Midnight Bell told the story of Bob, a pub barman who falls in love with Jenny, a prostitute. Desperate to stop her selling herself to other men, he depletes his savings in order to loan her money that is never repaid. The story had its roots in Hamilton's own hopeless love for a sex worker, informing the satirical detail of Bob's humiliation. Hamilton was a determined drinker by this stage, and shows Bob after a final betrayal by Jenny, "surrender (ing) to the explicit demands of drama...deliberately attempting to get wildly drunk and do mad things.".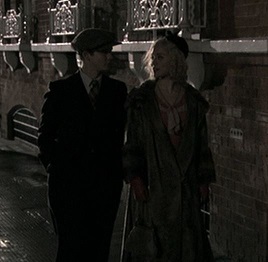 Bryan Dick as Bob and Zoe Tapper as Jenny in Twenty Thousand Streets Under The Sky (2005)
Following the success of the novel, Hamilton married Lois Martin who managed to limit his drinking while he wrote the second book in the trilogy. The Siege Of Pleasure told Jenny's story - how she won a job as a domestic servant, but was seduced on a drunken night out and had no alternative but a life of prostitution. While Hamilton was writing the novel, he was hit by a car while walking in Earls Court with his wife and sister. Hamilton was dragged through the streets, resulting in injury and disfigurement. Hamilton incorporated the life-changing accident into the novel, with Jenny's drunken night out ending in a hit-and-run. Although she did not drive the car, Jenny shares in the guilt and it forms part of her decision to abandon her respectable life as a wage slave.
In 1934, Hamilton published the final novel in the trilogy The Plains of Cement. This runs in parallel with The Midnight Bell but tells the story of barmaid Ella, who is in love with Bob, but who he only regards as a friend. Ella is pursued by Eccles, a middle-aged customer who thinks of himself as a 'character' but who is really only irritating. Despite his self-centredness, Eccles represents a prospect of escape for Ella.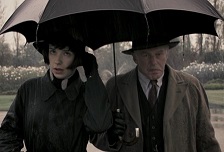 Sally Hawkins as Ella and Philip Davis as Eccles in Twenty Thousand Streets Under The Sky (2005)
Hamilton continued to write into the 1950's, with two plays performed on the BBC Home Service (Radio 4) and more novels including 'Mr Stimpson and Mr Gorse (later televised as The Charmer). He died in September 1962, while Bitter Harvest was in production. It's clear that the producers wanted to have their cake and eat it - winning the coverted 'X Certificate' for (what now seems tame) sexual content while minimising the screen time Jenny spends as a prostitute. Reversing what had happened with the film of Hangover Square Ted Willis' script updated the story from 1929 to 1962. The structure of the three novels was simplified (the producers of the 2005 TV version observed that Hamilton's overlapping timescales have more in common with films like Pulp Fiction). Willis took Jenny's background story from The Siege of Pleasure but moved the location from a London suburb to an impoverished pit village 30 miles away from Cardiff, everyone having moved away after the pit closed. Perhaps this was done to give Jenny a starting point that was closer to the limited opportunities of the 1930's rather than the fuller employment of the 1960's. Hamilton had shown Jenny winning and doing a good job as a domestic servant to elderly sisters. Willis changes the sisters to Jenny's aunts. The prospect of "taking care of them" as unpaid help is presented as a threat to Jenny who aspires to something better.
The film has an extended sequence showing Jenny watching a TV soap advert that promises a celebrity lifestyle. The Rose Petal adverts are referenced two or three times throughout the movie. At one point Jenny recalls watching the adverts, "People had such fabulous things..then you switch off and you're back in the village...why do they show us these things if we're not meant to have them?"The implication appears to be that Jenny is seduced by the commercialisation of TV. For Willis, a writer of social conscience, a former Young Communist and later Labour party Peer, it may have been a natural link to make. Ironically, Peter Cotes recalled producer Julian Wintle of being dismissive of "message movies" but the corrupting influence of TV was a popular theme at the time for the film distributors who were being hit hard by competition from TV. In Hamilton's books, of course, it is the movie makers who present the unrealistic dreams (The real-life inspiration for Jenny is said to have resembled silent film star Esther Ralston, one of Hamilton's favourites (In The Case of Lena Smith (1929) she played a seduced and exploited country girl).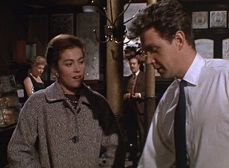 Ella (Anne Cunningham) offers advices to Bob (John Stride) as the Guvnor and his wife (Norman Bird and Vanda Gosell) clear up
Somewhat improbably, Jenny is tempted to make use of her employers' ensuite bathroom and is discovered in the bath when leering husband William Lucas comes home early from a business trip. For the first time Jenny becomes aware that she has something to trade, as Lucas gives her five pounds to buy a negligee and come back to 'model it' for him. Although Jenny hands back the money when she realises the implication, the scene shows her realising that she may have a way out of her hopeless situation. As in the book, Jenny meets a salesman (Terence Alexander) who escorts her on a drunken night out - and she wakes up in the bed of one of his friends in London! Whereas in the book, Jenny is socially cut off from her past, in the movie she is geographically far from home.
The script then moves to an approximation of The Midnight Bell as Bob notices Jenny in the pub where he works. But where Jenny is already a prostitute in the novel, she is just an abandoned innocent at this stage of the movie. This was John Stride's first substantial film role, although he had achieved stage success playing Romeo opposite Judi Dench (and later Joanna Dunham) in Franco Zefferelli's Old Vic production of Romeo and Juliet, and had raised his New York profile as Duncan in Macbeth (he would play Ross in Polanski's later film version). Both Peter Graham Scott and Peter Cotes would later disown the casting of this movie - Scott obviously picking up the movie after filming had begun, and Cotes stating that Wintle cast actors who always played the same types, whereas Cotes preferred to use personal knowledge of actors from the stage. Cotes gives an example of Wintle wanting to cast Herbert Lom in the role eventually played by Alan Badel. It seems likely then, that Cotes had lobbied for Stride based on his stage success as Romeo. With the basis of hindsight, and his fiery lead role in The Main Chance , he does seem a surprising choice as the guileless Bob.
Ella, the third side of the triangle, is played by Anne Cunningham, one of the original cast of Coronation Street (1960 - ad nauseum) as Elsie Tanner's daughter Linda Cheveski for the first year of the show. Ella's role is incredibly truncated (when you consider that Hamilton gave her a whole novel) and the role of her admirer, Mr Eccles is correspondingly brief. Eccles is played here by Allan Cuthbertson, an example of the perfectly competent but assembly-line casting of the movie (Norman Bird as the Guvnor, Vanda Godsell as his wife, Colin Gordon as a bit part actor). One of the high spots of the movie is the set design by Alex Vetchinsky (North West Frontier, A Night To Remember) which captures a point in time when Victorian Britain overlapped with the post-war Welfare State. The cluttered shelves of the corner shop in Wales, the exfoliative wallpaper in Bob's apartment house and the interior of the pub itself convey an understated attention to detail. While it has been suggested that Hamilton's model for the pub was The Prince of Wales Feathers on Warren Street, the movie exteriors were filmed at the now demolished King and Queen in Harrow Road.
Anne Cunningham as Ella and Allan Cuthbertson as Eccles
Bob offers to let Jenny stay at his bedsit. Unlike the Bob of the novel, although he offers to remain chaste (sleeping in a chair), he is eventually offered the chance to share the bed with Jenny (one of the big X Certificate moments). Although he doesn't give Jenny money for her rent (as in the novel), Bob still finds his savings being depleted as his landlady tells him she charges more rent for two! The scene of Bob discussing his rent in Mrs Jessup's bedroom as she eats her cornflakes is one of the best in the movie. It's another of the film's mysteries as to why Thora Hird, 20 years into her career and recently second billed A Kind Of Loving (1962) isn't even credited here . Ironically, despite a line about her late husband being fond of his bed, the scene would have been filmed before the BBC Comedy Playhouse - 'The Bed' (December 1963) which led to Thora's long running sitcom with Freddie Frinton, Meet The Wife.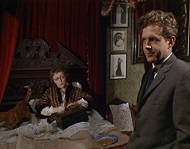 At first Bob and Jenny behave like newlyweds in a comedy, with Laurie Johnson's score upbeat and lively. But then, Jenny is invited to a showbiz party where she thinks she might be able to further her 'career' as a model. Drunk once more, she catches the eye of Alan Badel - already starring in Wintle's This Sporting Life (1963) and soon to co-star in Children Of The Damned . Badel, as if aware that the film is running out of time, summons Jenny to a party the next evening. Drunk and jealous, Bob crashes the party and pleads with Jenny to come away with him. But she cruelly rejects him - he can't give her what she wants. Which is luxury. As Bob leaves, Badel outlines the future for Jenny - a nice little Mews flat and the rack of clothes she'd dreamed about while watching TV adverts. But since this is a flashback, we know these luxuries will be a Bitter Harvest.
The background to Bitter Harvest is an epic in its own right*. In early 1962, Twenty Thousand Streets Under The Sky was announced as due to be produced for Rank distributors by Leslie Parkyn and Julian Wintle of Independent Artists at their Beaconsfield Studios. The adaptation was written by Ted Willis, then seven years into writing the BBC's Dixon of Dock Green. The original director was Peter Cotes, head of drama at Rediffusion TV. Cotes had previously been contracted by Associated British Pictures to direct the film version of Willis' TV play The Young and The Guilty (1958) and had cast Janet Munro in the featured role of a misunderstood teenager. Although a critical success, the film had been released a year later as the bottom half of a double bill with Alive And Kicking. By then, Janet Munro had been offered a contract by Walt Disney (Darby O'Gill And The Little People Swiss Family Robinson). Her management limited the Disney contract to one film a year, so that she would be free to take up offers in the UK and by 1963, Independent Artists was eager to cast her in the star role of Bitter Harvest. Munro had already accepted adult roles such as Girl In A Bird Cage (ABC 1962)in which she played a girl jailed for wounding her lover, and she had also filmed a bathroom scene calculated to raise temperatures in The Day The Earth caught Fire .
Peter Cotes' relationship with Julian Wintle deteriorated during pre-production as it became clear that the producers required a more sensationalistic approach. After two weeks of filming, Cotes was fired by Wintle, stating that his footage was uncommercial. Cotes was replaced by Peter Graham Scott who had been contracted to direct an episode of The Human Jungle). Scott, who had recently directed Independent Artists' The Cracksman starring Charlie Drake, was clearly their idea of a more commercial director. But it was an awkward situation for both men since Scott had worked under Cotes at Rediffusion. But Scott was under contract, and as Cotes subsequently discovered when he sued Independent Artists for unfair dismissal, the contracts were legally feudal, with a clear master-servant relationship. When the case was heard at the High Court in 1968, the Judge, Mr Justice McKenna ruled that the company had not acted unfairly because the producers, "sincerely believed (Cote's) version of the film would fail.*". However, although he was ordered to pay costs, Peter Cotes felt he was morally vindicated. The judge had noted that Bitter Harvest had lost £140,000. Having viewed the finished movie and compared it with Cotes' rushes, he concluded that, "I cannot imagine a good or successful film being made of this script by Mr Cotes or anybody else." However, he concluded that, "I think that Mr Cotes' film would have been more pleasing to the public than the finished film."
Cotes never directed a film again, believing he had been 'blacklisted' for taking legal action against independent Artists. However, he did go on to direct TV plays for Anglia Television and also mounted his own stage productions. These included Lesley Storm's Look No Hands at the Fortune Theatre in July 1971, which was Janet Munro's last stage performance before her death in 1972 (You can read more about Janet Munro in the biography of her husband, Ian Hendry. While the failure of the film appears to have killed John Stride's chances as a leading man in movies, he had won the lead in the BBC's adaptation of The Scarlet And The Black by May 1965, joined the National Theatre, and following his role in The Main Chance was voted top male actor of 1970 by readers of the TV Times.
With the movie disowned as a suitably bitter experience by the makers, Twenty Thousand Streets Under The Sky was finally dramatised by Frederick Bradnum for BBC Radio 4 in 1989 with Steven Pacey (Blakes Seven) as Bob, Annette Badland (Midsomer Murders) as Ella, Emily Morgan (Brass) as Jenny and John Moffatt (radio's Hercule Poirot) as Ernest Eccles.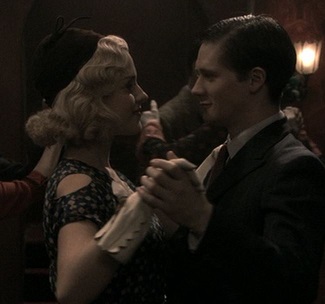 Zoe Tapper as Jenny as Bryan Dick as Bob in Twenty Thousand Streets Under The Sky(2005)
In 2005, BBC 4 commissioned a new adaptation of Twenty Thousand Streets Under the Sky. Initially broadcast over three nights in April 2005, followed by a two and a half hour complilation on Saturday 23 April, the serial was repeated on BBC 2 over three Fridays in September 2005. The script was by Kevin Elyot, whose 1994 stage play,My Night With Reg had been an award-winning success. His 1990 BBC play Killing Time, starring Pip Donaghy as a Dennis Nilson figure had also won a Writers Guild award. For the rest of this sadly short career, he balanced more personal projects with ITV Agatha Christie screenplays such as Curtain:Poirot's Last Case and Marple: The Mirror Crack'd From Side To Side. The adaptation of Twenty Thousand Streets Under The Sky was done on a very low budget, meaning the story had to be 'closed down'. Many exterior scenes in the book were relocated to the small number of sets constructed for the TV show. In some ways, this intensified the sense of claustrophobic authenticity. Ironically (given Elyot's later career) the production team avoided the art deco look of Poirot, setting the characters in more run-down faded-Victorian surroundings. They also took the decision to reinstate the overlapping time periods of the original. Faced with a small cast and a limited number of extras, director Simon Curtis (My Week With Marilyn) was struck by Bill Brandt's 1930's photographs, isolating solitary characters against stark backgrounds. According to the DVD commentary he originally thought of filming the series in black-and-white, but eventually compromised with desaturated colours which create an appropriate mood of coal and tobacco mistiness. On the DVD commentary, producer Kate Harwood notes that the costume designer realised that they would have to use patterns rather than colours to differentiate the costumes, contributing to the authentic period atmosphere. The costumes worn by the characters often clash because working class people in the 1930's could only afford a few clothes and chose combinations on the basis of how warm they were, rather than whether they matched.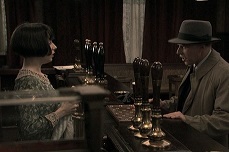 Sally Hawkins as Ella and Philip Davis as Ernest Eccles
The four leads were captivating. Bryan Dick (later Ernie Wise in the 2011 Morecambe and Wise bioplay Eric and Ernie) presents Bob's essential good nature and constrasting dreaminess ("the hysteria and obsession of his pursuit" . Zoe Tapper (Survivors 2008) is a subtly unpredictable Jenny - selfish, deceitful, but with enough humanity to make Bob's love for her believable. Sally Hawkins (Paddington, Godzilla) is heartbreaking as Ella, silently in love with Bob, her story now restored to its full length in the final episode. We see the home life she has escaped, her mother (Susan Wooldridge) trapped in an abusive marriage. We see the vague prospect of escape being held out to her as Nanny to the children of a middles class family emigrating to India. In Bitter Harvest Ella's suitor had been reduced to a couple of lines from regular support actor Allan Cuthbertson. In the TV show, the incomprehensible Ernest Eccles is given his full due played by Philip Davis (Quadrophenia, Brighton Rock). Davis had recently worked with Sally Hawkins in Vera Drake (2004) (and would work again with Zoe Tapper in The Curse of Steptoe(2008) in which he played Wilfred Brambell and she played Sheila Steafel). Davis manages to make Eccles both grotesque and slightly pathetic. Is it worse being pursued by Eccles or beingEccles? Is Eccles, Patrick Hamilton's vision of what he would become if he did not pull himself away from the pubs of Fitzrovia?
The BBC adaptation of Twenty Thousand Streets In the Sky unravels, and reinstates the characters and situations crumpled together in Bitter Harvest. Its humanity could come as a surprise to those viewers who think they know what to expect from the later, more embittered Patrick Hamilton, and stands as a fitting adaptation of the work of, a writer who is constantly in danger of being forgotten.
*Peter Cotes' comments on the background to Bitter Harvest can be found in a 1990 interview for the British Entertainment History Project. The outcome of his legal action and comments by the Judge were reported in the Daily Mirror 27 November 1968.