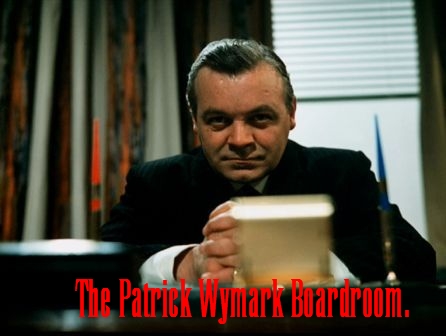 The Churchill Factor
On his death in 1965, The Observer noted that, ďIn an age of mechanism and outward drabness, Churchillís splendour of language had the power to release great energies and was at least one of the factors which in 1940 saved the country from ruin.Ē
Patrick Wymark interpreted Churchillís words several times in the 1960ís, but never as a caricature or impersonation. Wymark sometimes approximates the rhythm of Churchillís speech, but his diction has the clarity of a trained actor, animating Churchillís magnificent use of the English language.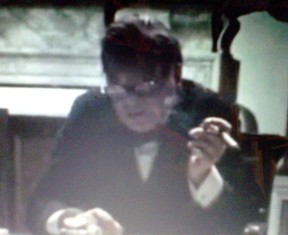 Sunday 6 January to Sunday 20 January 1963 Churchill (BBC Home Service). Michael Hardwick adapted three extracts from My Early Life , published in 1930. Later filmed as Young Winston, the book covered his childhood and adventures in the Boer War.
As a young cavalry officer, Churchill convinced his commander to let him supplement his army pay by moonlighting a war correspondent. When the Morning Post offered to pay him almost as much in a month as the army was paying him in a year, Churchill resigned his commission.
While reporting on the Boer War, Churchill was captured by the Dutch colonists and interned in a prison camp. After a few weeks of boredom, Churchill escaped over the wire and dodged his pursuers, making his way over 300 miles to friendly territory.
In 1900, Churchill was elected Member of Parliament for Oldham, serving in several Government offices including Home Secretary and Secretary of State for War. Throughout this time, Churchill contributed articles to newspapers and magazines (also writing books on those occasions when politics went against him).
October 1963 Churchill: Thoughts and Adventures (BBC Home Service). Published in 1932, Thoughts and Adventures was titled Amid These Storms in America. The book was based on newspaper articles written by Churchill over the previous 20 years. The opening episode was adapted from the first essay, ďA Second Choice,Ē in which Churchill reflects on whether it would be desirable to relive your life with knowledge of past mistakes. This would allow us to live life twice, the first time without consequences, and the second time for real. Churchill concludes that itís best to live only once.j ďLet us treasure our joys but not bewail our sorrows. The glory of light cannot exist without its shadows. Life is a whole, and good and ill must be accepted together.Ē
Subsequent episodes covered Spy Stories and The Battle of Sidney Street, in which Churchill as Home Secretary decided to personally direct the police siege on a gang of anarchists. He remembered this as ďa peak of adventure and sensation.Ē The final episode was based on the chapter, Painting as a Pastime, in which Churchill related his pleasure in teaching himself to paint. ďI know of nothing which more entirely absorbs the mind, ďhe said, ďOnce the picture begins to flow there is no room for the worries of the hour or the threats of the future.Ē
September 1964 The Finest Hours. Documentary film directed by Peter Baylis, knitting together family photographs, newsreel footage and colour recreations. Churchillís view of his wartime leadership was narrated by Orson Welles, with Patrick Wymark providing Churchillís quotes. The film was produced by Jack Le Vien, a former cameraman and eventually vice president of Pathe News. Le Vien had established a relationship with the Churchill family when he produced The Valiant Years, a TV series based on Churchillís memoirs. Narrated by Gary Merrill, with Churchillís words spoken by Richard Burton, the 26 part series was screened in 1960 by NBC, and 1961 by the BBC. (Le Vien later produced The Gathering Storm, a TV movie starring Richard Burton as Churchill. NBC Broadcast as part of the Hallmark Hall of Fame on 29 November 1974. Broadcast by the BBC as Walk With Destiny on 1 December 1974.) According to the publicity for the film, Patrick Wymark had already recorded his Churchill speeches when Orson Welles arrived in the Chancery Lane studio to do the commentary. "Too often, you have Churchill-actor voice speaking very near to a recording of Churchill's real voice. The contrast will be too great. Therefore, I am going to record some of those Churchill-actor speeches myself. Then you can take your choice." Evidently, having hired Patrick Wymark because he was already established for sounding like Churchill, producer Le Vien opted to stick with Wymark."
Journalist Colin Frame was in the studio when Wymark, "came for a trial run, fresh from his triumphs in TV's 'Plane Makers' series. You had only to hear him snarling about, 'the Nazi war machine with its dandified Prussian officer,' to hear the drama in his fine voice. Le Vien, who had not met him before, was bubbling with excitement. 'Great..great.' he said, striding about restlessly as the voice swept through the studio speakers."
1964 The Finest Hours (LP) Original Soundtrack Orson Welles narration, Patrick Wymark as Churchill, Music by Ron Grainer (Philips UK/Mercury US)
30 November 1964 Hallmark Hall of Fame: The Other World of Winston Churchill (NBC). Documentary , narrated by Paul Schofield with Patrick Wymark as the voice of Churchill. Adapted by Caryl Brahms from Churchillís Painting as a Pastime, the film was directed by Louis Clyde Stoumen and produced by Jack Le Vien.
Hallmark Cards founder Joyce C. Hall made a deal with Winston Churchill in 1950 to reproduce his paintings on greetings cards and organised a travelling exhibition of Churchillís paintings across America in 1957. The Other World of Winston Churchill was first broadcast on the Hall of Fame series, sponsored by Hallmark, to coincide with Churchillís 90th birthday and released to UK cinemas in 1967.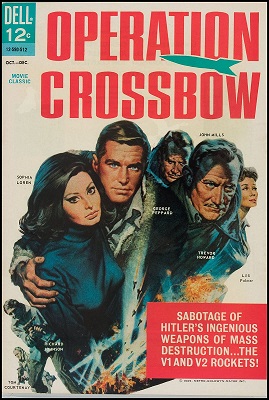 Operation Crossbow (1965). Wymark plays Winston Churchill in the opening minutes of Michael Andersonís Euro-epic about Hitlerís flying bombs. He wears light make-up and costume to make him look like Churchill, although he is filmed from behind or in shadows while briefing real-life Government Minister Duncan Sandys (Richard Johnson). As in the documentaries, Patrick Wymark does not attempt a grotesque impersonation of Churchillís voice. There is a hint of Churchill in the delivery, but the words are delivered with studied clarity.
The film mixes fact and fiction, detailing the development of the missiles, the discovery of their launching sites and the recruitment of allied agents George Peppard, Tom Courtney and Jeremy Kemp. After that it segues into a fictional Alastair McLean-type secret mission. The mission includes a superfluous appearance by Sophia Loren, wife of producer Carlo Ponti. (Despite appearing on the cover of the Dell Comics tie-in, Lorenís scenes were excised from the comic book without any noticeable harm to the plot). Ironically, the most thrilling scenes are those featuring Barbara Rueting as test pilot Hannah Reitsch. Despite knowing that the V1 and V2 caused death and destruction in Britain, the scenes where Reitsch pilots a prototype trying to discover why the bombs fly off course is gripping (especially because of an audacious piece of misdirection by Anderson towards the climax of the sequence).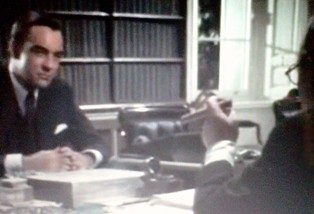 In Operation Crossbow, Wymark is filmed in a respectful half-light when he instructs Duncan Sandys, (Richard Johnson) to find the source of Hitlerís Flying Bombs. Like Wymark, Johnson was a graduate of the Royal Shakespeare Company, having played Sir Andrew Aguecheek to Wymarkís Sir Toby Belch in Peter Hallís 1960 production of Twelfth Night. An additional irony is that after the war, Duncan Sandys became the Air Minister who decided to focus military spending on missiles rather than fighter planes and forced the contraction of the aircraft industry which formed the background of The Plane Makers.
1965 A King's Story. Documentary narrated by Orson Welles with Patrick Wymark as the voice of Winston Churchill. Directed by Harry Booth, written by Sydney Box and Glyn Jones, this tells the story of the Duke of Windsor and his abdication. Produced by Jack Le Vien, the film was made with the participation of the Duke and Duchess of Windsor.