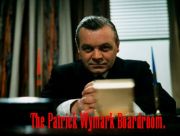 Film Roles:
The Devil's Bait (1959). Shown on Talking Pictures TV recently, this appears to be an early, uncredited appearance by Patrick Wymark. The film stars Geoffrey Keen and Jane Hylton as bakers who accidentally prepare some poisoned bread when an alcoholic rat catcher leaves traces of cyanide in one of their tins. A warning about the bread is broadcast over a "smooching couple's" car radio and is overheard by one of the baker's customers. When the customer cries out after hearing the radio broadcast, the man - who appears to be Patrick Wymark - asks the girl he's been kissing: "What?" . She says, "Someone said No" and he replies roguishly, "You wouldn't say a thing like that?"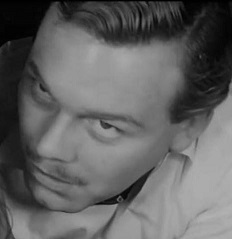 Thanks to Marcus Heslop and "Philly" at the Britimovie Forum for spotting this. While there is no documentary proof that it's Patrick Wymark's first film appearance, it looks and sounds enough like Patrick Wymark to convince me,
The Criminal (2 Oct 1960) Prison drama directed by Joseph Losey and starring Stanley Baker as Johnny Bannion. Patrick Wymark played Sol.For more on "The Criminal" go to this page
The League of Gentlemen (1960) Wymark appears as Wylie, descibed in the script as a "prosperous wide boy". For more go to this page.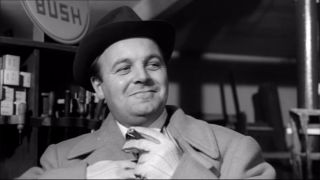 Scales of Justice (Nov 1962) A Womans Privilege. One of the Anglo Amalgamated series of short films produced at Merton Park and introduced by Edgar Lustgarten. Shirley Fawsett meets Joe Ashton on a cruise, but the result is a court case for breach of promise. Wymark plays the defence counsel in the climactic court scenes.For more go to this page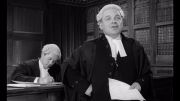 West 11 (10 Oct 1963) Adapted from convent educated Laura Del-Rivo's novel of beatnik life, 'The Furnished Room', West 11 was written by Keith Waterhouse and Willis Hall and directed by Michael Winner. Alfred Lynch starred as the nihilistic lead and Patrick Wymark appeared as Father Hogan, the family priest and learner driver who suffers from, "the sin of pride on me three point turns" For more on "West 11 go to this page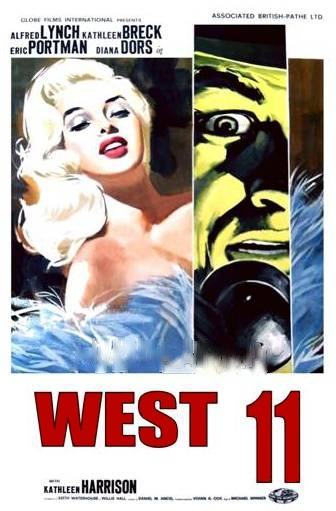 Dr. Syn, Alias the Scarecrow (12 December 1963) A 98 minute movie version of "Dr. Syn: The Scarecrow of Romney Marsh" (1964) a three part series for Walt Disney's Wonderful World of Color NBC TV show. Patrick McGoohan played Russell Thorndykes Dr Syn, 1760's vicar by day and smuggler by night.Patrick Wymark appears in the second episode as informer, Joseph Ransley.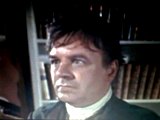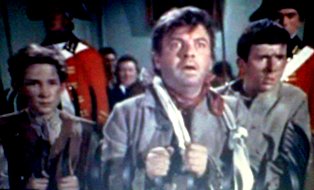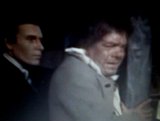 For more on "Dr Syn Alias The Scarecrow go to this page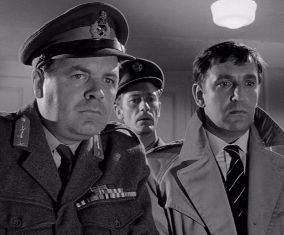 Children of the Damned (9 April 1964) In this sequel to John Wyndham's "Village of the Damned", Wymark only appears in the last fifteen minutes. Pictured above (with Alan Badel) as commander of the forces called in to control the paranormal children. He carries out the role with quiet authority, rather than the stereotypical psychopathic behaviour which military officers display in more recent science fiction movies. For more on "Children of the Damned" go to this page.
The Secret of Blood Island (13 June 1964) Directed by Quentin Lawrence, Hammer films' prequel to The Camp on Blood Island, tells the story of an attempt by British Prisoners of War to hide secret agent Barbara Shelley from their Japanese captors. Wymark plays Major Jacomo, prison camp commander. The film was made between July and September 1964 with the bamboo huts of the prison camp erected in Black Park. The film was released on a double bill with William Castle's The Night Walker in December 1964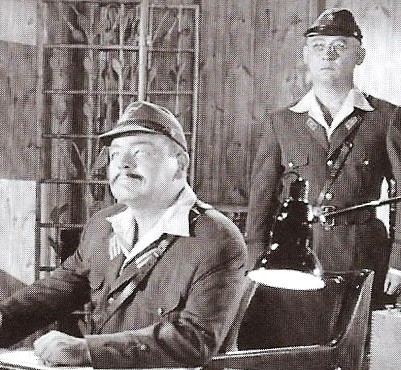 Patrick Wymark as Major Jacomo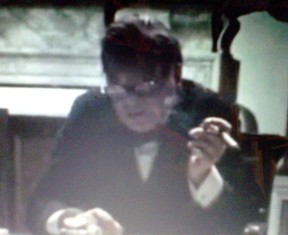 Patrick Wymark as Winston Churchill
The Finest Hours (29 April 1964). Directed by Peter Baylis. Produced by Jack Le Vien. Documentary life of Winston Churchill, narrated by Orson Welles with Patrick Wymark as the voice of Winston Churchill and George Baker as the voice of Randolph Churchill.
Operation Crossbow (19 May 1965) Directed by Michael Anderson,this Euro-epic mixes fact with fiction in the tale of allied agents George Peppard and Jeremy Kemp's efforts to sabotage Hitler's flying bombs. Patrick Wymark plays Winston Churchill in the opening scenes - Wymark had a mini-career interpreting the words of Churchill in documentary films such as "The Finest Hours" (above),"A King's Story", and "The Other World of Winston Churchill" For more on Operation Crossbow and Wymark's Churchill work go here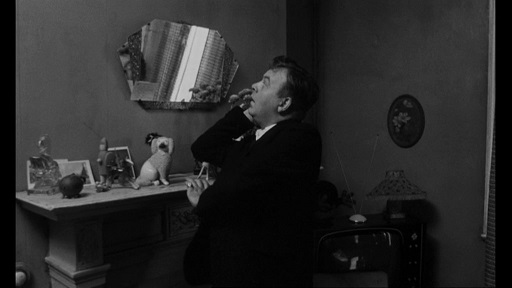 Repulsion (27 June 1965) Roman Polanski's first English movie won the Silver Bear Award at the 1965 Berlin Film Festival. Wymark plays the "Rachman-like landlord "* of Belgian manicurist Carol Ledoux (Catherine Deneuve), who has already committed one murder by the time Wymark unwisely forces his attentions on her. Producer Michael Klinger reputedly convinced Wymark that he should accept a lower fee than usual "in return for the privilege of working with a hot young director". Denis Meikle*, in 'Roman Polanski;Odd Man Out" (2006) says, "The iciest chill is felt in the expression of terror that imprints iteslf on the landlord's face as Carol takes a surreptitious swipe at the nape of his neck with an open razor and his trembling fingers alight on his own blood." For more on Repulsion, go here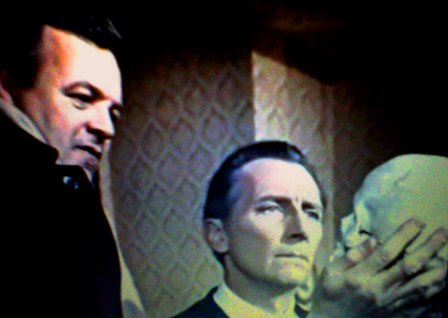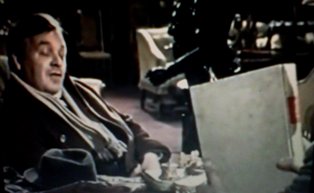 The Skull (25 Aug 1965 - USA 4 Nov 1966 UK) Peter Cushing plays Dr. Christopher Maitland, a researcher into the occult. Wymark plays Anthony Marco, a dealer who brings Maitland a book bound in human skin and then tempts him with the skull of the Marquis de Sade. The script for "The Skull" was notoriously under-written, giving director Freddie Francis license to extend the running time with imaginative camerawork and and long wordless sequences. Wymark plays Marco as cultured but shabby. He gets to narrate the history of the Marquis De Sade, while wandering around the elaborate set of Cushing's study but finally falls victim to the Skull. For more on The Skull, go here.
The Psychopath (4 Feb 1966)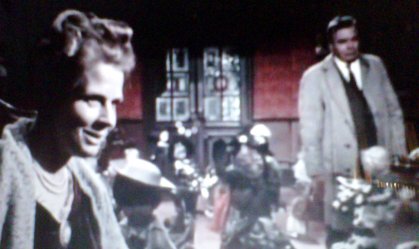 Scripted by Robert Bloch (author of Psycho) and directed once more by Freddie Francis, this murder mystery from Amicus saw Wymark playing the cultured but curt Inspector Holloway, on the trail of a serial killer who leaves doll-like replicas of the victims at the scene of the crime. An early scene where Holloway visits the automated home of doll collector Mrs Von Sturm (Margaret Johnston) has an Avengers-like creepiness, and the film is given more atmosphere than it deserves by Elizabeth Luyten's score.For more on The Psychopath, go here
Hear Harry Dobermann discuss The Psychopath with Dr Terror here.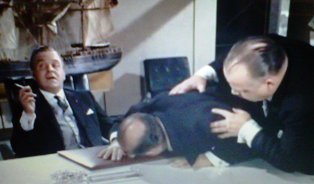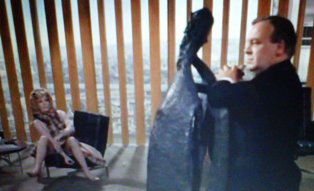 Woman Times Seven (27 June 1967) (Sette Volte Donna)1967. Italian/French/American anthology film starring Shirley MacLaine. Wymark plays a businessman whose wife (MacLaine) learns that rival Adrienne Corri plans to wear a copy of her dress to the first night of the Opera. For more go here.
Tell Me Lies (17 Feb 1968)
Peter Brook's drama-documentary, illustrating anti-Vietnam War sentiment in 1960's London's artistic and intellectual community. Patrick Wymark appears on stage with Paul Schofield reading Siegfried Sasson's war poetry. "For more detail go here

Witchfinder General (19 May 1968) In 'Vincent Price - The Art of Fear', Denis Meikle finds, "sequences of striking beauty and a film, on the whole, which was more authentic in tone to the period in question than director Ken Hughes' multi-million pound production of Cromwell, made three years later." Wymark's one scene as Oliver Cromwell is promoted to Guest Star status, indicating the level of fame which The Power Game had brought For more on Witchfinder General go to this page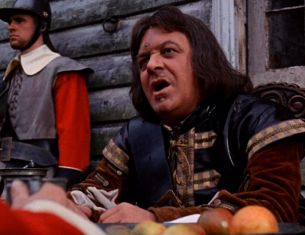 Where Eagles Dare (22 January 1969)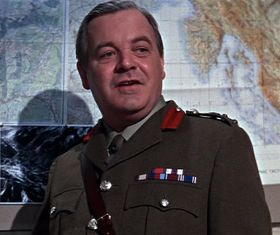 Similar in format to the author's earlier Guns of Navarone, (and allegedly drafted from a wish-list of incidents from the film' producer) it sends Richard Burton, Clint Eastwood and Mary Ure into Nazi Germany to pull off an impossible mission. Wymark has the James Robertson Justice role, briefing the agents and monitoring their progress.
Doppelgänger (8 October 1969) (alternative title: Journey to the Far Side of the Sun) Wymark stars as Jason Webb, director of EUROSEC. Filmed July to October 1968. Wymark was cast in a role which publicity described as "John Wilder (2069 style)". Producers Gerry and Sylvia Anderson were self-confessed Power Game fans (Anderson later worked with script editor Wilfred Greatorex on an abortive script called Youth is Wasted on the Young). "I wanted Patrick in the picture because of what I'd seen him do on television." Anderson said. The Anderson's cast George (Hagadan) Sewell as Webb's security chief and Norma Ronald as Webb's secretary (repeating the role of Kay Lingard in the Power Game). Also starring Roy Thinnes and Ian Hendry, the film dealt with the discovery of a twin planet to Earth on the opposite side of the Sun.For more on "Doppelganger go to this page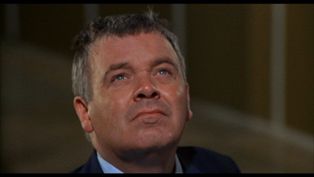 Doppleganger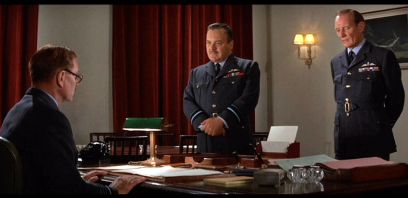 Battle of Britain (15 September 1969) In Guy Hamilton's dramatised account of real life events, Wymark plays Air Chief Marshal Sir Trafford Leigh Mallory. Wymark's on-screen time is brief, but still controversial. For more on "Battle of Britain go to this page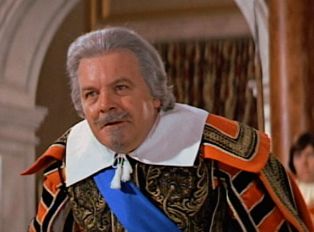 Cromwell (16 July 1970). Ken Hughes' Civil War epic, filmed in the spring of 1969, featured Wymark as the Earl of Strafford For More details see here
Blood on Satan's Claw (14 April 1971 -USA 16 July 1971 - UK )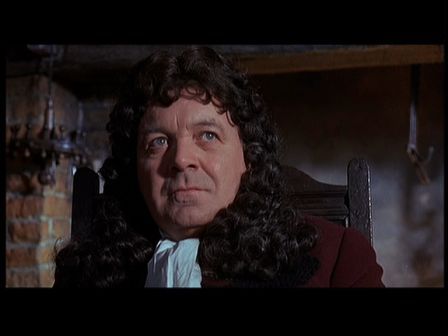 One of the last great period horror films, Blood on Satan's Claw stars Wymark as a Judge who visits a village gradually infested by satanic evil. For More on Blood On Satan's Claw see here
The Man from the Other Side (Cheloveks Drugoy Storony) (26 March 1972)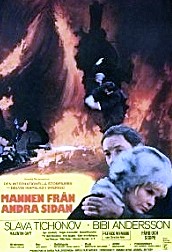 Directed by Yuri Yegorov, this Swedish-Russian historic adventure stars Russian actor Vyacheslav Tikhonov (who had starred in the 1967 version of War and Peace) as Viktor Krymov and Bibi Andersson as Britt Stanelius. Patrick Wymark played industrialist, Christian Holm. Despite being the last of Wymark's films released, it was filmed in late 1969.For more on "The Man From The Other Side go to this page