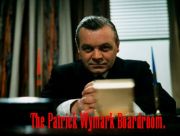 Television
2 October 1955 The Merry Wives of Windsor, A special performance of Glen Byam Shaw's production from the Shakespeare Memorial Theatre. Anthony Quayle as Falstaff, William Devlin as Sir Hugh Evans, Patrick Wymark as the Host of the Garter Inn.
15 December 1955 OthelloGordon Heath as Othello, Rosemary Harris as Desdemona, Paul Rogers as Iago, Patrick Wymark as Montano.
18 February 1956 Tales of Soho: The Ladder (BBC1) by Berkeley Mather. Starring John Welsh as Detective Chief Inspector Charlesworth with Paul Rogers as Benham and Patrick Wymark as Dusty
12 January 1958 Television World Theatre: Women of Troy Patrick Wymark as Menelaus (by permission of the Governors of the Shakespeare memorial Theatre and H.M.Tennent).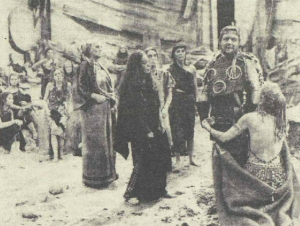 22 January - 28 February 1958 The Black Arrow. (BBC 1). Wymark appeared in 5 of the 6 episodes of this Robert Louis Stevenson adaptation. Wymark played Will Lawless, a former Franciscan Friar and second-in-command to Ellis Duckworth (Patrick Crean), organiser of the Fellowship of the Black Arrow. For more information click here! .
Sunday 11 January 1959 Meeting Point (BBC1)"God Slot" programme from BBC Midlands. The Reverend Leslie Weatherhead answers questions about spiritual healing from an actor Patrick Wymark, a businessman Geoffrey Smith and a Queen's Counsel.
Tuesday 19 May 1959. World Theatre: Danton's Death Based on James Maxwell's translation for the 59 Theatre Company For more information click here!
On 11 August 1959, Wymark played "the Mayor" in Brand a BBC World Theatre production of Henrik Ibsen's 1866 play directed by Michael Elliot and starring Patrick McGoohan. Based on Elliot's stage adaptation for the 59 Theatre Company at the Lyric Opera House Hammersmith. Reviewers praised the naturalistic, conversational performances of Wymark and Peter Sallis in contrast to McGoohan's more stylised performance.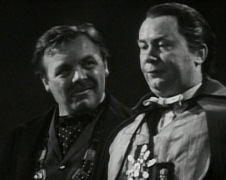 "In Elliott's production the mayor is given a prop that is not specified by Ibsen, resulting in 'business' with a cigar. This contrast of registers of acting between performers is dictated by Ibsen's scenes, rather than by the performers' decisions. The Doctor, Provost and Mayor are all worldly characters with pragmatic concerns whose dialogue displays a political ability to manipulate the actions of the listener they are talking to, even of a fervent figure like Brand." Billy Smart http://screenplaystv.wordpress.com/2012/01/27/world-theatre-brand-bbc-1959/

4 October 1959. Sunday Night Theatre What The Public Wants . Foreshadowing his role as John Wilder, Patrick Wymark played Press Baron Sir Charles Worgan (a character based on Lord Northcliffe), in this adaptation of Arnold Bennett's play. Sir Charles Worgan controls 40 newspapers across the country and sees himself as a service provider, giving the public the views they want rather than the truth - conservative in one paper, liberal in another. The play opens with his dramatic critic, Simon Macquoid (Geoffrey Dunn) resigning, not over any great matter of principle (as in Citizen Kane) but because a split infinitive has been sub-edited into his column. "What is a split infinitive?", Sir Charles asks his visiting brother Francis (Hugh Burden ), and in the course of answering Francis takes on the newly vacant role of theatre critic. Edgar Wreford played theatrical manager Holt St John who espouses the Reithian ideal of Give The Public What They Ought To Want while Dulcie Grey played Mrs Vernon, a widow who Worgan unsuccessfully desires while Annie Worgan was played by Elizabeth Wallace (who would later play David Corbett's secretary Harriet Evans in the third series of The Plane Makers) . The play was directed by Peter Cotes, older half-brother of the Boultings, who had been head of drama at Rediffusion for five years. Cotes had put on a rare production of the stage play in 1949. In a preview article for The Stage, he commented that men like Worgan, "are shy and gauche as lovers because they do not feel the consuming fire which burns away all awkwardness and shame. Such a man is incapable of love...because the forces of his nature...have gone towards the building up of his business." This indicates one significant dimension in which Sir Charles would differ from Wilder.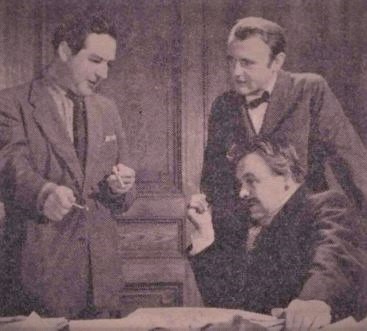 Peter Cotes directs Hugh Burden and Patrick Wymark in What The Public Wants
Sunday 17 January 1960 Twentieth Century Theatre: Colombe (BBC1) Adapted by Denis Canaan from the 1950 play by Jean Anouilh. Sean Connery stars as Julien, a high-minded soldier who returns home to find that his actress mother (Francoise Rosay) has hired his submissive wife Colombe (Dorothy Tutin) to work in the theatre. Patrick Wymark plays Serette, the sour, subjugated secretary.
Sunday 8 May 1960 Meeting Point: Across the Table (BBC1)"God Slot" programme from BBC Midlands. The Reverend Kenneth Slack, Secretary of the British Council of Churches answers questions about Christian unity from an actor Patrick Wymark, a businessman Geoffrey Smith and a solicitor.
Sunday 3 July 1960 Meeting Point: Across the Table (BBC1)"God Slot" programme from BBC Midlands. The Reverend Donald Soper answers questions about the Christian attitude to political affairs from an actor Patrick Wymark, a businessman Geoffrey Smith and a solicitor.
13 November 1960 Danger Man: An Affair of State (ITC/ATV) Patrick Wymark plays Ortiz. Patrick McGoohan stars as Secret Agent John Drake, visiting San Pablo to investigate the suicide of a US Treasury Official. Read more about it here .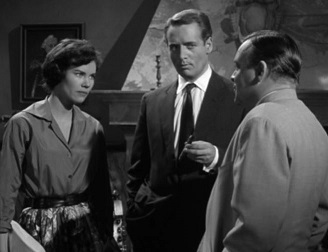 Dorothy White co-stars in Danger Man with Patrick McGoohan and Patrick Wymark . She would also appear with Wymark in The Takers
2 April 1961 Drama '61 :The Takers (ATV)by Jacques Gillies - Patrick Wymark played Boucard the private detective of Baron Van Der Zost (Guy Deghy), the fifth richest man in the world. Van Der Zost moves his family and jewel collection into the heavily guarded penthouse of a London hotel. While the Baron holds a light-hearted press conference, his security team led by Boucard finalises arrangements for the jewels. But, in an adjoining suite Hartley Downing (Donald Houston) plans "the biggest take in history".Read more about it here ..
Sunday 18 June 1961 Meeting Point: Across the Table (BBC1)"God Slot" programme from BBC Midlands. Lord Longford answers questions about the Christian attitude to punishment from an actor Patrick Wymark, a businessman geoffrey Smith and a solicitor.
Sunday 17 September 1961 Meeting Point: Across the Table (BBC1)"God Slot" programme from BBC Midlands. The Reverend George MacLeod answers questions about his work at Iona meeting the needs of a changing society from an actor Patrick Wymark, a businessman Geoffrey Smith and a solicitor William Neil.
31 December 1961 Sir Francis Drake (ITC/ATV) The Garrison - Patrick Wymark played Captain Williams, leader of the British fort at Blanckenburg, besieged by the Spanish and awaiting desparately needed provisions from the Golden Hind. Read more about it here .
17 April 1962 The Cherry Orchard (BBC 1) Based on the Royal Shakespeare Company production. John Gielgud, Judi Dench, Dorothy Tutin, Peggy Ashcroft, with Roy Dotrice, Ian Holm, Patrick Wymark (as the bumbling clerk Epihodov).
Sunday 29 April 1962 Meeting Point: Across the Table (BBC1)"God Slot" programme from BBC Midlands. Canon Collins answers questions about his founding of Christian Action from an actor Patrick Wymark, a businessman Geoffrey Smith and Charles Curran MP. (Patrick Wymark appears by permission of the Goverors of the Royal Shakespeare Theatre, Stratford-on-Avon).
04 May 1962 They Hanged My Saintly Billy (BBC 1) Directed by Peter Dews and adapted by Rosemary Hill from Robert Graves' novel. Patrick Wymark starred as William Palmer, the 'Prince of Poisoners'. For more information click here!
03 August 1962 The Cruel Necessity (BBC 1) Directed by Peter Dews and written by David Lytton. Patrick Wymark starred as Oliver Cromwell in this play about the decision to execute King Charles I. For more information click here!
16 September 1962 Armchair Theatre (ABC) The Sin Shifter . Set in Wangaree, a pearling centre that has run out of oysters, the play by Bruce Stewart starred Wymark as Manny Barnes, a fisherman who wants to convert the Town Hall into a gambling den. The TV Times publicised the play as being a major shift from Wymark's comic Shakespearian roles, although with James Maxwell, one of the founders of the 59 Theatre Company) as the Catholic priest who opposes Barnes, the play's ethical dilemma could be seen as capitalising on productions such as BRAND.
20 November 1962 Play of the Week (ATV) The Typewriter by Jean Cocteau (adapted by Giles Cooper, produced and
directed by Joan Kemp-Welch.)The play survives in the WNET collection of the American Library of Congress. For more details click here

24 November 1962 (ATV) Man of the World . ITC syndicated series starring Craig Stevens. The Mindreader - Patrick Wymark played Downing.
21 January 1963 Freya of the Seven Isles (BBC) by Joseph Conrad, adapted by Leo Lehman
Wymark plays Heemskirk, a Dutch officer who destroys both Freya (Ann Lynn) and his love rival (Neville Jason) through his plotting.For more details click here

25 January 1963 Television Playhouse (ITV) The Paleto Confession by Patrick Ryan directed by Michael Currer-Briggs.). Wymark starred as Father Joseph, alongside Martin Benson and Bernard Archard, with Roy Holder. Writing in the Catholic Herald, Eve McAdam asked, "Why can't writers get away from that old, old situation of the secrecy of the confessional? It came up again in "The Paleto Confession" in which Patrick Wymark. himself a Catholic, played Fr. Joseph. This play by Patrick Ryan, head postmaster at Harrogate, would have been a stronger one had it concerned itself with the sub-plot, about the rehabilitation of the thieving boy (a marvellous performance by Roy Holder). His was the story that held us, that was true to life, and not the grand guignol of the disappearing corpse in the vestry."
Friday 1 March 1963, Comedy Playhouse.(BBC1) Wymark returned to comedy in a script by Galton and Simpson. "Our Man in Moscow" starred Robert Morley as the British Ambassador in Moscow dealing with Nicolai (Wymark) a Russian tuba player applying for political asylum. (repeated 20 August 1963)
22 March 1963, As You Like It. (BBC 1) Adaptation of Michael Elliott's 1961 Royal Shakespeare Company production in which critics fell in love with Vanessa Redgrave as Rosalind. Patrick Allen, who starred in the 1962 London transfer to the Aldwych repeats his role as Orlando. Recorded 22 December 1962, Patrick Wymark recreated his Aldwych perfomance as the jester, Touchstone with Rosalind Knight as Celia and Max Adrian as the melancholy Jacques. Directed by Michael Elliott and Ronald Eyre.
14 March 1963 Moonstrike: Five House to Kill (BBC 1). Dramatised documentary series by Robert Barr based on the war time exploits of the Special Operations Executive. In an episode about a Lysander crew attempting to pick up an agent who has already been detained by the Nazi's, Wymark played Abess.
31 March 1963 Armchair Theatre: The Invasion (ABC) was written by novelist Angus Wilson and starred Wymark and Eleanor Summerfield as a "new rich" couple whose conflict with the landed gentry provides a smokescreen for a Martian invasion.
14 April 1963 About Religion:The Night Before The Execution (ATV). Patrick Wymark as Barabbus, Bill Owen as Prisoner, Jane Merrow as Girl.
Sunday 21 April 1963 Meeting Point: Across the Table (BBC1)"God Slot" programme from BBC Midlands. The Reverend Mervyn Stockwood, Bishop of Southwark answers questions about his experiences from an actor Patrick Wymark, a businessman Geoffrey Smith and Charles Curran MP.
11 June 1963 Play of the Week (ATV) The Seventh Wave by Elizabeth Dawson. Directed by Tania Lieven. With Ann Bell as Sally Brent, Anthony Booth as Peter Miller. Patrick Wymark starred as Joe Brent, skipper of the trawler Barnoldby, who blamed Peter Miller for his son's death. Frank Whitmarsh said "He threw himself eagerly into playing the lead...largely because it was about Grimsby.." For more details go here
16 September 1963 The Plane Makers. The first series, broadcast from 4th February 1963, consisted of loosely connected plays set in the Scott Furlong aircraft company. The second series, beginning 16 September 1963, introduced a running cast and storylines, led by Patrick Wymark as John Wilder. For more details go here.
16 February 1964 Wonderful World of Disney - The Scarecrow of Romney Marsh Part 2 (NBC). Wymark appeared as Joseph Ransley in the second part of Disney's adaptation of Dr Syn (The other episodes ran on 9th and 23rd February). Many UK audiences had already had a chance to see the film version (Dr Syn Alias the Scarecrow) in December 1963.
27 April 1964. A Question About Hell. Written by Kingsley Amis, directed by Claude Watham. Wymark starred as Alfred Colliver with Richard Johnson as his brother Norman. Both men show their true nature in reaction to the free spirited behaviour of their widowed sister Angela Strachen (Caroline Mortimer). Part of Granada TV's A Question of Happiness strand, the play showed Wymark as a weak, possessive character.For more details go here.
The Plane Makers. 20th October 1964 saw the third and final series begin with the introduction of Alan Dobie as Wilder's nemesis David Corbett. For more details go here.
16 November 1964 Crime and Punishment (Rediffusion). Scripted by Stanley Miller, this two and a half hour adaptation (with a fifteen minute break for the news) starred David Collings as the murdering student Raskalnikov and Patrick Wymark as Porfiry, "facinating but enigmatic, a universal inquisitor, not the voice of an impersonal conscience" (The Times)
2nd December 1964 The Wednesday Play (BBC 1)– Malatesta Directed by Christopher Morahan, the play was adapted by Rosemary Hill from a translation by Jonathan Griffin of a story by Henry de Montherlant. Wymark played Sigismondo Malatesta, a ruthless fifteenth-century mercenary relaxing in the cultured surroundings of his palace in Rimini with his wife Isotta (Jessica Dunning). When he learns that the Pope threatens his power, the utterly evil side of his character reasserts itself. "There were times when Wymark;s performance seemed to be trying to burst out of the little box which imprisoned it (but) no conscientious account of the part could be small enough to fit in a television set (The Times 3 Dec)"
On December 16 1964, Patrick Wymark received the Best TV Actor Award from the Guild of TV Producers. After the awards ceremony at the Dorchester Hotel, he announced that he intended to leave The Planemakers because he wanted a change."
21 January 1965. Towards 2000 (Rediffusion ) 35 Years to Go Patrick Wymark introduced an episode of the documentary series looking at signposts along the way, from Shakespeare to the present, towards an unknown future."A series that looks at the implications of the next 40 years and the probable problems we face in the year 2000, such as over population and automation used in the work place."
February 1965. Night Spot (Rediffusion). Patrick Wymark is a guest in the late night variety series set in a real night club. Hosted by magician Frank Berry and Norma Ronald (Miss Lingard in The Plane Makers).
1 March 1965 Miss England (BBC1) From the Lyceum Ballroom, London, Patrick Wymark, Des O'Connor and Julia Lockwood are among the judges (also seen on Pathe Newsreel 4 March 1965).
6 March 1965 Sherlock Holmes (BBC 1) - The Copper Beeches


Douglas Wilmer (Sherlock Holmes) Nigel Stock (Dr. Watson) Patrick Wymark (Jephro Rucastle) Suzanne Neve (Miss Violet Hunter) Alethea Carlton (Mrs Rucastle).For a longer review go here.

22 March 1965. Play of the Week: I Remember the Battle (ATV). Written By Douglas Livingstone, directed by Dennis Vance. In his first ITV drama since leaving The Plane Makers, Patrick Wymark stars as William Peglar, a mediocre man who believes he had a touch of greatness in the war. He has published a book about his most heroic exploit, and a group of men from his old unit ask him to unveil a monument to the men who didn't come back. With Brian Wilde, Valerie White, John Tate and Harry Fowler.
28 Mar. 1965. The Eamonn Andrews Show: with Bob Monkhouse, Gerry and the Pacemakers, Dionne Warwick
22 April 1965 Mainly Millicent (ATV). Patrick Wymark joins singer Millicent Martin in musical numbers and a sketch playing a workman in a manhole.

27 September 1965. Four of Hearts. (Rediffusion) "Four plays starring one versatile actor"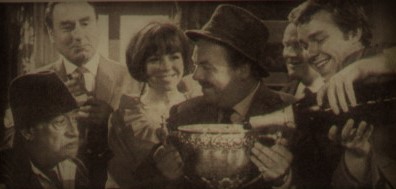 27 September 1965 TILT. by Mike Watts (Rediffusion).
4 October 1965. Please Love My Wife this page by Raymond Bowers. Guest Star Barbara Murray
11 October 1965. This Year's Girl. (Rediffusion). Written By Allan Prior.
18 October 1965 Sumertime Ends Tonight by Paul Lee (Rediffusion). Wymark played Miles Parker QC.
10 December 1965 Personal Appearance (ATV Midlands only) promoting The Power Game
On 13 December 1965, Wymark returned as Sir John Wilder in the first series of The Power Game
On 4 May 1966, Patrick Wymark introduced an episode of Gods Trombone Southern TV's religious variety show. Broadcast from Brighton College Chapel, the show featured Dame Flora Robson, Marion Montgomery and Miki & Griff .
24 May 1966, Patrick Wymark played Cromwell in the first episode of Royalist and Roundhead Rediffusions TV's 13 part examination of the Civil War. For more information click here!
On 26 September 1966, The Power Game returned for a second series until 19 December 1966.
27 October 1966, Call My Bluff (BBC2)Wynford Vaughan-Thomas, Millicent Martin, Patrick Wymark, Irene Thomas and Richard Wattis play the game of definitions devised by Mark Goodson and Bill Todman
29 November 1966 A Royal Gala (ITV) Wymark, Jack Watling & Barbara Murray appear in character in a sketch set in a hospital in the presence of the Queen and the Duke of Edinburgh. The show appears to have been mounted to have been to make up for the fact that the BBC was showing the Royal Variety Performance that year. Cliff Richard, Violet Carson, Pat Pheonix, the Beverley Sisters and Patrick Wymark were the top-billed stars. An extract exists showing William Mervyn (as Inspector Rose) vetting Coronation Street before the Duke of Edinburgh drives past. Arthur Lowe and Kenneth Cope (as former characters Leonard Swindley and Jed Stone) also appear alongside Phillip Lowrie as Dennis Tanner.
25 December 1966 Secombe, Friends and Relations. Christmas special with Harry Secombe, Michael Bentine, Dora Bryan, Patrick Wymark and Acker Bilk.
15 January 1967 The Eamonn Andrews Show: (ABC) With Barbara Murray, Lynda Baron, Ted Ray.
11 December 1967 Playhouse - Top of the Ladder by Tyrone Guthrie. Adapted by Cyril Coke. With Shirley Cain, Rachel Herbert, Derek Francis, John Wood, Patrick Wymark (Bertie)
20 January 1968 Once More with Felix (BBC2) Patrick Wymark joins folk singer Julie Felix
Playhouse: The Father (ATV 5 March 1968). Translated by Michael Meyer from the play by August Strindberg Directed by Dennis Vance, see here for more details.
Playhouse:The Judge (ATV 12 March 1968). Written by John Mortimer Directed by Dennis Vance, Wymark had starred in the recent stage version.
Playhouse: The Detour (ATV 18 March 1968). Translated by Barry Bermange from the play by Martin Walser Directed by Dennis Vance, see here for more details.
Playhouse: Public and Confidential (ATV 25 March 1968). Written by Benn W Levy Directed by Dennis Vance, see here for more details.
Howerd's Hour (ABC 12 May 1968). Comedy special written by Eric Sykes and starring Frankie Howerd with Hattie Jacques, Patrick Wymark, Janet Mahoney and Sandie Shaw.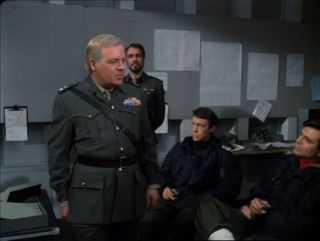 The Champions (ATV 30 October 1968). Operation Deep Freeze. Filmed in 1967, and showed at various dates on other ITV stations. Wymark guest starred as General Gomez, leader of a small but aggressive South American state developing an atomic bomb in the Antarctic in this episode.For a longer review go here.
7 January 1969 - The Power Game returned for a third series, ending 1st April.
7 May 1969 Frankie Howerd at the Poco a Poco (Thames TV ) Directed by William G. Stewart and written by former Morecambe and Wise scripters Sid Green and Dick Hills it starred Frankie Howerd, with guests Patrick Wymark and Hank B. Marvin.The Poco a Poco was a club and casino, formerly the Empress Cinema, Stockport.

13 June 1970 Thirty Minute Theatre: Lily (BBC2 ) Written by Jean Benedetti Directed by Hugh David.For more details go here.

29 November 1970 Hans Christian Andersen. Broadcast posthumously, this was a 75 minute Musical Comedy special for Nine Network Sydney, Australia. With Patti McGrath, Richard Deacon, John Fraser, and Patrick Wymark as the EmperorFor more details go here.