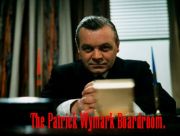 Patrick Wymark & Peter Dews: THEY HANGED MY SAINTLY BILLY & THE CRUEL NECESSITY
Friday 4 May 1962 THEY HANGED MY SAINTLY BILLY Directed by Peter Dews.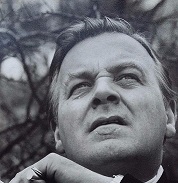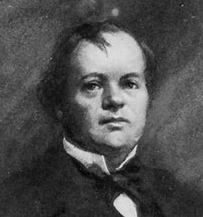 Patrick Wymark starred as the 'Prince of Poisoners', William Palmer in Rosemary Hill's adaptation of the novel by Robert Graves. Rugely surgeon William Palmer was hanged in 1856 for the murder of John Parsons Cook. He was accused of poisoning 14 people including his wife and children. A gambler with many debts, Palmer had the unfortunate habit of taking out life insurance policies on his patients, setting off against the risk of them dying with unpaid bills. Graves novel was written from the view that Palmer was the victim of an aggressive press campaign, naming him as a murderer before his trial. While he was a thief, a forger, a 'horse-nobbler' and philanderer, Graves believed Palmer was not necessarily a murderer.

Made at the BBC's Midland studios, the former Delica cinema in Gosta Green, the ambitious production had 22 sets and a cast of 39. Reviewing the play, the Birmingham Daily Post praised Dews, "wonderful certainty" with which he moved the camera among the large number of sets and performers. The 90 minute play featured Mary Yeomans (later Louise, the duplicitous love of Adam Adamant ) as Jane Widnall, the girl who triggered the teenage Palmer's criminal career by claiming she was pregnant and needed an abortion. Palmer responded by stealing the money from his employer, only for Widnall to make off with the money. After the theft was discovered, Palmer's mother reimbursed the employer and arranged for Palmer to train as a surgeon, beginning a pattern of appeasement. Graves imagines that Widnall reappears after the death of Palmer's wife, to provide further temptation. Joan Wenham (An Inspector Calls) played the tragic Annie Brookes. An heiress who married Doctor Palmer in 1847, she came from a family with a history of suicide. Annie died in 1854, after Palmer had paid just one premium on a life insurance policy (her death was ascribed to cholera, a common if misunderstood cause of death at the time). Rowena Cooper played Eliza Tharme, Palmer's housemaid, who added to his financial pressures by replacing her late mistress in his bed and then giving birth to his son. Jerome Willis (who would later appear as Arthur Sugden's brother in The Plane Makers episode No Mans Land ) played the dissolute John Parsons Cook, a fellow horseracing enthusiast steadily gambling away his inheritance. The play also featured Douglas Muir (later Tom Bancroft in The Plane Makers) as Sir Benjamin Brodie, President of the Royal College of Surgeons, who gave expert evidence about the difference between strychnine poisoning and tetanus.
Whether or not he was a murderer, Palmer was undeniably a rogue. Wymark's glass shook significantly as he asked Cook and his fellow drinking partners to, "Choose your poison!" The production interwove Palmer's story with that of a Punch and Judy show performed by Bob Bura and John Hardwick - later animators of BBC children's shows such as Camberwick Green, but who had started out as Punch and Judy operators on Southsea beach. Reviewing the show, the Birmingham Daily Post thought that, "Patrick Wymark's performance as Palmer was a very good one and kept the decision (guilty or innocent) in doubt.". However, the Belfast Telegraph was disappointed, saying, "it implied that he murdered people just out of enthusiasm. This gusto for dispatch was hammered home so insistently, that the murder trial scenes, marked by the cheers and boos from an invisible crowd, lost point." Peter Philips in The Daily Herald thought that Dews production, "evoked the atmosphere of the mid-19th century beautifully." although he was unenthusiastic about the subject matter. The Aberdeen Evening Express thought it, "an extremely well produced piece with its procession of funerals." However, the counterpoint with the rogueish Mr Punch, puts paid to the notion that the British public knew Patrick Wymark solely for comic Shakespearean roles before he became John Wilder.
You can read more about William Palmer at this website http://staffscc.net/wppalmer/
3rd August 1962 THE CRUEL NECESSITY written by DAVID LYTTON directed by PETER DEWS starring
PATRICK WYMARK and DAVID WILLIAM
Peter Dews was born in Wakefield in 1929. As Brian Cox put it, he was "one of the few working class boys to make it to Oxford." He acted in several Oxford University Dramatic Society productions and toured America with the Oxford University Players in King Lear. On graduating he became a teacher in Bradford, also producing plays at the Bradford Civic Playhouse.
In 1954 he joined the BBC as a radio drama producer for the Midland Region in Birmingham, later progressing to both radio and television production. In 1957 he was responsible for the first production in the BBC World Theatre series (Henry V). At the 1958 Edinburgh Festival he produced Willis Hall's The Disciplines of War which went on to have great success at London's Royal Court under the title The Long And The Short And The Tall .
In March 1959, he directed Thomas Otway's "The Cheats of Scapin," for the 59 Theatre Company at the Lyric Opera House, Hammersmith with Harold Lang as Scapin and Maxwell Shaw, Peter Sallis Patrick Wymark, Fulton Mackay and Helen Montague.
In 1967 he joined Birmingham Repertory Theatre where he convinced Doctor Kildare star Richard Chamberlain to play Hamlet. Among the young actors employed at Birmingham Rep was Brian Cox who remembered Dews as, "a great character, a force of nature." In 1969, Peter Dews won the Tony Award for directing the Broadway production of Peter Luke's "Hadrian VII" which had originated at Birmingham Rep.
In 1972, Peter Dews directed Royce Ryton's play, "Crown Matrimonial", at the Theatre Royal Haymarket in London, England with Wendy Hiller and Peter Barkworth (Ken Bligh in The Power Game). He was Artistic Director of the Chichester Festival from 1978 to 1980.