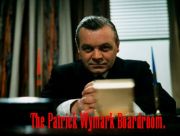 Harold Lang
Harold Lang -"the most fascinating and perhaps the cleverest man I have ever known." (John Fraser). "a great, slightly manic actor." (Alan Plater)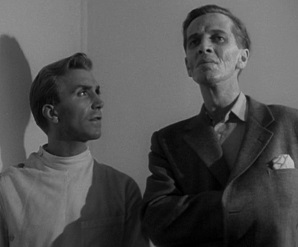 Harold Lang played Christie, the private detective who slips Richard Wordsworth out of hospital in 'The Quatermass Experiment' (1955). Christie makes the fatal mistake of demanding to see what he's got hidden up his sleeve.
He was the night club owner who organises Roy Castle's fateful Caribbean gig in "Dr Terror's House of Horrors" (1965). In Hammer's Paranoic (1963) he was a satirical bar-fly whose attempt at peace-making earns the threat of a handful of darts from a soused Oliver Reed. In The Psychopath (1966) he was the wistful toy salesman who bemoans modern children's fondness for war toys.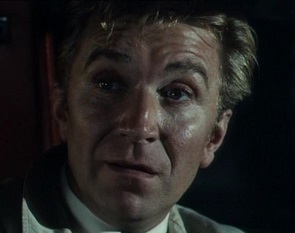 Harold Lang as Stanley White in The Baron: Countdown(1967)
Harold Lang was also a passionate advocate of Constantin Stanislavski's acting "method", a performer who toured the world demonstrating Shakespearian techniques and a teacher whose acting classes were captured in a film by John Schlesinger. Lang appeared with Patrick Wymark in several pivotal plays and films. On the stage, he directed one of Olwen Wymark's early plays and tragically Patrick Wymark's last. Olwen Wymark's 1971 collection, 'The Gymnasium and Other Plays' is dedicated, "to Patrick and to Harold."
In his 2004 book Close Up John Fraser describes Lang as having, " a shock of white-blonde hair, a cruel slash of a mouth with no lips at all, and a brisk, small-stepping gait which was 'camp' without being effeminate at all…His devoted admirers included Kenneth Tynan, Robert Shaw, Margaret Drabble… Alec Guinness and many others…"
Harold Lang was born 1923 in London. He studied acting at RADA where, despite rebelling against the classical curriculum he took the 1942 Bancroft Gold Medal for best actor. His first stage role was with the Midland Theatre Company before joining the Young Vic to play at the Arts Theatre. Lang first attracted attention in 1955 playing Edmund in a Shakespeare Memorial theatre production King Lear opposite John Gielgud. He later toured Europe with the company (Lang can be heard as Northumberland in this 1960 recording of Gielgud as Richard II here ).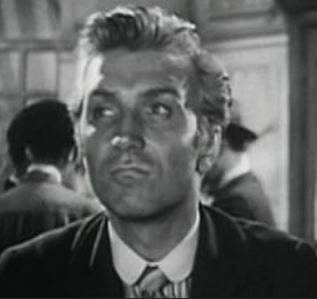 His first credited film role was in as a pickpocket in The Spider & the Fly (1949) written by Robert Westerby and directed by Robert Hamer as his follow-up to Kind Hearts and Coronets (also 1949). Lang has only a few lines in two short scenes with the film's star Eric Portman. The first, in which Portman's French detective compels him to reverse a theft displays the authoritative movement by which Lang could expand the scripted role. The second, in which Lang informs on Guy Rolfe's aristocratic cat burglar, displays his economic underlining of character in the lines. He had already developed the very subtle mid-Atlantic delivery that he employed in many performances. For a long time I was puzzled because his accent reminded me of someone - and it was only with the death of variety artist Des O'Connor that I realised Harold Lang reminded me of Des O'Connor.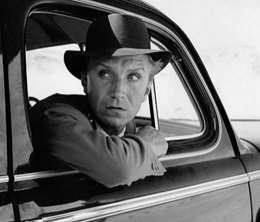 The following year, he was fourth down the cast list in Westerby's filmed-on-location thriller Cairo Road..
Over the next few years, Lang played character roles in a number of films including Wendy Toye's The Franchise Affair ((1951), and Terence Fisher's Wings of Danger(1952)
In 1953 he played a member of Terence Morgan's gang in Muriel Box's semi-documentary Street Corner, starring Barbara Murray as a Woman Police Officer. Lang appears in three scenes, first setting up a robbery, later doing a bit of scene-stealing in a night club, his lips moving as he reads a newspaper while Morgan and Michael Medwin discuss the plot. Lang's final scene is when Morgan is on the run with Peggy Cummins and hides out at Lang's flat. Cummins starts rooting through the kitchen for food and an affronted Lang sneers, "I usually eat out."
In the same year, Lang was employed again by Robert Hamer for his film noir, The Long Memory . Lang has the small role of assistant to the movie's sneering villain Boyd (John Chandos) who has framed John Mills for manslaughter. We first see Lang as the unhelpful receptionist of Boyd's office at Shad Thames, fending off queries from both Elizabeth Sellars and the police, but he later dons a cap to act as Boyd's chauffeur. For most of the film Lang takes a subordinate role, but when Chandos chases John Mills towards the end and lets off a shot at him, Lang suddenly grabs the pistol with a quiet reprimand of, "naughty". Lang's cocky assurance when the police interrogate him later, gives the impression that he's part of a larger organisation - a criminal civil servant who will continue working, whatever happens to his "minister" (Boyd).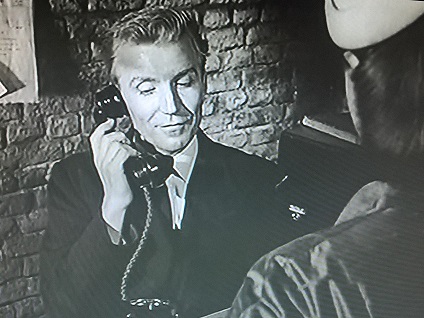 Lang continued to act in films throughout the 1950's, including Murder By Proxy (1954), Men of Sherwood Forest(1954) and Chain of Events (1958). During the same period he continued to appear on stage. In February 1955, for instance, he played the dissolute Camille Raquin in The Lovers, an adaptation of Emile Zola's novel Therese Raquin.. The play starred Eva Bartok (Blood and Black Lace) as Therese, and director Sam Wanamaker as her lover Laurent. Lang attracted praise for his "clever performance" as the victim of the murder plot.
In the same period Lang established a growing reputation as a commentator. In July 1956 he criticised and discussed the Observer Film Exhibition (celebating sixty years of cinema) with organiser Richard Buckle on the Home Service (Radio 4). He also tackled a diverse range of stage roles. In the same year he teamed up with critic Kenneth Tynan to write The Quest for Corbett, a radio play performed on the Third Programme (Radio 3), in July of 1956. Billed as a satirical parody of the biographical radio feature, it starred actress and writer Naomi Jacob as authoress and adventurer Aphra Corbett. In 1958 Harold Lang played one of his favourite roles as Sam Levy, the dying, and later dead father of John Fraser in Bernard Kops' The Hamlet of Stepney Green , first at the Oxford Theatre and later at the Lyric, Hammersmith. Ironically, in the same year he also made a brief appearance as the Commandant of Ravensbruck who orders the execution of Virginia McKenna in Carve Her Name With Pride Not really a role to boast about, but with the vagaries of 1950's film credits, even though he only appears in longshot for a minute and a half, Lang featured in the credits.
In 1959 Casper Wrede established the 59 Theatre Company for a six month season at the Lyric Theatre, Hammersmith with Michael Elliott as assistant artistic director. One of their first productions was Danton's Death in which Lang played Robespierre, opposite Patrick Wymark in the title role. This was followed by "The Cheats of Scapin", a farce by Thomas Otway adapted from Moliere. Lang starred as Scapin, the deceitful servant of Gripe (Patrick Wymark). Scapin schemes to help two young lovers stay together against the desires of their parents. As well as his stage success, Lang also became a familiar face on TV. In 1961 he appeared as DaRica in several episodes of John Bowen and Jeremy Bulmore's 'Garry Halliday' (BBC1's predecessor of Dr Who). On 8th October 1961 he appeared on ABC's Armchair Theatre in Alun Owen's "The Rose Affair" while on 27 October 1961 he played a doss house resident who forges a job reference for a young man in "The Referees" the first TV play by Alan Plater. In October 1962, he starred with Jon Pertwee and Moira Lister in See You Inside, a revue written by Barry Cryer with songs by Ted Dicks. Significantly, Lang's role as compere included a witty discussion about what stage revue's should be and what this particular revue was attempting. Unfortunately, a sketch about President Kennedy had to be cut on the orders of the Lord Chamberlain (who still licensed and censored stage plays until 1968) because reference to a Head of State could not be allowed. Highest praise came for a sketch in which Moira Lister tries to launch a ship with a champagen bottle that keeps bouncing back to her hand.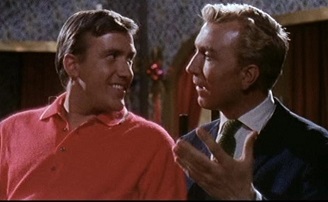 Lang tells Roy Castle he's got him a dream booking in Dr Terrors House of Horrors
Lang's career suggests an eclectic, energetic individual, eager to popularise the classics but always open to new experiences. In 1960 he directed T.S. Eliot's The Cocktail Party for a tour of India, Pakistan and Sri Lanka by the Oxford Theatre Company. On his return he spoke on the Radio 3 programme 'Talking of Theatre' about how he went to teach western technique but became an admirer of Indian theatre. A devotee of Stanislavski's acting "method" (emphasising movement, observation and motivation) he was invited to join the staff of the Central School of Speech and Drama. He made his acceptance conditional on the school also hiring Yat Malmgren, the Swedish teacher of character through movement who is credited with having coached Sean Connery.
While students were able to choose most of the elements of their own curriculum, Lang's acting class was compulsory. In April 1962 John Schlesinger filmed 'The Class', "a tribute to Lang's riveting teaching method," for the BBC1 series Monitor, showing him training a first year class. Lang also appeared in "A Film Profile" of Elia Kazan, film director and co-founder of the "Actors Studio" on BBC1 on 25 April 1962. In 1963, Lang gave a striking demonstration of character through movement when he portrayed Silent, the police informer in Michael Winner's "West 11".
"I'm like you," Lang tells Alfred Lynch in West 11, "I've got it up here."
In that same year, Lang and seven other teachers left the Central School of Drama in protest at the sacking of Yat Malmgren. Lang would later be invited to teach at the Drama Centre, London, co-founded by Malmgren. But before that Lang consolidated his theories about acting, collaborating with Nicholas Amer, and Greville Hallam in Macbeth in Camera , a "Didactic Comedy" about the techniques an actor needs to bring Shakespeare's printed text to life. Together with David Kelsey they formed the Voyage Theatre Company to tour Australia, New Zealand and South America under the auspices of the British Council (Macbeth in Camera was filmed by Australia's ABC TV and was still being screened in November 1975).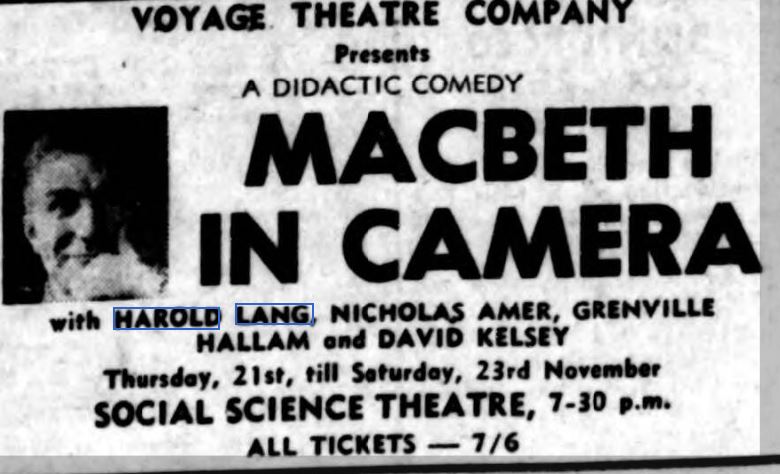 Macbeth in Camera took place in a rehearsal room during a village arts festival. David Kelsey as uptight academic organiser Geoffrey Kerr Ph.D. confronted a couple of actors (Amer and Hallam) rehearsing Macbeth. Kerr threatened to eject them from the festival because of director Harold Lang's approach, breaking the Shakespearean dialogue into everyday speech in order to explore the underlying meaning. During the course of the twoo hour play, the actors attempted to convince the academic that their approach could expose the reality behind the action. Frequent passages from the play were enlivened by the argument about the need to understand the meaning behind Shakespeare's words. Critics praised the naturalism of the actors, which convinced the audience they were seeing something spontaneous. Critics noted Harold Lang's expressive gestures and he was praised by one reviewer as, "One of the most natural actors I've ever watched." At the end of the first half, Lang turned to the audience and murmured, "We're going for a cup of coffee." , wandering off with the others, without dropping a curtain.
In 1964, Lang wrote Man Speaking using the works of Milton, Blake and John Donne to explore British poetry. Together with Amer and Hallam, Lang discussed the interpretation and performance of verse, taking poetry down off its pedestal and subjecting it to scrutiny. In November 1965 Lang spoke about the aims of the Voyage Theatre Company on the Home Service radio show "The Lively Arts". For the next two years, under the sponsorship of the British Council, the company toured with Macbeth in Camera , Man Speaking and A Sleep of Prisoners by Christopher Fry. In June 1966, Lang used recordings from the shows to illustrate a Home Service discussion called "What Makes An Actor" before the company appeared in the Philippines where the promotor dubbed the Voyage Theatre, "The Intellectual Beatles". Harold Lang later lived up to this billing when he performed poetry as a guest of folk singer Julie Felix on the 24 Feb 1968 episode of her BBC 2 series "Once More With Felix".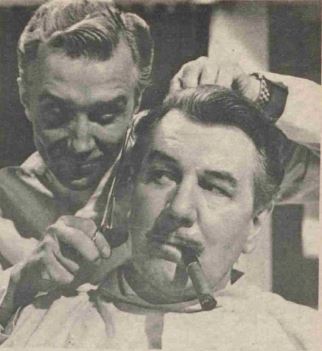 Harold Lang and Michael Redgrave in Monsieur Barnet
1968 was a busy TV year for Lang. On 24 January 1968, he appeared in Jean Anouilh's BBC1 Wednesday Play, Monsieur Barnet, playing off Miriam Karlin as a sinister hairdresser/manicurist combination discussing the sexual appetites of their customer Sir Michael Redgrave. On 3 February he played Nat, the camp and conniving proprietor of 'Anatole's Hairdressing Salon' in the Public Eye episode Memories of Meg (TV World ran an article on Lang to promote this episode). In March 1968, Lang co-starred with Patrick Wymark in the Playhouse adaptation of " The Detour., playing a railway engineer whose wife convinces him to help her get revenge on a former lover. And in April 1968, he appeared as the Chief Eunuch in an episode of the Victorian spoof, Virgin of the Secret Service.
By June 1969, Harold Lang was referred to as "one of the most respected men in British theatre" when he directed one of Olwen Wymark's first plays "The Technicians" at the Phoenix Theatre, Leicester. Part of a double bill called "By-Play" with "The Straight Man", Wymark's play was an attack on artificiality in British theatre. Lang also starred as one of the alien "technicians" who take over the personalities of a bickering married couple.
In early 1970, Lang made a four month tour of Uganda, Tanzania, Mauritius and Kenya. On his return, he agreed to direct Patrick Wymark and John Fraser in the Australian production of Sleuth . The play opened successfully in Sydney, but Patrick Wymark died during the run on 20 October 1970. Sadly, Harold Lang also had a heart attack while travelling home through Egypt and died on 16 November 1970 in a Cairo hospital aged forty-seven.
At the time of his death, Harold Lang was making preparations for the March 1971 premiere at Sadlers Wells of Elisabeth Luytens opera, Time Off? Not a Ghost of a Chance . Lang had collaborated on the libretto with Luytens (who scored The Psychopath and Dr Terror's House of Horrors ) and was to have played a leading role. As a result of Lang's death, the New Opera Company cancelled the production. The opera eventually premiered at Sadlers Wells in April 1973 as part of a live broadcast on Radio 3. Lang had also sold a script to London Weekend Television, and Just In Time For Christmas the tale of University Professor Nottage (Alfred Burke) whose wife Janet (Gwen Watford) announces after 20 years of marriage that she is pregnant, was broadcast on December 23rd 1972.