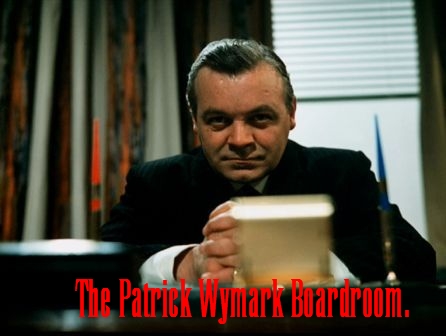 2 April 1961 Drama '61 :The Takers (ATV)
by Harry Dobermann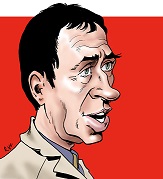 In The Takers by Jacques Gillies, Patrick Wymark played Boucard the private detective of Baron Van Der Zost (Guy Deghy), the fifth richest man in the world. Van Der Zost moves his family and jewel collection into the heavily guarded penthouse of a London hotel.While the Baron holds a light-hearted press conference, his security team led by Boucard finalises arrangements for the jewels. But, in an adjoining suite Hartley Downing (Donald Houston) is planning to pull off "the biggest take in history".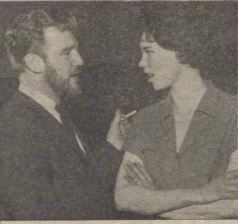 Donald Houston and Dorothy White in The Takers
The play was directed by Quentin Lawrence, who would go on to direct Wymark's Plane makers debut. Lawrence had also directed Gillies 1960 script The Gold Inside, which was filmed by Hammer as Cash on Demand (1961). The Takers re-united Wymark with Alan Dobie from the Old Vic and the 1958 Black Arrow. Dobie played Wilkie, together with Boyd (Kenneth Cope) part of Downing's gang. Downing's self-proclaimed "un-English and unsporting" scheme exploits the resemblence of Charmian Scott (Dorothy White) to Van Der Zost's daughter Inga (Joy Webster). Despite Charmian's nerves, Downing's plan seems to succeed and the gang begins to check out of the hotel. However, Boucard's eye for detail derails Downing's scheme at the last minute when he recalls that Charmian was wearing sunglasses, but Inga left hers on the plane. Downing is shot by one of his own men, aiming for Boucard.
The Takers was remade by NBC for the Dupont Show of the Week in 1963 with Walter Matthau as Downing, William Hansen as Boucard, Claude Rains as Zost, Shirley Knight as Charmian and Larry Hagman as Boyd.