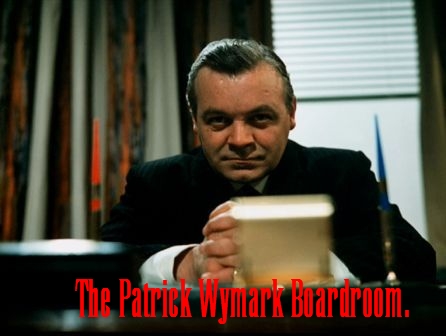 Sherlock Holmes
"The Copper Beeches" with Patrick Wymark as Jephro Rucastle
by Harry Dobermann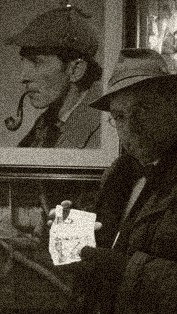 The BBC "Sherlock Holmes" began as an episode of the 1964 anthology series "Detective". Douglas Wilmer as Holmes and Nigel Stock as Watson made such an impact in Giles Cooper's adaptation of "The Speckled Band" that the BBC immediately set about commissioning a series for transmission in early 1965.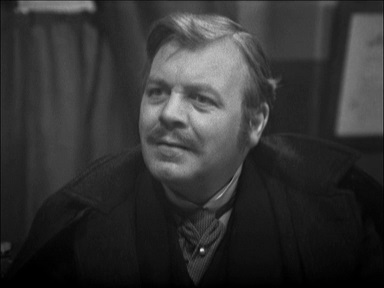 Patrick Wymark stars as Jephro Rucastle in the 6 March 1965 episode, "The Copper Beeches". Suzanne Neve (Mary Straker in UFO) plays Violet Hunter, the governess who is paid an excessive fee to look after Rucastle's young son and pander to the "fads" of Rucastle and his wife (Alethea Carlton). The "fads" include wearing a particular dress provided by the Rucastle's and cutting short her "artistic" chestnut hair.
Vincent Tilsley's adaptation gives Rucastle a more detailed introduction than Conan Doyle does in the original short story. Since Wymark was coming in off the success of "The Plane Makers" viewers would expect to see a lot of his character early in the proceedings. Perhaps coincidentally, Tilsley introduces an original scene between Rucastle and his wife (the always magnificent Alethea Carlton) which is very much in the Wilder vein – Rucastle cautions his wife to hold her nerve and she shows evident concern about the visible strain on her husband.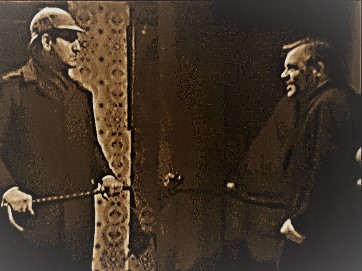 Wymark portrays Rucastle with measured charm, even when dismissing an applicant for the role of Governess. Tilsley's script makes an interesting comparison with Bill Craig's dramatisation for the later Jeremy Brett TV show. Wymark's portrayal is less outwardly misanthropic than Joss Ackland's portrayal in the 1980's TV show, closer to the character in the short story who Violet Hunter describes as "comfortable" and "genial." Tilsley does, however, retain the subtle slip of the mask from the short story where Rucastle laughingly describes his son, "Oh you should see him crushing cockroaches with his slipper. Smack!Smack!Smack!". This is given a pay off later in the story with a scene of Tilsley's own invention where young Edward (Gary Mason) bludgeons a mouse with a house brick while Rucastle looks on laughing..
Bill Craig, writing for a series with the full range of film-making techniques at his disposal, attempts to dramatize Violet Hunter's description of Rucastle distracting her with a ream of funny stories. In the story Violet says her employer told the stories, "inimitably" but unfortunately Ackland has to try an imitate them luckily with much of the dialogue overlaid with Violet's voiceover as she relates events to Holmes. Tilsley, on the other hand, is writing for a studio-bound, videotaped production, and has to show the scene in "real time". Ingeniously, he replaces the joke-telling with a ruse involving a camera (picking up on a throwaway line in the story about photography being one of his hobbies) to keep Violet Hunter occupied.
The British Film Institute's 2015 DVD release of Sherlock Holmes thankfully ensures that the BBC's 1965 TV series starring Douglas Wilmer and Nigel Stock is finally available in UK stores. Joss Ackland (who would play Rucastle in the Jeremy Brett TV series) appears opposite Wilmer in the BBC adaptation of "The Disappearance of Lady Frances Carfax" - ironically the impoverished BBC version manages some European location filming while the more luxurious Granada series had to make do with the Lake District. As the accompanying booklet says, Douglas Wilmer "provides an entirely convincing, unmistakable and authoritative Holmes". Thankfully the legal/commercial obstacles were overcome in time for the now late Douglas Wilmer to contribute some vibrant commentaries and onscreen interviews while in his 90's.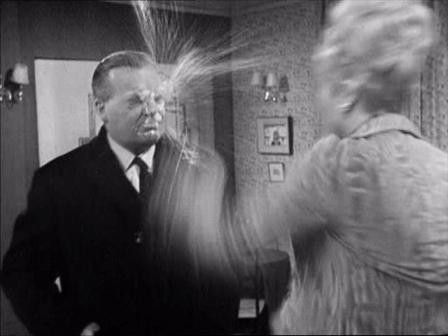 Rosemary Leach, who would play Wymark's mistress Susan Weldon in "The Power Game" also appears as another wronged woman, the vengeful Kitty Winter in "The Illustrious Client". Was Edmund Ward thinking of Kitty Winter's parting shot to Baron Gruner when he wrote her farewell to John Wilder in "The Power Game" episode "there's No Such Thing As A Dead Heat"?