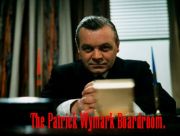 Tuesday 11 June 1963 Play Of The Week: THE SEVENTH WAVE by Elizabeth Dawson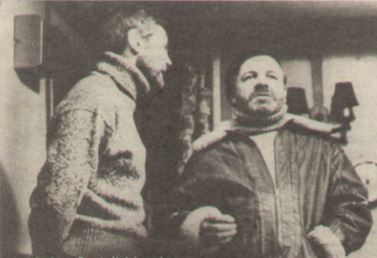 Anthony Booth as Peter Miller and Patrick Wymark as Joe Brent
"Patrick Wymark gave a sound performance as the rough skipper with, of course, a heart of gold." Richard Sear Daily Mirror 12 June 1963.
Patrick Wymark stars as Joe Brent, skipper of the Barnoldby, a trawler fishing out of the port of Grimsby. Brent is forced to accept Peter Miller (Anthony Booth) as the ship's mate. He blames Miller for the death of his son on a fishing trip two years before. Brent learns that Miller has also been secretly meeting his daughter Sally (Ann Bell) and wants to marry her. Brent orders Miller off the bridge, and tells the Bosun (John Moffatt) that they will split the watches between them as the weather worsens.
The role of a trawler skipper was a demanding one. Depending on their character they could be hated or feared by the crew but still respected for their navigation and fish-finding knowledge on which the life and fortune of each man could hang (as this recent book on a Hull fishing disaster underlined ).
Patrick Wymark is said to have thrown himself eagerly into the role because the play was about Grimsby. Scriptwriter Elizabeth Dawson was born in Grimsby, where her grandfather was the owner of a fishing vessel. Following transmission of the play, columnist Frank Whitmarsh observed in The Grimsby Evening Telegraph that, "it was a jolly good tale with just the right amount of tension and laughs." The biggest criticism was the accents of the actors including Patrick Wymark which were criticised as inaccurate. Reports say the other actors adopted East Anglian accents and Wymark fell in with them.* However, that aside, Whitmarsh concluded that, "it was the type of play we ought to see more of on television instead of the dreary kitchen sink stuff that it dishes up week after week."
Writing in the Daily Mirror, Richard Sear felt that Tania Lieven, "Made a good job of the direction, especially the trawler bridge scenes." While acknowledging that, "Miss Dawson knows her Grimsby and her fishing (and) built a set of sea-going characters who had a fine salt flavour, " he couldn't resist adding that, "Most of the crew were still a woman's idea of men - gentlemen in oilskins."

Ann Bell as Sally Brent and Patrick Wymark as Joe Brent
In the Grimsby Telegraph Frank Whitmarsh quoted skipper Dennis Roberts as pointing out three inaccuracies: insert film of fishing operations when the Barnoldby was supposedly setting course for home, "the helmsman giving the wheel a couple of ineffectual turns when the ship was almost aground" and the men's oilskin's being dry when they were supposedly gutting fish on deck. However, he found the play retained interest throughout.
A letter to the same paper from Mrs E.L. Stamp, a skipper's daughter praised Elizabeth Dawson's, "authenticity and her wonderful understanding of the trawlermen and the faithful wives and families who wait for their men to return home from their arduous and hazardous work." Mrs Stamp said she was, "completely engrossed" and saw her own father reflected in the character of Joe Brent. "He too was a trawler skipper whose life ended in similar circumstances, though he was not fortunate enough to get home before the end and died on his ship."
* The Grimsby accent was distinct from both rural Lincolnshire and the broader Hull accent
Elizabeth Dawson -
Born in 1913, Elizabeth Dawson is all but forgotten in her home town of Grimsby today. She began writing radio plays in 1950, and continued to write for television and radio throughout the 1950's and early 1960's. In her later TV plays she often collaborated with Tania Lieven, director of The Last Wave , but preferred not to give up her job as secretary to a bank manager in Grimsby, saying she wrote best at night. She often wrote about young people saying she drew upon her experience doing welfare work among them shortly after the war. Several of her later TV plays, including The Last Wave were quickly adapted to BBC radio. Unfortunately, her TV plays were made by Rediffusion - probably transmitted live but in any event made for a company whose archive appears to have been scrapped in the 1968 merger with ABC to form Thames TV. In retrospect her output is remarkable considering she was writing in the evenings while holding down a full time job.


TV Plays
20 October 1955 London Playhouse (ITV) – Summer in Normandy
Directed by Alan Bromly, with Anton Diffring as Bergmann, Michael Craig as Michel and George Colouris as Henri.
1 November 1957 ITV Playhouse (Rediffusion) The Roof Garden Maxine Audley, Griffith Jones, Andre Morell
17 April 1959 ITV Playhouse (Rediffusion) -The Jukebox Harry H Corbett, Miriam Karlin, Alan Bates
"She treats a tough subject with sensitivity," says the play's director, Tania Lieven, "and she shows a great insight in her characterisation
A gang has been fighting in Charlie Panetti's snack bar the night before "The Jukebox" opens. This was not the first time, nor will it be the last, but if Panetti calls the police, he might as well close down. "The Jukebox" stars Miriam Karlin and Harry H. Corbett who plays Panetti, the Cockney with a life-long dream of going to live in Italy. He plans to end his days in Tuscany, where his father was reared. Until now, he has ventured no farther than a visit once a year to his young daughter Nina (Wendy Hutchinson) in the country.
27 May 1960 ITV Playhouse(Rediffusion) The Ostrich Starring Leslie Dwyer as Joe Braithwaite, a master cabinet maker who takes pride in craftsmanship. Neil McCallum plays Tom Braithwaite, his nephew and business partner, who thinks he could do more with their furniture factory. Ever since Baxters factory brought modern production methods to the area, Braithwaite's business has been going downhill. Joe has been shutting his eyes to the truth and keeping the state of the business from Tom and his wife Cathie (Clare Owen), who also share his home. "There is an earthiness about the play that rings true," said star Leslie Dwyer. "Joe Braithwaite..belongs to a race which has made this country great." Unfortunately, the play received a waspish review from Philip Purser in the News Chronicle. Arguing that, "Old craftsmen were just as capable of producing nasty stuff as modern machines," Purser said, "Miss Dawson's play pulled and tugged at the truth in order to make its the little points."
7 July 1960 ITV Playhouse (Rediffusion) After the Party Derek Francis plays George Belton, a wholesale grocer who celebrates the silver jubilee of his firm by throwing a massive party for the staff at a local hotel. It is the sort of affair his wife Emmie (Joan Hickson)dreads, but George has long since stopped considering her feelings, or those of his son Tom (Keith Baxter) or daughter Clare (Maureen Connell), happily married to a struggling farmer (Hugh David). Nor does George consider the feelings of his loyal friend and business partner Jim (William Hartnell). But behind the scenes, trouble is brewing.
Ironically, the play explores some of the same themes that would run through The Power Game. Elizabeth Dawson was quoted at the time as saying, "Ambition is all too well, but isn't the price of achievement too high? A glossy epitaph is not much compensation for the widow of a coronory thrombosis victim. I suppose these would-be tycoons are spurred on by the same urge to get to the top that drives men to climb Everest. But somehow it seems much less worthwhile."
Tuesday 11 June 1963 Play of the Week (ITV) The Seventh Wave see above
Radio.
17 May 1952 BBC Home Service (Radio 4) Times Winged Chariot with Robert Shaw as Paul
28 May 1952 Fortunate Lady Produced at the BBC's North of England studios this story of Anne of Cleves starred Irene Prador as Ann with Fred Fairclough as Henry the Eighth, David Peel (Brides of Dracula) as Tom Culpepper and Violet Carson as the Duchess of Norfolk.
30 May 1953 Home Service (Radio 4) The Matchmaker
31 May 1953 Light Programme (Radio 2) Wild Geese Calling
27 Jan 1954 Home Service (Radio 4) The Affaire Auguste
17 February 1954 The Lonely Shore
8 May 1954 The Time Between
25 August 1955 The Little Flautist
8 Dec 1955 Northern Home Service (Radio 4) Mistress of the House
29 February 1956 National Home Service (Radio 4) Mistress of the House
22 Nov 1956 Home Service (North) I Am Barabbas! starring John Slater as George Comas, Roger Delgado as Michael. The action takes place on a small island in the Aegean.
27 January 1957 Wild Geese Calling
15 March 1957 A Separate World (regional opt-out by North and Northern Ireland Home Service)
15 May 1957 Home Service (National) I Am Barabbas! starring John Slater as George Comas, Roger Delgado as Michael. The action takes place on a small island in the Aegean.
1 June 1957 So Short A Lease
1 Sept 1957 Oppie
2 April 1958 Autumn Fruits with Gladys Boot and Baliol Holloway
26 February 1959 The Roof Garden adapted from the ITV play transmitted in 1 November 1957. With Cyril Shaps as tailor David Kaminski.
13 August 1959 The Juke Box adapted from the ITV play transmitted 17 April 1959. With Cyril Shaps as Charlie Panetti and Christine Finn as Nina.
6 October 1959 A Woman's Touch with Fred Fairclough and Brian Trueman as removal men with a comic tale to tell.
24 September 1960 After the Party adapted from the ITV play transmitted 7 July 1960
14 January 1961 The Ostrich adapted from the ITV play transmitted 27 May 1960 with Oliver Johnston as Joe Braithwaite
26 October 1963 The Seventh Wave adapted from her ITV play transmitted 11 June 1963, with George Merritt as Joe Brent and Peter Tuddenham as Peter Miller and Jo Manning-Wilson as Sally Brent.
19 June 1965 The Presentation Clock starring Lockwood West as Sidney Barnes, who hopes for a promotion that he's unlikely to get. His wife (Joan Matheson) is a frustrated intellectual and his son is a rebel. They both take a stand against him that forces him to reassess his life.
16 June 1967 BBC Home Service (Radio 4) The Seventh Wave adapted from her ITV play transmitted 11 June 1963, with George Merritt as Joe Brent and Peter Tuddenham as Peter Miller and Jo Manning-Wilson as Sally Brent.
Elizabeth Dawson's final work appears to have been Grimsby Observ'd "a view of the town 1849-1869" which Patrick Wymark performed at the Grimsby Everyman Club in 1965