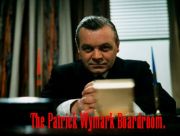 Hans Christian Andersen
This 75 minute family musical was announced as the most expensive TV show of its type ever broadcast in Australia. Hans Christian Andersen was produced by the Nine Network and coincided with John Fraser and Patrick Wymark's tour of Sleuth.
John Fraser starred as the Danish storyteller, introducing three tales told in radically different ways. The Shepherdess and the Chimney Sweep was a romantic ballet, and The Little Match Girl was told in mime. The third and longest story was The Emperor's New Clothes which was set in a 1970 as someone from Andersen's time might have imagined it.
Patrick Wymark appeared briefly as The Mandarin in The Shepherdess and the Chimney Sweep and played The Emperor in the final story. American actor Richard Deacon ( The Dick Van Dyke Show ) played the tailor, Grant Seiden, former Milky Bar Kid and child star of The Rovers also appeared, along with singer and In Melbourne Tonight regular Patti McGrath and host Stuart Wagstaffe. Hans Christian Andersen was broadcast after Patrick Wymark's death on Sunday 29 November 1970 .