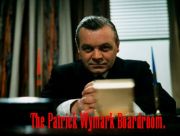 The B.P. Super Show presents Hans Christian Andersen
25th November - 6 December 1970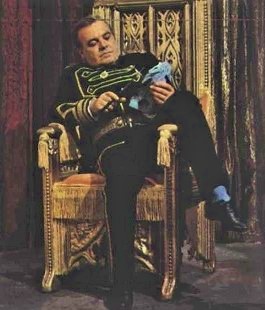 Patrick Wymark as The Emperor, awaiting his new clothes.
Recorded on 10th October 1970, this 75 minute family musical was announced as the most expensive TV show of its type ever broadcast in Australia. Hans Christian Andersen was produced by the Nine Network and coincided with John Fraser and Patrick Wymark's tour of Sleuth.
John Fraser starred as the Danish storyteller, introducing three tales told in radically different ways. The Shepherdess and the Chimney Sweep was a romantic ballet, and The Little Match Girl was told in mime. The third and longest story was The Emperor's New Clothes which was set in a 1970 as someone from Andersen's time might have imagined it.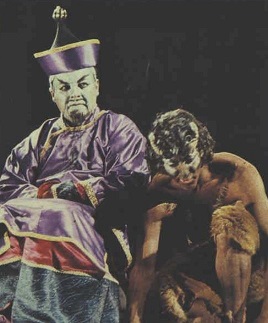 Patrick Wymark as the Emperor, with Karl Welander as the Satyr

Patrick Wymark appeared briefly in The Shepherdess and the Chimney Sweep playing a porcelain figurine of a Mandarin who agrees that a wooden Satyr can marry a china Shepherdess (singer and In Melbourne Tonight regular Patti McGrath). Patrick Wymark also played The Emperor in the final story, The Emperor's New Clothes. American actors Richard Deacon and Morey Amsterdam ( The Dick Van Dyke Show ) played the swindling tailors and reporter Nan Musgrove, who was something of a Power Game fan noted that Wymark was happy and having fun on the long day's filming, acting up for Morey Amsterdam's home movies during the lunch break. "The role of the Emperor suited Wymark perfectly. He was self-important, impatient, petulant, vain: his acting at its best.".

Grant Seiden, former Milky Bar Kid and child star of the adventure series The Rovers also appeared, along with In Melbourne Tonight host Stuart Wagstaffe. It was Wagstaffe who, ten days later had the sad job of announcing Patrick Wymark's death at the end of an In Melbourne Tonight episode that had been intended to promote the show.

Hans Christian Andersen was broadcast as a posthumous tribute to Patrick Wymark at 7pm on Wednesday 25th November in Brisbane, 7:30 pm on Sunday 29 November 1970 in Sydney and Melbourne, 7:35 Tuesday 1 December in Perth and 6:30 pm Sunday 6 December in Adelaide.