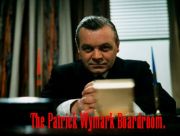 25 January 1963 (Rediffusion) Television Playhouse: The Paleto Confession by Patrick Ryan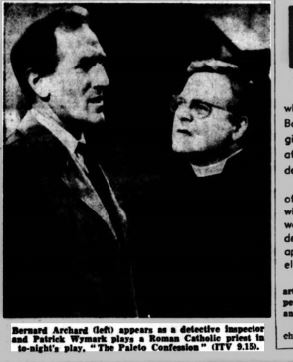 Patrick Wymark stars as Father Joseph, a Catholic Priest who gives the confession to a wounded criminal. The confession is overheard by Clooney, a young boy played by 16 year old Roy Holder (Ace of Wands)
A thug called Paleto (Martin Benson) seeks sanctuary in Father Joseph's slum parish church, believing he's been mortally wounded. He asks Father Joseph to give him the sacrament and confesses that he has killed a policeman. Joseph goes to phone an ambulance, but when he returns Paleto has gone. Unknown to the priest, 13 year-old Michael Clooney has heard the confession. Inspector Grayson (Bernard Archard) arrives to investigate and has the choice of either forcing Father Joseph to betray the confession or breaking down Clooney.
Directed by Michael Currer-Briggs, the play was written by Patrick Ryan, the head postmaster of Harrogate who had also been TV reviewer for Punch. In 1967 Ryan's novel How I Won The War was adapted by Charles Wood and Richard Lester into a film starring John Lennon.
Writing in the Catholic Herald, Eve McAdam asked, "Why can't writers get away from that old, old situation of the secrecy of the confessional? It came up again in 'The Paleto Confession' in which Patrick Wymark. himself a Catholic, played Fr. Joseph. This play ... would have been a stronger one had it concerned itself with the sub-plot, about the rehabilitation of the thieving boy (a marvellous performance by Roy Holder). His was the story that held us, that was true to life, and not the grand guignol of the disappearing corpse in the vestry."
Viewers praised the performances, with 16 year old Elizabeth Hermolle of Acocks Green writing into the TV Times to say, "the acting of Patrick Wymark and Roy Holder was excellent, and the play brought into the true light one aspect of the Catholic Church."
Birmingham born Roy Holder had played Jackie Greenwood in Whistle Down The Wind (1961) when he was 14 and was already noted as an up-and-coming young actor when he played Michael Clooney. He would go on to appear in The Homecoming episode of The Plane Makers, surviving the difficult transition to adult roles with appearances in The Virgin Soldiers(1969) Loot (1970), and starring in Ace of Wands (1972) and Spearhead (1978-81). Among other roles, Roy Holder starred in Loot (1970) with Lee Remick and Hywel Bennett, appeared in Sorry (1981-1988) and played one of the German submarine crew in The Land That Time Forgot (1974). He can be seen as Fred Goddard in the auction scene of War Horse (2011) where he used a bit of gamesmanship, bringing his own props, to ensure the director gave him a close up.