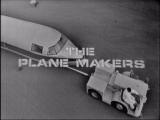 17 March 1964
'The Homecoming'. Writer David Weir. Director John Cooper.
"You're a friendly face in a sea of rivals" Don Henderson to Arthur Sugden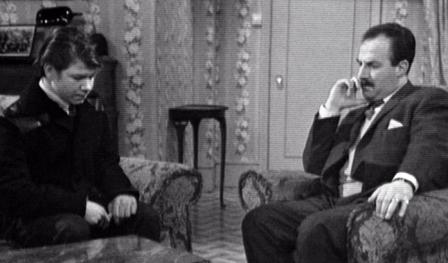 Arthur Sugden's six month trial as General Works Manager is coming to an end when old friend Bill Ingram (Wensley Pithy) offers him the job of Managing Director of his engineering firm in Yorkshire. With Wilder using every opportunity to obstruct Sugden at Scott Furlong, the offer seems like the perfect solution. His dilemma is contrasted with that of apprentice Charlie Ferris (Roy Holder- above with Reginald Marsh) whose father wants him to give up his apprenticeship.
The first of two concurrent scripts by Series Story Consultant David Weir, this episode explores Sugden's character by presenting him with a dream job. Bill Ingram is a former Scott Furlong employee who left to set up his own engineering company. By offering Sugden the job of Managing Director he presents an opportunity to return to Yorkshire and avoid the final conflict with Wilder. As Sugden's dentist son is hoping to buy a practice in Yorkshire, everything seems to fall in place.
But when he asks his secretary Margie (Elizabeth Begley) to consider following him to Yorkshire, she says it's a dream, pointing out that he left when he was a young boy. "All your roots are down here. Home is where your friends are."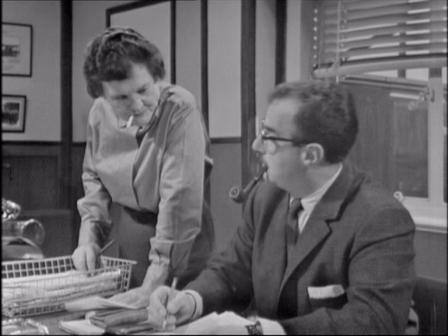 The reaction to Sugden's news is varied. Don Henderson (Jack Watling) is genuinely upset at the thought of Arthur leaving, saying even Wilder "knows your value as a works manager." By contrast, Bob Gorman (Fulton Mackay) is visibly excited by the prospect of stepping into Sugden's shoes, hinting that he'll cut corners if Wilder demands it. Gorman, who was seen as newly arrived from Radley Heath in 'A Job For the Major' makes it plain that he intends to do more than 'caretake' the General Works Manager's job, despite being warned that Wilder will want his own man in the position.
When Sir Gordon Revidge learns of Sugden's offer, he sounds him out about taking Wilder's job. Wilder, says Revidge,"has placed the bank in an invidious position. Wilder cares for only one thing - winning on his own terms. The man is too much of a risk."
Arthur refuses the offer saying, "I don't pretend to get on with Wilder.Nobody does. But he's a brilliant man. Nobody could run this company or any other aircraft company better than John Wilder. The industry's needed someone like him for a very long time, and I'll have no part in stabbing him in the back."
This conversation comes back to haunt Sugden when he learns that Ingram has heart problems.Ingram needs to slow down, but also suspects his days are numbered. That's why he needs Sugden to take over as Managing Director. Ingram confesses that rather than see his life's work broken up, he intends to go public. Sugden says this changes things. When Ingram dies, they'll bring in another chairman. "Now I've met some chairmen and I can't play their kind of politics. They'd have me out of here before you could blink."
Sugden's devotion to Scott Furlong is illustrated by the sub-plot of Charlie Ferris (Roy Holder), whose railwayman father wants him to give up his poorly paid apprenticeship and find a better paid job. The issue of apprenticeships was a hot topic with the Industrial Training Act being introduced in March 1964. The previous Government had seen the poorly paid apprentice system as flawed. An engineering apprenctice could earn around £2.50 (equivalent to £60 today) compared to £8.00 (£152) for an older worker. There was also the problem of other firms poaching newly qualified apprentices without having spent the time and money in training them. The Government hoped to regulate apprenticeships with a better paid training allowance financed via a compulsory levy on firms. Unfortunately, the cheme was never a great success and 50 years later, ironically, the Government is promoting National Apprenticeships Week). Charlie tells Sugden he wants to stay as an apprentice because he left school before he had a chance to sit his GCE exams and this is his only chance to better himself. In contrast to Bob Gorman, who tells Charlie that rules are rules and that he can't interfere in a personal family matter, Sugden tries to find a solution. Remembering how the company once helped him as a youngster from a poor family, Sugden offers to break the rules by arranging for Charlie to be paid more than an apprentice's wages.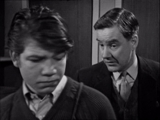 The episode ends with Sugden deciding to stay, despite knowing the Wilder wants him out. The sub-plot with Charlie Ferris illustrates Sugden's paternalist streak, as did his comment in "Bancroft's Law" that the company should accommodate older, less able workers. Sugden tries to interest Revidge in a diversification programme to find alternative employment for the men once work on the Sovereign is scaled down. Despite his zeal for creating planes, Sugden believes that the company exists to provide employment. At the same time he is realistic enough to believe that the company needs a man like Wilder at the top to drive it forward.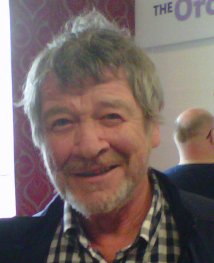 Actor Roy Holder, who played Charlie Ferris, had hazy memories of this episode when he appeared at a convention in 2014. However, he did recall sharing a couple of scenes with Fulton MacKay (pictured) as Foreman Bob Goreman and surprisingly, "I've never seen such a nervous actor.He used to shake before the scene started." Roy (who later starred in Ace of Wands ) had also worked with (and could still do an impersonation of) Patrick Wymark in the 1963 ITV play, The Paleto Confession.
Revidge notes that Sugden's contract is "up for confirmation on the 31 st," . March 31st was the scheduled transmission date for the final episode of The Plane Makers.