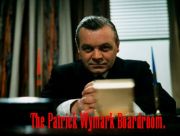 20 November 1962 The Typewriter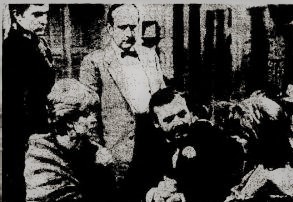 Patrick Wymark questions Pat Sandys, as Jeremy Brett, Geoffrey Chater and Margaret Johnston look on
The Typewriter was part of Rediffusion's Play of the Week series, adapted by Giles Cooper from the 1941 stage play La Machine a ecrire by Jean Cocteau. The Typewriter starred Patrick Wymark as Fred, a policeman investigating poison pen letters revealing hypocrisy and betrayal in a small French town.
Jeremy Brett took the role played on-stage by Jean Marais as a pair of identical twins with contrasting characters. Margaret Johnston, who would later co-star with Wymark in The Psychopath was a woman harbouring a secret passion for Brett (or at least, one of him).
The adaptation was produced and directed by Joan Kemp-Welch in, as one reviewer noted, frequent use of extended shots, one for more than three minutes without an edit; "Choreography within an uninterrupted shot is a trademark of classical studio drama."
The cast also included Geoffrey Chater, who would later have guest roles in both The Plane Makers and The Power Game latterly as the Foreign Secretary who made Sir John Wilder as Special Envoy. Another of Jeremy Brett's admirers was played by Pat Sandys, who would later join the production side of Rediffusion (later Thames TV), eventually becominng a Producer for series such as The Agatha Christie Hour and The Bill.
The Typewriter is generally reckoned to be Cocteau's worst play, notable mainly for the circumstances under which it was first performed (heckled and threatened by thugs associated with the Vichy Government which then tried to ban the play because of its perceived 'degenerate' undertones). Giles Cooper cut the play by more than an hour to fit the TV slot, arguably improving it by cutting out the inessential and focussing on the tangled relationships of Brett's twin brothers. Reviewing the TV play, the Times commented that Wymark's "improbably amiable detective, who pads through the action, brought a touch of humanity to an otherwise sparkling inhuman display."
Long thought to have been wiped, in 2010 an export print of the play sold to American television was discovered in the WNET archive.