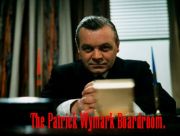 Theatre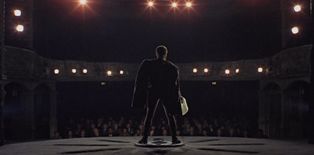 After training at the Old Vic Theatre School, Wymark appeared in several Old Vic productions before joining the Shakespeare Memorial Theatre Company, Stratford-upon-Avon.
"It's funny," Wymark said to journalist Neville Nisse, "but there they seemed to cast me mainly as comic characters. But I didn't mind, I love doing comedy."
In June 1955, Wymark played the Porter in Glen Byam Shaw's 1955 production of Macbeth, starring Lawrence Olivier and Vivien Leigh. Lee Montague, was also in the production and commented that apart from the leads, the Porter was the only interesting role in the play.
Wymark's old school friend Charles Eckberg recalled that "He told me the part he enjoyed most - but which took most out of him - was 'Bottom' in Midsummer Night's Dream. It was a part he could play with gusto." Other comic roles included Dogberry in Much Ado about Nothing (1958), Sir Toby Belch in Twelfth Night (1960) and a much acclaimed Launce in Peter Hall's 1960 production of Two Gentlemen of Verona.
Geoffrey Hutchings recalled Wymark's performance as Launce with his dog, Crab , " He had a dog that would cock its leg on the scenery every time it walked on stage. That always got a titter from the audience, and, whenever Launce told the dog off, which happens quite a lot during the course of the action, the dog would yawn. It was hilarious!"
However, despite his gift for comedy, Judi Dench observed that, "Something of the quality of the two moods together (laughing and crying) was there in Patrick Wymark's performances as Shakespeare's clowns. He had a wonderfully merry face and a rotund figure but he was really melancholic, and that made him so good in those parts. You wouldn't have taken him for a melancholy or depressed man, though, and he was never depressing to others."
In 1960, Peter Hall was invited to succeed Glen Byam Shaw as Director of the Theatre. Hall's terms included changing the name to the Royal Shakespeare Company and establishing a second base in London's Aldwych Theatre.
In Power Play; the life and times of Peter Hall (Hodder,1995) Stephen Fay notes that Hall also introduced three year contracts. Promising a low but regular income for three years, Fay says this was, "a revolutionary idea in the theatre, and among the first to sign on were Ian Holm, Dorothy Tutin, Patrick Wymark, Harry Andrews and Roy Dotrice."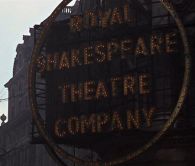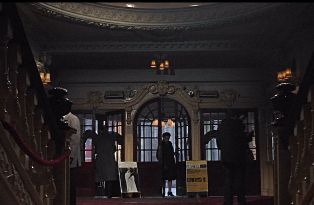 Selected List of Theatre Productions:
The Old Vic Theatre School, London.
1951: OLD VIC SCHOOL SHOW - Programme A (Old Vic School Theatre)
The Doctor's Duty,A Journey to London, and Fortunio's Song;
Programme B (Old Vic School Theatre)
The House Of Bernarda Alba - Act I by Frederico García Lorca(produced by Michel Saint Denis), and The Comedy of Errors (produced by George Devine)
Prunella Scales, Joan Plowright, Margaret Ashcroft, Yvonne Bonnamy, James Vowden, Jerome Willis, Patrick Wymark, Colin Jeavons, Christopher Hancock, John Abineri, Rosalind Knight, Dilys Hamlett, Alan Dobie, Priscilla Morgan, Alan Spencer, Eric Thompson, Clive Revill, James Maxwell, Donald Pickering and Douglas Rain. For more details click here.
The Old Vic
Othello - September/October 1951 Patrick Wymark made his professional debut with a one line part. For more details click here.
1952 A MIDSUMMER NIGHTS DREAM
January 1953 THE MERCHANT OF VENICE. Paul Rogers as Shylock, Irene Worth as Portia. William Devlin as Chorus. Newton Blick, Alan Dobie, Patrick Wymark.Douglas Rain.
February 1953 Julius Caesar. Douglas Campbell as Julius and Octavius Caesar, William Devlin as Brutus. Robin Bailey as Mark Anthony, William Squire as Casca. Alan Dobie as young Cato,Patrick Wymark as Trebonius/Flavius/Clitus Douglas Rain. For more details click here.
March 1953 MURDER IN THE CATHEDRAL: Robert Donat (Thomas Beckett), Patrick Wymark (3rd Priest), Alan Dobie (1st Priest), William Squire (4th Tempter)
Piccolo Theatre Company - Manchester
November 1954 THE BARBER OF BEAUMARCHAIS: James Maxwell (Count Almaviva), Mike Morgan (Figaro), Patrick Wymark (Dr Bartolo), Avril Elgar (Rosine), John Roberts (Don Basile), Keith Peacock, Anthony Yates (other parts) . Directed by Frank Dunlop.
Shakespeare Memorial Theatre
12 April 1955: TWELFTH NIGHT
Laurence Olivier (Malvolio), Vivien Leigh (Viola), Keith Michell, Gabriel Woolf, Alan Webb, Angela Baddeley, Michael Denison, Edward Atienza, Maxine Audley, Lee Montague, William Devlin, Trader Faulkner, Patrick Wymark (Priest), Dilys Hamlett, Ian Holm, Emrys James, John Southworth; director:John Gielgud

7 June 1955: MACBETH
Laurence Olivier, Vivien Leigh, Keith Michell, Ralph Michael, Ian Holm, Dilys Hamlett, William Devlin, James Grout, Maxine Audley, Emrys James, John Southworth, Patrick Wymark (The Porter); director: Glen Byam Shaw
1955: THE MERRY WIVES OF WINDSOR
In its review of Glen Byam Shaw's production starring Anthony Quayle as Falstaff, The Times noted Patrick Wymark ("particularly good as the jovial Windsor innkeeper who devises and sets afoot the duel between Caius (Michael Denison) and Evans(William Devlin)").
1956: HAMLET
Alan Badel, Harry Andrews, Diana Churchill, Dilys Hamlett, Andrew Faulds, George Howe, Emrys James, Clive Revill, Patrick Wymark (Gravedigger/Reynaldo); director: Michael Langham
1956: MEASURE FOR MEASURE
Anthony Quayle's last production of the season starred Emlyn Williams as Antonio, Anthony Nicholls as the Duke and Margaret Johnston as Isabella. Patrick Wymark played Pompey, the pimp who is offered a chance to escape prison by assisting the executioner (Ron Hadrick).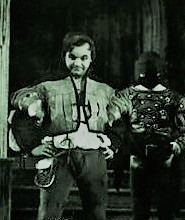 December 1956: TOAD OF TOAD HALL
Patrick Wymark (Toad), John Garley, Clive Revill, Mark Dignam, Moira Redmond, Antony Brown, Peter Cellier, Toby Robertson, director:Patrick Donnell. For more information, go to this page
1957 STRATFORD FESTIVAL
Director: Glen Byam Shaw; with Peggy Ashcroft, John Gielgud, Richard Johnson, Robert Harris, Joan Miller, Alec Clunes, Geoffrey Keen, Cyril Luckham, Mark Dignam, Patrick Wymark, Jane Wenham, Clive Revill; and on tour, Laurence Olivier, Vivien Leigh, Anthony Quayle
1957: AS YOU LIKE IT
Peggy Ashcroft, Richard Johnson, Patrick Wymark (Touchstone); director:Glen Byam Shaw
August 1957: THE TEMPEST
John Gielgud, Brian Bedford, Richard Johnson, Doreen Aris, Robert Harris, Toby Robertson, Alec Clunes, Clive Revill, Patrick Wymark (Stephano), Eileen Atkins, Julian Glover; directed, designed and with music by Peter Brook
1957: THE TEMPEST (Theatre Royal, Drury Lane)
Stratford production, transferred to London; starring John Gielgud, Richard Johnson, Brian Bedford, Robert Harris, Doreen Aris, Alec Clunes, Toby Robertson, Clive Revill, Patrick Wymark (Stephano), Joan Miller, Jane Wenham, Stephanie Bidmead; directed, designed and with music by Peter Brook;
1958: TWELFTH NIGHT (Shakespeare Memorial Theatre, Stratford)
Geraldine McEwan, Dorothy Tutin, Richard Johnson, Patrick Wymark (Sir Toby Belch)
In Making an Exhibition of Myself ( Sinclair Stevenson 1993) Peter Hall says " I wanted to get back to its youth and its comic heart, so I chose a young cast - Dorothy Tutin, Geraldine McEwan, Richard Johnson, Patrick Wymark, Ian Holm...at the time it was extremely controversial." Olivia was traditionall portrayed as prim and matronly, whereas Geraldine McEwan was "heartbreaking - a young girl suddenly thrust into being mistress of a big household."
1958: MUCH ADO ABOUT NOTHING (Stratford)
Googie Withers, Michael Redgrave, Richard Johnson, Patrick Wymark (Dogberry).
1959: TWELFTH NIGHT (Leningrad, Moscow tour)
Geraldine McEwan, Dorothy Tutin, Richard Johnson, Patrick Wymark (Sir Toby Belch)
In January 1959, Wymark joined the 59 Theatre Company for a six month run at the Lyric Theatre, Hammersmith. The first production was DANTON'S DEATH by Georg Büchner with Patrick Wymark (as Danton), James Maxwell, John Turner, Fulton MacKay, Harold Lang, Peter Sallis, Lee Fox, Maxwell Shaw, Dilys Hamlett, Avril Elgar, and June Bailey in the cast. Directed by Casper Wrede . "Danton is a sort of Hamlet inwardly disturbed by the part he's played in the revolution and now affecting not to take life seriously,"The Times wrote,"Mr Wymark well establishes the vein of honesty that runs through both the demagogue and the introspect."(For a longer review click here).
March 3rd 1959: CREDITORS (Strindberg translated by Michael Meyer) with Michael Gough, Mai Zetterling and THE CHEATS OF SCAPIN (Moliere- Translated by Thomas Otway) featuring Maxwell Shaw, Peter Sallis, Patrick Wymark, Fulton Mackay, Helen Montague.
1959: BRAND (Lyric Theatre, Hammersmith) Michael Meyer's translation of Henrik Ibsen's play with the 59 Theatre Company featuring Dilys Hamlett, Patrick Wymark, Harold Lang, Fulton Mackay, Peter Sallis, Frank Windsor, and June Bailey. Directed by Michael Elliott (adapted for BBC television).
Peter Sallis, in Fading into the Limelight (Orion 2006) explains that the 59 Theatre Company was headed by Casper Wrede, James Maxwell and Michael Elliott with set designer Richard Negri and lighting designer Richard Pilbrow. While they were planning the season at the Lyric Hammersmith, the BBC offered to televise the productions, offering both credibility and a financial boost.
"Michael Meyer produced a two hour version of play written with all strength he could muster to represent the text of Ibsen but in a much shortened version."
1959: ONE TO ANOTHER (Lyric Opera House, Hammersmith/Apollo Theatre). Revue starring Beryl Reid and Patrick Wymark with Sheila Hancock, Joe Melia and Ray Barrett. written by many hands including Bamber Gasgoine, N.F Simpson and Julian More and Harold Pinter. Directed by Eleanor Fazan. Music Director Stanley Myers. This revue was successful enough to transfer to the Globe Theatre in a revised version. The Times said NF Simpson's sketch about a statistician calling on a housewife (Beryl Reid) gave Patrick Wymark, "another splendid chance to be one of Mr Simpson's talkative mouthpieces."
As noted above, Patrick Wymark was one of the talented young actors attracted to Peter Hall's new management by the offer of a three year contract.
Recalling Sir Peter Hall's Royal Shakespeare Company,Ian Richardson said, "it's much more puritanical now than it was then...after the performance finished and it was quite late and all the local public houses in Stratford-upon-Avon would have been closed for at least half an hour. We used to go to a pubcalled The Black Swan - but we always called it 'The Dirty Duck' - and they had a special dispensation to stay open late for the actors, and I can remember Peter O'Toole and Patrick Wymark and Dinsdale Landen ...we all tumbled into The Dirty Duck after the performance, and rolled out about an hour and a half later! [Laughter]"

1960: THE TAMING OF THE SHREW
Peggy Ashcroft, Peter O'Toole, Jack MacGowran, Ian Richardson, Philip Voss, Ian Holm, Patrick Wymark, Paul Hardwick, Peter Jeffrey, Elizabeth Sellars, Dinsdale Landen, Clive Swift, Dennis Waterman, Clifford Rose, Roy Dotrice, Diana Rigg;
Opening on 21st June 1960, this was the first production under Hall's management. Unfortunately, although John Barton was billed as the director, he had been discretely replaced by Peter Hall. Witnesses said the highly strung Ashcroft in particular did not cope well with being corrected like a stuent. According to Stephen Fay, "a delegation comprosing Ashcroft, OToole and Wymark came to his office to say they could not work with Barton any longer and asked him to take over". In his own memoirs, Peter Hall notes that ""scholastic absolutes terrify actors. They have to be led to discover for themselves." Nevertheless, The Taming of the Shrew was a success.

December 1960: THE DUCHESS OF MALFI
Stratford-On-Avon Company: Peggy Ashcroft, Eric Porter, T.G.Stephens, Derek Godfrey, Sian Phillips, Max Adrian, Peter Jeffrey, Patrick Wymark (Daniel de Bosola), Roy Dotrice, John Cater, Stephanie Bidmead, Philip Voss, Clive Swift, Diana Rigg; dir:Donald McWhinnie, music:Humphrey Searle; Opening Stratford-on-Avon Company production at the Aldwych Theatre, London Read More about the production here
1960: TWELFTH NIGHT (Aldwych)
Stratford-On-Avon Company: Dorothy Tutin, Eric Porter, Richard Johnson, Patrick Wymark, Geraldine McEwan, Derek Godfrey, Max Adrian, Patrick Allen, Ian Holm, Clifford Rose, Philip Voss, Clive Swift, Roy Dotrice, Patsy Byrne; dir:Peter Hall
In 1961, the Shakespeare Memorial Theatre Company became
The Royal Shakespeare Company
During 1961 Wymark appeared in:
Peter Wood's production of John Whiting's THE DEVILS at the Aldwych with Richard Johnson (who would appear as his son-in-law in OPERATION CROSSBOW), Derek Godfrey, Virginia McKenna, Ian Holm (later to play antagonist Sefton Kemp in The Power Game), Diana Rigg, George Murcell, Clive Swift, and Roy Dotrice (who only a few years before had been in repertory at Cleethorpes' Alexandra Theatre).
BECKET, ONDINE, THE DEVILS, THE HOLLOW CROWN and THE TAMING OF THE SHREW with Leslie Caron ( as Ondine) , Richard Johnson, Eric Porter, Ian Holm, Christopher Plummer ( replacing Peter O'Toole, who had been tempted away from the role of Beckett by the offer of Lawrence of Arabia), Roy Dotrice, and Diana Rigg.
THE CHERRY ORCHARD, AS YOU LIKE IT, and THE HOLLOW CROWN with Max Adrian, Peggy Ashcroft, Ian Bannen, David Buck, Judi Dench, Roy Dotrice, John Gielgud, Ian Holm, Russell Hunter, Vanessa Redgrave, Ian Richardson, Clifford Rose, and Dorothy Tutin.
1962: AS YOU LIKE IT (Aldwych)
Vanessa Redgrave, Ian Bannen, David Buck, Clifford Rose, Rosalind Knight, Patrick Wymark, Ian Richardson, Tony Church, Gareth Morgan, Paul Hardwick, Russell Hunter, Peter Gill, Max Adrian, Patsy Byrne, Jeanne Hepple; director: Michael Elliott
17 May 1962: A MIDSUMMER NIGHT'S DREAM (Regent's Park Open Air Theatre).Heather Chasen as Hermia, David William as Oberon, Patrick Wymark as Bottom, Edward Petherbridge as Demetrius. Directed by David William.
1963: A MIDSUMMER NIGHT'S DREAM (Regent's Park Open Air Theatre).
Gilbert Wynne, Jennifer Daniel, Russell Hunter, Patrick Wymark (Bottom). Malcolm Sinclair describes this as, "appropriately magical, and screamingly funny which was a huge surprise." Jennifer Daniel, as Titania was covered in silver make-up. According to Rex Firkin in High Drama, this was the play Wymark was appearing in when he auditioned for the part of John Wilder.
1965 Left-Handed Liberty by John Arden directed by David William at the Mermaid Theatre, London . The result of a commission to celebrate the 750th anniversary of the Magna Carta. Patrick Wymark (King John), Freddie Jones, Robert Eddison, Edward Argent, Denise Coffey, Bernard Miles Read More about Left Handed Liberty here
August 1966: Of Eros and Dust (Regent's Park Open Air Theatre). An attempt to wed modern music and classical poetry devised by Benny Green and David William. Patrick Wymark and Eileen Atkins read the love poems while Annie Ross and Johnny Dankworth provided the music. The programme had blended poetry set to music, music without poetry, and poetry without music. Noel Coward' Mad About The Boy was both spoken by Eileen Atkins and sung by Annie Ross while Atkins and Wymark performed a long Byronic duologue. J.C Trewin found Wymark "too metallically voiced" but admitted that Wymark, "can cope with several passages - the Byron, for example and Auden's Victor." The Times praised Wymark's "admirably muscular rendering of Marvell's To His Coy Mistress (later immortalised in the Power Game episode, "Cat is You, Bird is Me" .Director, David William had played King Charles opposite Wymark's Cromwell in The Cruel Necessity .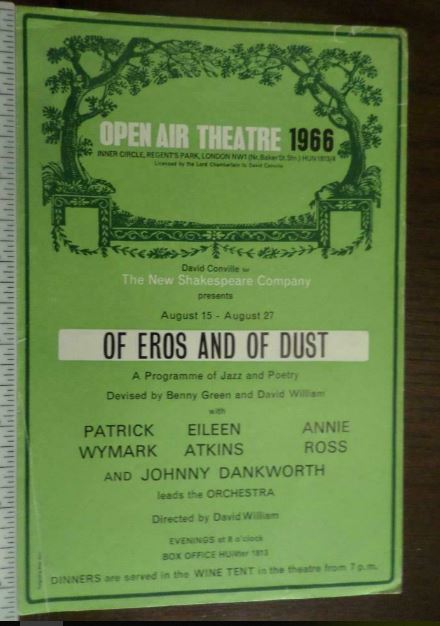 1967 The Judge by John Mortimer, directed by Stuart Burge. Patrick Wymark (the Judge), Ernest Clark (Major Heather), Patience Collier (Serena)see here for more details)
Patrick Wymark, "playing the Judge on a consistent note of harsh, unforgiving self-flagellation, becomes in the end rather ridiculous because his sense of morality and doom has no sense of proportion." Milton Schulman, Evening Standard. Later adapted by ATV as part of the 1968 season.
September 1967 The Soldiers Tale Edinburgh Festival. Directed by Wemdy Toye. Narrated by Gordon Jackson with Nicky Henson as the Soldier and Patrick Wymark as the Devil. See here for more details
1967 The Cherry Orchard by Anton Chekhov, translated by Richard Cottrell. Prospect Theatre Company. with Patrick Wymark and Lila Kedrova (Madam Ranyevskaya). Michael Elphick, Stephanie Bidmead, Bridget Turner. At the Arts Theatre Cambridge (25 -30 July 1967), Yvonne Arnaud Theatre, Guildford (31 July to 12 August), Theatre Royal, Newcastle, (21- 26 August) Edinburgh Festival (August 1967) and UK cities (including Nottingham and Guildford) before transferring to the Queens Theatre, London in October 1967.
"This moving and versatile production….is based on two superlative performances by Lila Kedrova and Patrick Wymark. ( as Ranyevskaya and Lopakhin) Mme.Kedrova's portrayal here is a sustained masterpiece of bewildered but proud nobility…Mr.Wymark, too long absent from roles of such complexity , gives a virtuoso account of Lopakhin….the production as a whole is a remarkable attempt to relate the play to Chekhov's work as a whole…accordingly Mr Cottrell exploits the sheer comic richness of the play and some of its best moments are when inspired idiocy modulates swiftly to poignant pathos. John Peter. The Times. 1967"
1st May - 14 June 1969 Hamlet. Lunt-Fontanne Theatre, New York. Wymark played Claudius opposite Constance Cummings as Gertrude in Tony Richardson's production starring Nicol Williamson as Hamlet. See here for more details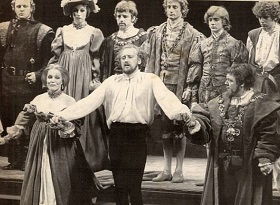 Constance Cummings, Nicol Williamson and Patrick Wymark in a Boston performance of Hamlet
5 Feb 1970 A Doll's House. Second Play to be presented by the Gardner Centre for the Arts, Brighton. Fenella Fielding as Nora, Patrick Wymark as Torvald, Denis Quilley as Krogstad. Directed by Peter Coe.
March 1970 The Nuns by Eduardo Manet at the Gardner Arts Centre, Brighton. See here for more details
July - October 1970 – Sleuth -the first Australian production of the West End hit was Patrick Wymark's last play. See Sleuth for more details