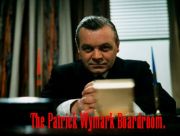 1 May 1969 Hamlet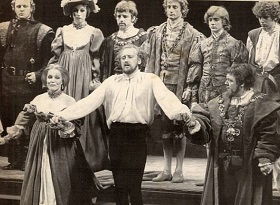 Constance Cummings and Patrick Wymark look with astonishment at Nicol Williamson in the curtain call for Hamlet.
1 May 1969 Hamlet. Patrick Wymark played Claudius, opposite Constance Cummings as Gertrude in the New York premiere of Tony Richardson's production starring Nicol Williamson.
Richardson had originally cast Williamson in a 1968 production at the Roundhouse, a converted Victorian train shed in Camden. Adopting a West Midlands accent, Williamson won an Evening Standard drama award for his performance. which Michael Pennington, who played Laertes, described as, "resentfully romantic." Pennington said, "he could be scary in the part, but almost the best of it was his generous, humorous scene with Roger Livesey's gravedigger."
Hamlet transferred to New York's Lunt-Fontanne Theatre, where it was originally announced that Marianne Faithfull would repeat her role as Ophelia from the Roundhouse production ("That's right", said a billing in The New Yorker, "the pop star's playing Ophelia"). But on opening night, Francesca Annis played Ophelia (with Anjelica Huston as her understudy). While most of the original cast (including Mark Dignam and Gordon Jackson) transferred to New York, Patrick Wymark was cast as Claudius and Constance Cummings (who had starred opposite Wymark in the TV play Public and Confidential) played Gertrude.
Clive Barnes writing in the New York Times, said there was "a paunchy dignity about Patrick Wymark's Claudius, and it was not his fault that the director was reluctant to make him a villain."
After 52 performances, ending 14 June 1969, Hamlet toured Philadelphia, Boston, and Washington. It was in Boston that Williamson walked offstage at the start of Act 2, returning ten minutes later to apologise to the audience for giving a bad perfomance.
Returning to England, Richardson swiftly filmed Hamlet at the Roundhouse, reinstating Marianne Faithfull as Gertrude, and emphasising the incestuous overtones by casting Williamson's contemporaries Judy Parfitt as Gertrude and Anthony Hopkins as Claudius.