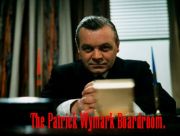 Patrick Wymark at the Old Vic Theatre School 1951 - 1953 - Othello
"I had a row with my professor...I immediately went to the Old Vic Theatre School, across the Waterloo Bridge, and asked for an audition." Patrick Wymark 1964.
Opened in 1818 as the Royal Coburg and renamed the Royal Victoria in 1833, the Old Vic's tradition as The London home of Shakespeare began in 1898 when Lilian Baylis became manager. With the theatre damaged by wartime bombs in May 1941, the the company began touring out of the temporary base of the Victoria theatre, Burnley. In 1944, the company returned to London, operating out of the New Theatre, while the bomb damage was repaired. On 14 November 1950, the theatre reopened with a performance of Twelfth Night. As Hugh Hunt relates*, "the inhabitants of the Lower Marsh and the Cut had gathered to witness the unfamiliar invasion of mink stoles, evening dress and expensive cars." Dame Edith Evans had been secretly flown in from New York to speak a prologue specially written by Christopher Hassall** - the first words heard by an audience for over 10 years; "London be glad, your Shakespeare's home again.
Old Vic Prefaces (1954)
** father of the actress Imogen Hassall
The Old Vic Theatre School was founded in 1945 by Michel St Denis, Glen Byram and George Devine. It was originally based in the remains of the bomb-damaged theatre, before moving in 1949 to the former Dulwich High School in Thurlow Park Road (now Oakfield Preparatory School).By the time Patrick Wymark was accepted, there were 120 students aged between 18 and 22. Students received a maintenance grant of 20 Guineas ( about £700 in 2020's currency) a term and a free education grant.
In a 1964 article, Wymark's wife Olwen expanded on his transition from studying English to Acting. "There were about 2,000 youngsters auditioning, most of them under the age of 20. The directors thought that Patrick (who was older, having done National Service in the Navy) might have become too set in his ideas to become easily trained...We spent days together in Regent's Park where I helped him to learn his audition pieces. Eventually he went to the audition, and to the surprise of almost everybody except myself, he was immediately accepted."
In June 1951, the students of the Theatre School presented two graduation shows. The Stage praised the good diction of the students, showing that trying to hear what actors are saying is not just a 21st Century problem, "Every word could be heard. colour, weight and dramatic feeling were evident in every line.". In the 14 June 1951 show, Colin Jeavons (in a long and diverse career, Inspector Lestrade opposite Jeremy Brett's Sherlock Holmes) was noted as compelling as Tommaso Corsi in Pirandello's the Doctor's Duty. "A man torn by moral torment, fear and physical suffering."
In Vanbrugh's unfinished comedy, A Journey to London, the reviewer praised Jerome Willis as Uncle Richard and Prunella Scales as Betty, " a fascinating, over-sophisticated little girl.". The reviewer said, "Patrick Wymark played Sir Francis with a good notion of country-squire vulgarity."
In the 20th June presentation, The Stage reported that the excerpt from A Comedy of Errors was, the best student production seen in London for years." Despite (or perhaps because of) director George Devine's decision that most of the students should be masked, they showed"clear speaking, strong character sense and appreciation of wit." "Jerome Willis as Antipholus, the Dromio's of Patrick Wymark and Colin Jeavons and Michael Morgan's * Angelo were particularly striking.
* Mike Morgan played Epihodov in a BBC production of The Cherry Orchard, and after appearing with Alec Guinness in Barnacle Bill (1957) was given the role of Guinness' sidekick in The Horse's Mouth (1958). Sadly, he died as a result of meningitis in June 1958.
With such good reviews, it's perhaps not surprising that Wymark was offered a third year as a student actor. After the initial doubts of the directors that he would be too set in his way, Wymark considered himself incredibly lucky. But there was one problem. Controversially, the Old Vic had long bulked out its professional productions by using third year students unpaid. After an intervention by Equity in January 1951, the Old Vic had agreed to pay them the minimum wage, but pro rata for each performance. During an Equity meeting, it was pointed out these were all third year students and at any other drama school they would now be out in the world earning their living as actors.
As Olwen Wymark revealed, the Old Vic had originally offered Patrick Wymark Four Pounds and 10 Shillings a week (about 155 Pounds in 2020), two-thirds of which was consumed by the rent on their flat in Crystal Palace, raising this to £6.00 a week (about £200) when the newlyweds discovered that they were expecting their first child. This was around the time that Patrick Wymark made his first professional performance with one line in the Old Vic production of Othello.
Othello: October 31 1951 After appearing at the Berlin festival on the 21st September and touring the provinces Michael Langham's production made its Old Vic debut with more than the usual attention. Across the river, at the St James Theatre, Orson Welles was starring in another Othello. Welles had almost completed his five-year shoot of his film version, when Laurence Olivier convinced him to appear at the St James (which Olivier was managing).
At the St James was Welles - determined, according to Barbara Leaming "to fit into the mainstay of British theatre," and disappointing those who had expected a radical interpretation. As Iago, Peter Finch played "a sadistic bully from the racecourse bar, while Gudrun Ure (who would later dub Suzanne Cloutier in Welles' film version) was the traditional passive Desdemona. You can read more about the Welles' production at Welles Net
At the Old Vic was Douglas Campbell, a young Scottish actor from the Glasgow Citizens Theatre, who later became one of the leading Shakespearian players of Canada. The general opinion was that at this stage Campbell lacked the technique for the role, although the Guardian concluded that, " his magnificent voice, his generosity and his feeling for the words told greatly in his favour." It's interesting (from a 21st Century perspective), that application of dark make up by both Campbell and Welles was challenged for lack of subtlety. Comparing both productions, the Iago of Paul Rogers was thought to be more plausible, exploiting Othello's suspicions while showing no external malice. But most praise went to Irene Worth, making her Shakespeare debut. "Desdemona emerges as one of the play's dominating personalities" said The Stage. The Tatler noted her, "awakened sensuality whose animal pleasure encourages Othello's suspicions and The Observer called Worth, A fresh and intelligent Desdemona instead of the bewildered little girl of custom."
Othello had a strong cast - Robert Shaw as "a vigorous Cassio, Ernest Milton as an "authoritative Lodovico", and Douglas Wilmer bringing "more character than usual," to the comedy role of Roderigo.
And, of course, Patrick Wymark made his one line debut. The story of the season continues with the Merchant of Venice and Julius Caesar.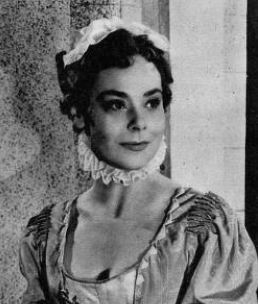 Irene Worth as Portia in The Merchant of Venice