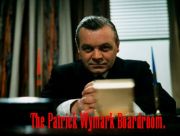 Saturday 13th June 1970 BBC 2 Thirty Minute Theatre: Lily by Jean Benedetti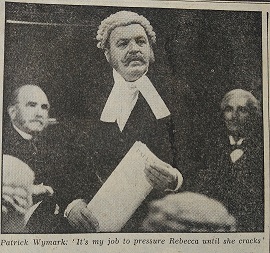 This guest appearance as the Attorney-General would be Patrick Wymark's last appearance on British TV, recorded before departing for Australia on his tour of Sleuth.
The second of a two-part story which told how journalist W.T.Stead (Iain Cutherbertson) exposed the trade in young girls during the 1880's. In the eyes of the law, a girl was an adult at 13 and there was a steady turnover of virgins in London's brothels. Avis Bunnage* (who had played Tom Courtney's mother in The Loneliness of the Long Distance Runner) starred as Rebecca Jarrett, a former prostitute and brothel-keeper who had sought refuge with the Salvation Army while ill from the effects of drink.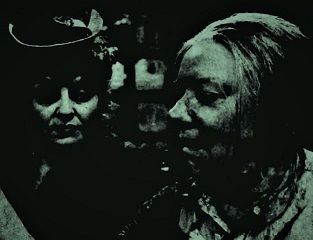 Avis Bunnidge and Dandy Nichols in Lily
Rebeccas testimony convinced Stead that the trade in girls existed, but he needed conclusive proof and convinced a reluctant Rebecca to meet with her old friend, procuress Nancy Broughton (Dandy Nichols). They approached the mother of 13 year old Eliza Amstrong who sold her for Five Pounds (about 590 pounds today) - three pounds down and the balance when a midwife had confirmed the girls virginity. Rebecca then chloroformed the girl and passed her on to a brothel. Stead visited (posing as a customer) to secure his evidence, before the girl was rescued by Major Bramwell Booth (John Carlisle) of the Salvation Army. Stead published an extra edition of the Pall Mall Gazette on July 6 1885. His series, The Maiden Tribute of Modern Babylon created a public outcry, eventually being instrumental in raising the age of consent for women to 16.
However, Stead had admitted breaking the law and in the second part of the story, Stead and Rebecca were put on trial charged with abduction. Stead's series had created a sensation (The Pall Mall Gazette ran out of paper and had to purchase more from rivals) and both the Government and opposition were embarrassed by having to rush through legislation they had stalled for years by turning a blind eye to the problem.
Patrick Wymark played Richard Webster, the Attorney General, who led what many considered a political prosecution. Stead conducted his own defence and the play directed by Hugh David was set up as a duel between the rising Iain Cuthbertson (soon to star in Budgie) and the established Wymark.
Stead had made many procedural errors in ensuring the standard of evidence, but ironically he and Rebecca were convicted on the grounds of having failed to secure the permission of the girl's father. Stead was jailed for three months, Rebecca for six months.As Wymark told the Radio Times - Rebecca, "is the chosen scapegoat and it's my job as Attorney General to pressure her until she cracks."
The play was written by Jean Benedetti, who had scored a hit in January of 1969 with his trilogy Such Men Are Dangerous, tracing the early lives of dictators and spotlighting John Castle as a young Mussolini. Benedetti, born Norman Bennett in Barking 1930, had been an actor, succeeding Dudley Moore in the West End Production of Beyond The Fringe. In 1970 he became Principal of Rose Bruford College, developing the first degree course in acting. Benedetti wrote a new handbooked on Stanislavski, believing his work had been misrepresented (particularly reliance on psychological preparation such as Method Acting).
Reviewing the play in The Stage, Patrick Campbell felt that, coming in the last few minutes of the play, the trial scenes were anti-climactic with no time left for the drama to develop: "A few bullying questions from Webster and an immedidate collapse of Rebecca had to substitute for a subtle duel." Campbell felt that Wymark's " consistently hectoring manner and booming delivery may have been true to life but lacked dramatic light and shade." Campbell reserved praise for Dandy Nicholls, who managed to develop some unctuous character in her role as the procuress. .
You can read the full text of The Maiden Tribute to Modern Babylon, and more on W.T.Stead at http://www.attackingthedevil.co.uk
(*Ironically, Avis Bunnage had played the alcoholic mother of Eliza Armstrong in a 1960 TV play about the Stead trial.)