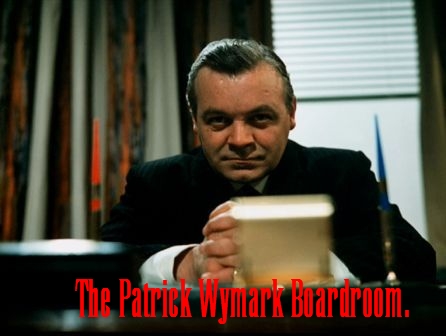 The League of Gentlemen

Bryan Forbes' adaptation of John Boland's 1958 novel,The League of Gentlemen was directed by Basil Dearden and released in 1960. Jack Hawkins plays a redundant army officer who recruits a group of disgraced army men to pool their military experience in a bank robbery. Patrick Wymark appears in the opening act as Wylie, "a prosperous wide boy."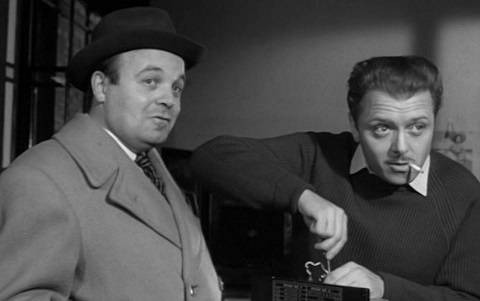 Patrick Wymark as Wylie with Richard Attenborough as Lexie.
Like its 1960 contemporary Ocean's 11 (allegedly based on an idea pitched to Peter Lawford by a gas station attendant in 1958), The League of Gentlemen takes the idea of former soldiers using their skills to carry out a robbery using military precision. Previous crime movies (Rififi, The Asphalt Jungle, The Killing) had shown criminal experts uniting to pull off a heist with split-second timing. Boland's twist was to take military skills sharpened by war and turn them against peacetime society.
The film-makers are clear to depict this as aberrant.Even though earlier films had commented on changing government priorities (the military men in Seven Days To Noon (1950) who grouse that they've had no new equipment because "it's all false teeth and wigs now"), there is no speial pleading 10 years on. While the central character of Lieutenant Colonel Hyde (Jack Hawkins) is embittered by being made redundant after 25 years unblemished service, the film-makers clearly depict the other "Gentlemen" as rogues at best.
Patrick Wymark appears during the sequence which introduces former Lieutenant Edward Lexie (Richard Attenborough). Electronics expert Lexie, who we later learn has been convicted of passing secrets to the Russians ("as usual for profit, not principle")has a back-street mews repair shop. Wymark plays Wylie, well-dressed, cigar-smoking, driving a luxury model Bentley S. Wylie haggles with Lexie over fiddling a one-armed bandit which he's brought in the back of his car. While he collects the slot-machine, Lexie is unable to take his eyes off the young singer who sits blankly in the passenger seat. Wylie and Lexie carry on a double-entendre conversation about breaking in either the car or the girl (both, it is implied. are treated as merchandise). Throughout the scene, Wymark is playing a genial game of one-upmanship with Lexie. Only at the end does he deliver the killer-blow.
The overall tone is of casual sleaze, with a hint of desperation on Lexie's part. Interestingly, while Forbes' script ends the scene on a moment of defeat for Lexie, Dearden provides a moment of triumph as Lexie pulls the one-armed bandit and a jackpot of coins pours out. Even though this film has the spine of a hard-boiled thriller, Dearden takes care to lighten the mood with a bouquet of Ealing Films optimism. Film Earl Grey, rather than Film Noir.