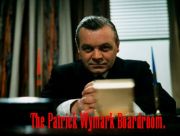 After the Power Game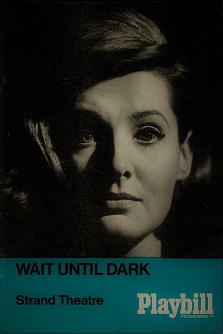 BARBARA MURRAY WAIT UNTIL DARK
In February 1967, following the end of the second series of The Power Game, Barbara Murray took over the lead from Honor Blackman in Frederick Knott's Wait Until Dark at the Strand Theatre. The story of a blind housewife whose basement apartment is invaded by three criminals, Knott's thriller previewed in America in December 1965 with Lee Remick and Robert Duvall in the leads. The London production opened in July 1966 starring Honor Blackman and Peter Sallis with the action transferred from Greenwich Village to Notting Hill.
Coincidentally, the New York premiere was directed by Arthur Penn (Bonnie and Clyde), who had directed Barbara in the unsuccessful 1962 Broadway production of In The Counting House. The London production was directed by Anthony Sharp, an experienced director of West End plays who had also played Lord Teddington in The Plane Makers. Peter Sallis, had appeared opposite Patrick Wymark in the Theatre 59 Productions The Cheats of Scapin and Dantons Death at the Lyric Hammersmith. Many years before his cuddly comic fame in Last Of The Summer Wine and Wallace and Grommit , Sallis played the manipulative and homicidal Harry Roat.
Susy Henderson is alone in her apartment, unaware that the doll her husband has brought home as a favour, contains a fortune in drugs. Roat persuades two small-time crooks, Mike and Croker to help him con Susy out of the doll. As their scheme unravels, Susy fights a battle of wits with the criminals.
Without having any visual record of the play, it's still easy to imagine that Barbara Murray, with her chokey voice and inner steel would have been quite affecting as the innocent housewife who is first deceived and then turns the tables on her tormentors. A review in The Stage said that, "Miss Blackman's Susy was a self-assertive young woman who treated her blindness as a challenge , and there was little doubt that she would triumph...Miss Murray, on the other hand, is presenting a softer, warmer characterisation....the battle for self-reliance, even before the invasion of her home, is hardly won." The management of the Stand Theatre reminded customers that, For the enjoyment of future audiences, it would be greatly appreciated if you would refrain from disclosing the denouement of this play.
Barbara Murray continued with the play until October 1967 when she was succeeded by Lana Morris.